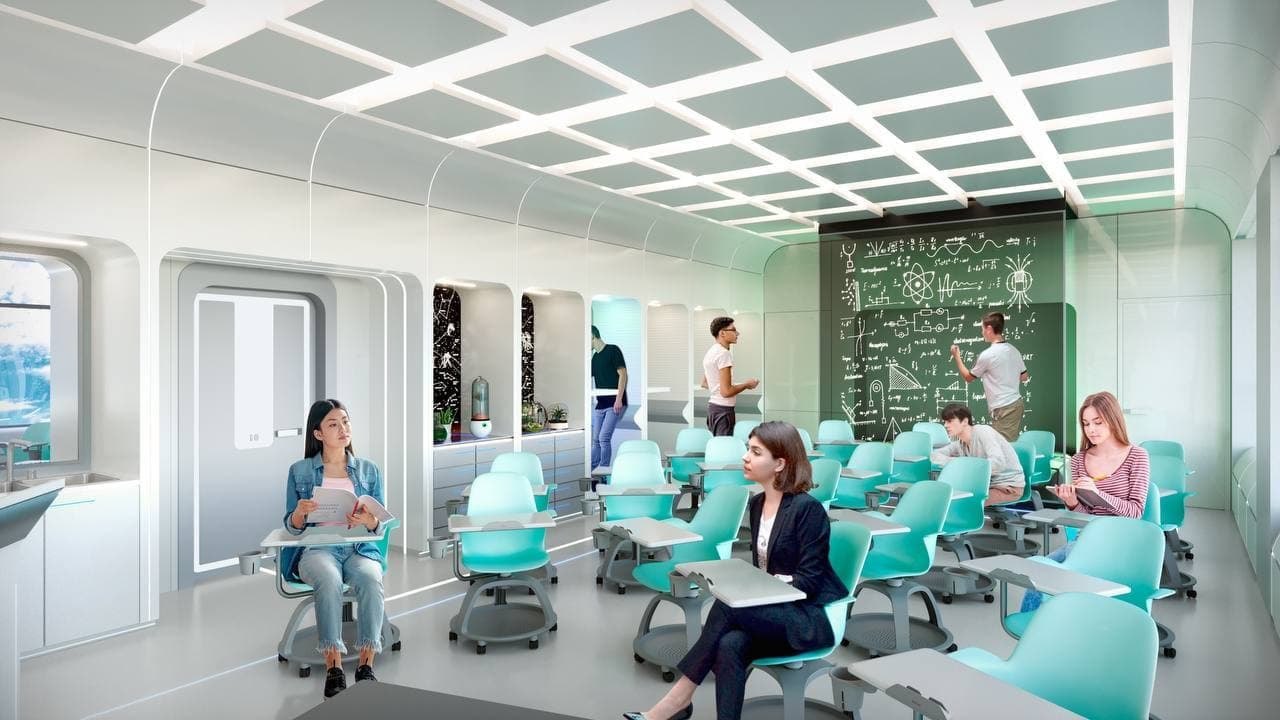 1. THE HEART OF THE SCHOOL
The generous triple-height atrium is designed to be the magnificent Heart of the School: the main entrance with 700 lockers and access to Dining Hall, this vibrant hub welcomes school community every day and provides a place to socialise and relax before the lessons begin.
The atrium also acts as a space to elevate learning practices; students carry out group sessions and independent study while teachers use it to facilitate their lesson planning and discussions in specially designed coupe-style meeting rooms. 
With views across the sports center, it also makes a wonderful location for the school community to cheer on sporting events. 
The interplay between indoor and outdoor space aims to animate the learning environment to create a fun, dynamic school.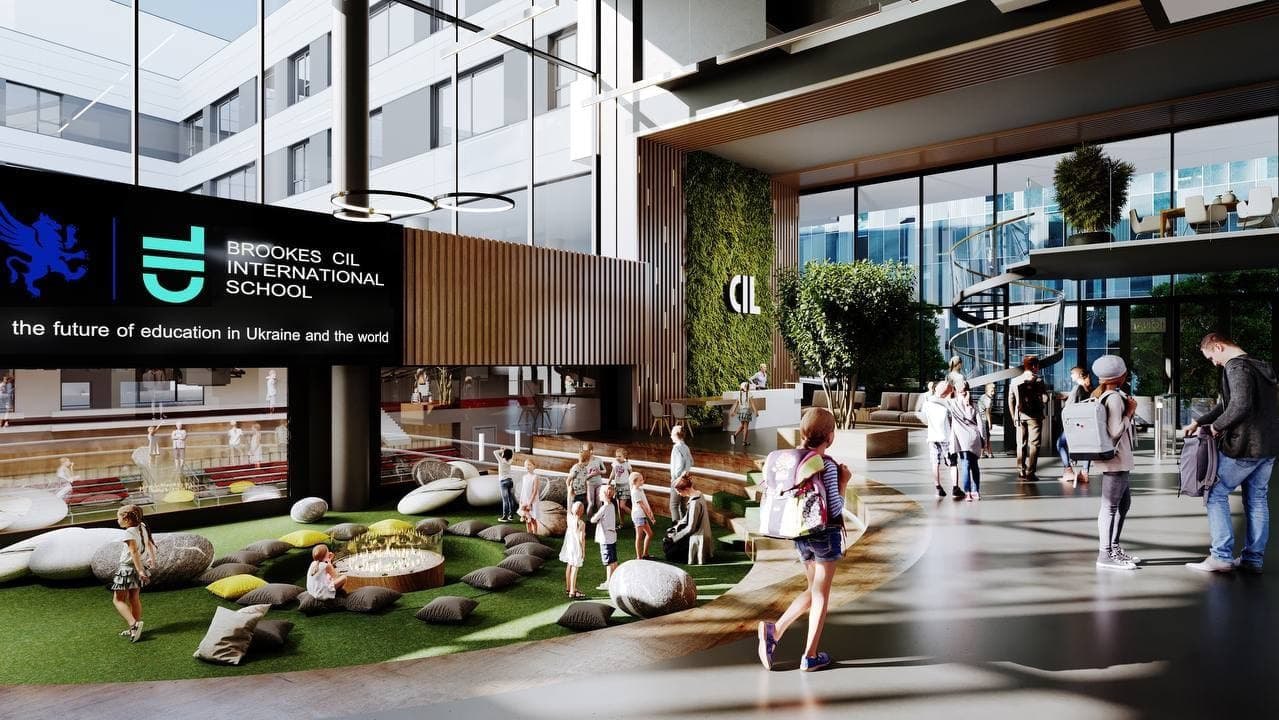 The atrium serves as the central core to the school giving access to and linking all the floors, the roof, sports, creative and performing facilities to form the lifeline which the school operates.
2. CREATIVE & MEDIA HALL
The design of Creative & Media Hall integrates high-performance HVAC, AV technology, theater rigging, lighting, and acoustics to create a 21st century theater experience. The entire facility offers the Brookes CIL community multiple opportunities to engage into the performing arts by hosting lower and upper school music and drama performances, theatre productions, battle of bands and talent shows, as well as to celebrate community events. 
The Creative & Media Hall includes a 500+ seat Performance Hall with back-of-house support spaces, an events and exhibitions lobby, instrument storage area, make-up and dressing rooms with toilets and showers, a black box modern theatre, tv/podcast studio and music band/rehearsal suites.
Parents and visitors arriving are welcomed by a landscaped entry plaza and by the school's generous glazing and deep roof extensions.
3. CIL SPORTS CENTER
Brookes CIL Sports Centre is set in the nucleus of the school grounds and is crucial to their sports programme, offering students a wide range of both sport and leisure-based facilities and activities.
The Sports Centre boasts some of the best professional sport facilities in Kyiv and Ukraine, making it the perfect setting for any school or public sporting event.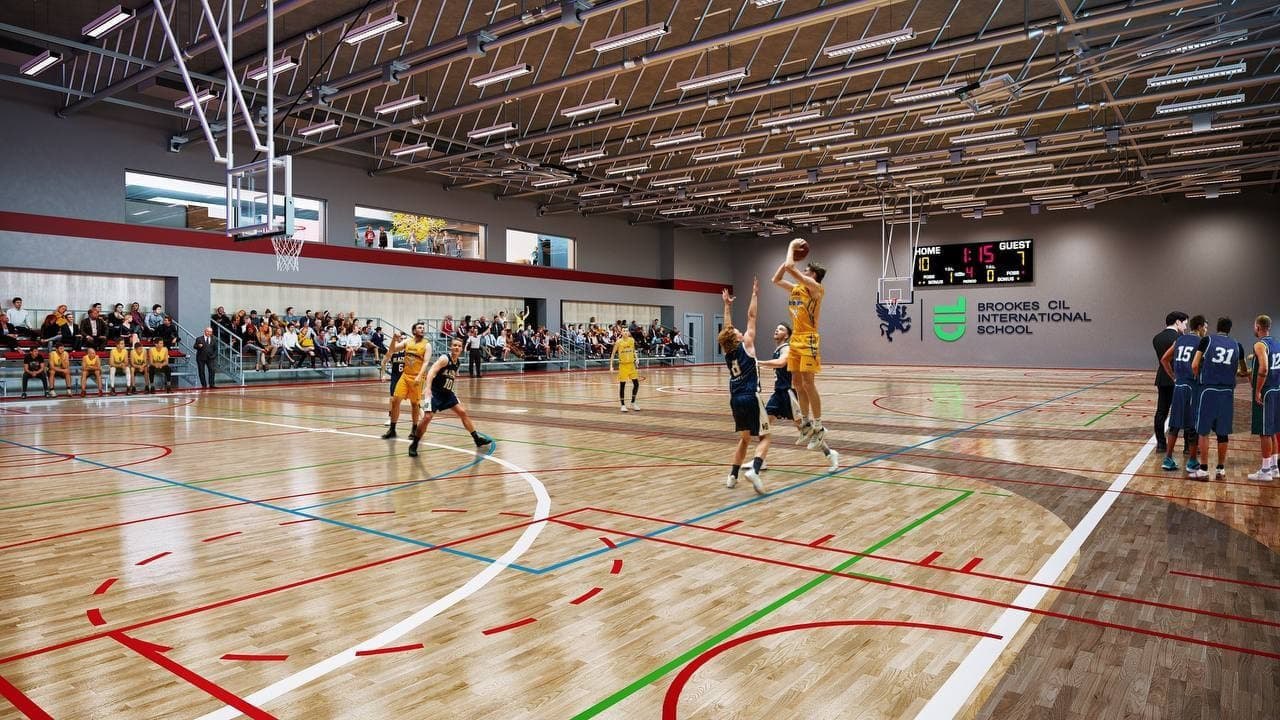 Brookes CIL Sports Centre accommodates an NBA-size sport arena, three halls offering adaptable playing space for a range of sports, as well as the opportunity for whole-school assemblies, Early Years Sports and Assembly Hall, a workout/fitness center, a dance/ballet studio and comfortable changing rooms for 180 students. 
Considering the fact that the sports and performance facilities are located on the same level of the school and are interconnected with a grand foyer, the benefits to the students are impressive; the Creative & Media Hall sees them able to develop a bespoke and stimulating program which links with drama and music, whilst the triple sporting facility introduces a wide PE curriculum offering and allows a greater breadth of options, including basketball, volleyball, futsal and handball to name just a few.
4. THE MYP/DP LEARNING HUB
The new academic library model aims to provide a forum for students to collaborate, enjoy fellowship, engage in healthy debate, inspire and challenge ideas, and experience learning and discovery in a multitude of meaningful ways.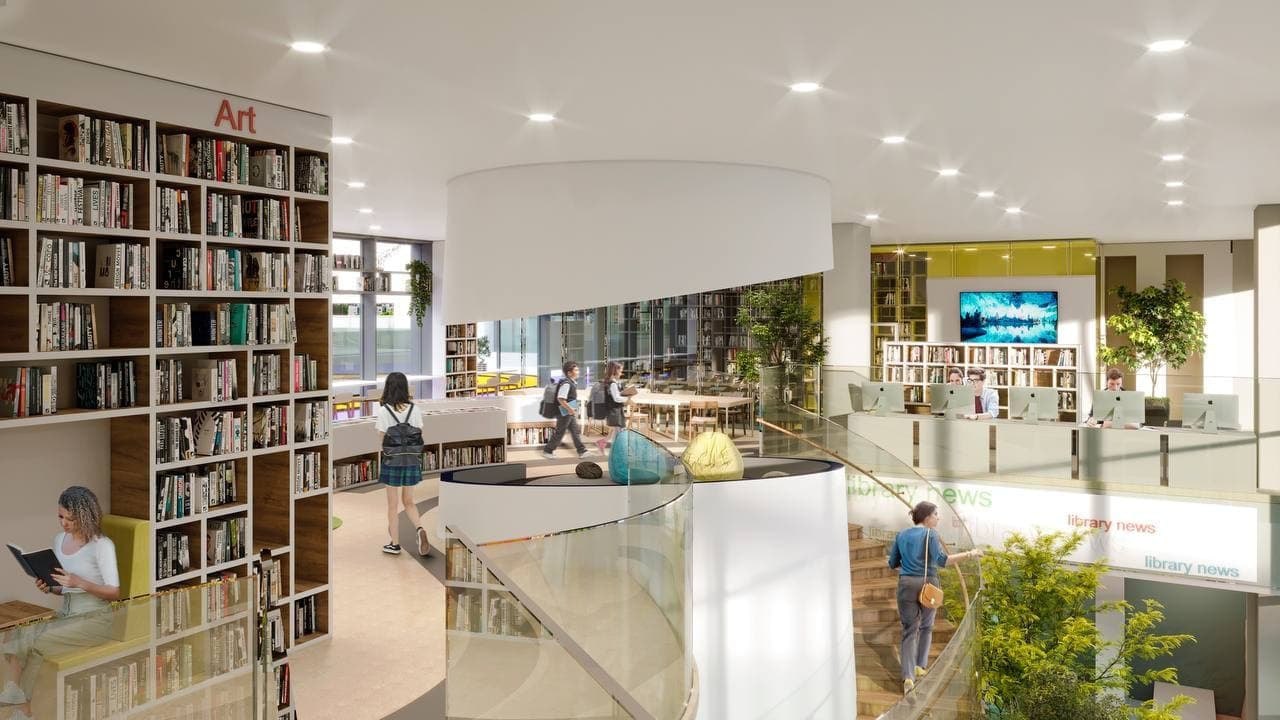 Following this concept, Brookes CIL Learning Hub was planned and designed with the intention of fostering a space to stimulate four key learning areas:
Collaboration - The MYP/DP hub is a space for collaboration. Looking toward the future of education, learning is team-oriented and less individualistic. Having a place to come together is critical to student success and ability to openly discuss and challenge ideas is the new educational norm. 
Individual Quiet Study - Brookes CIL also understands students require a space where they can focus on their academic success individually without distraction. The school has carefully curated a variety of spaces to suit the individual needs and learning styles of today's students. Every child is different. Private, traditional study carrels suit some students, while comfortable lounge furniture is ideal for others. By blending formal and informal spaces in the interior design they created environments where all students can have their needs met. 
Specialty Support - The Learning Hub provides a home for services, such as writing, communication, and tutoring, advanced labs and other specialty spaces.
Technology Nerve Center - Brookes CIL Learning Hub is equipped with the latest gadgets in computer technology as well as associated technology support services, traditional research and technical services.
5. MAKERSPACE
Today's shift in educational paradigm centres on project-based learning to promote cross-disciplinary teaching. Students realise their potential world impact by making things with their hands and fostering their creativity through group collaboration. The Makerspace aims to nurture this hands-on culture.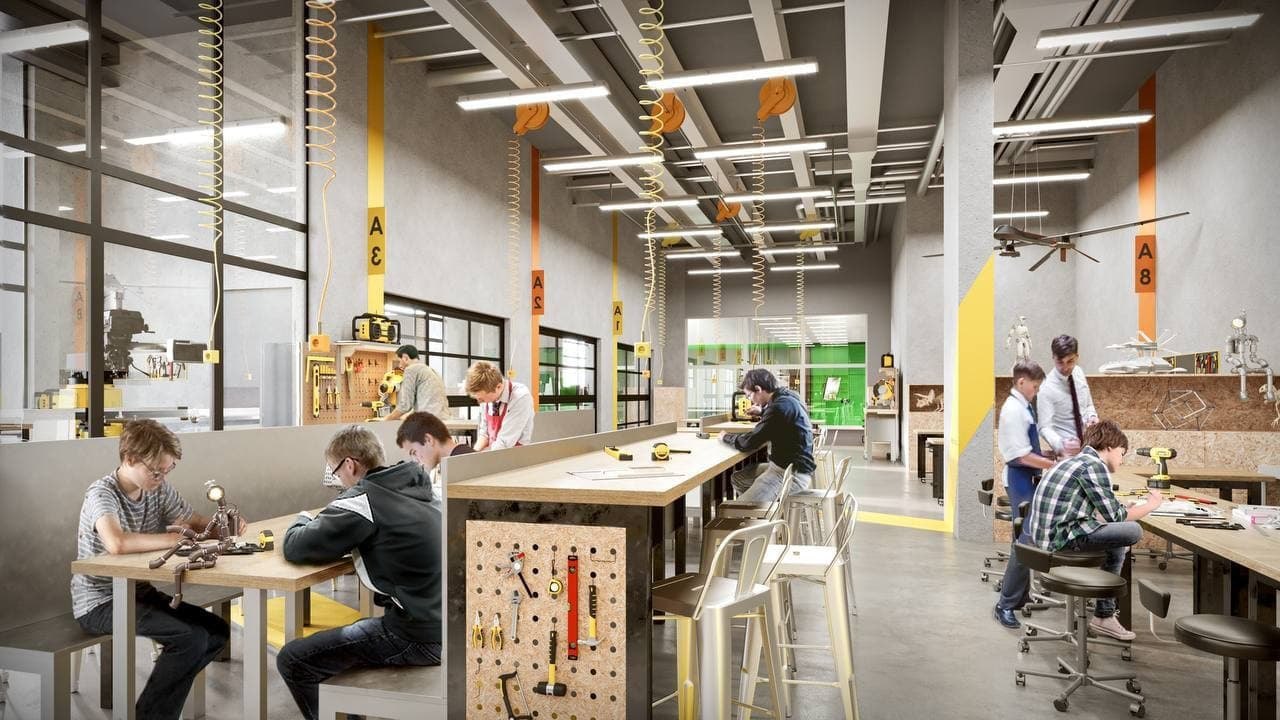 Work-focused spaces are organised across 400 sq.m. and include a forum for student engagement, wood and metal shops, laser cutting, 3D printing, clean labs, robotics, and large coworking areas. The central forum facilitates flexible use of the space for various purposes, such as group discussion, debates, large and small group presentations, and prototyping.
6. THE ROOF
The top floor of the school adopts the form of a sloping roof which effectively blocks the elevated noise and ensures a generous 4,000 sq.m. students area with a rich cultural and sport atmosphere. 
Unique to the space is an outdoor "stepped" activity space which creates convenient and diverse outdoor communication spots for students. 
As a whole, the roof is home to a football and squash field, a sloping amphitheater, a stage, workout areas, multiple playgrounds, outdoor classrooms and cinema, and open-air botanical and vegetable gardens designed for students' enjoyment and learning activities. Students can watch, read, play, experience the passage of time, observe the change of seasons, and live unforgettable childhood memories.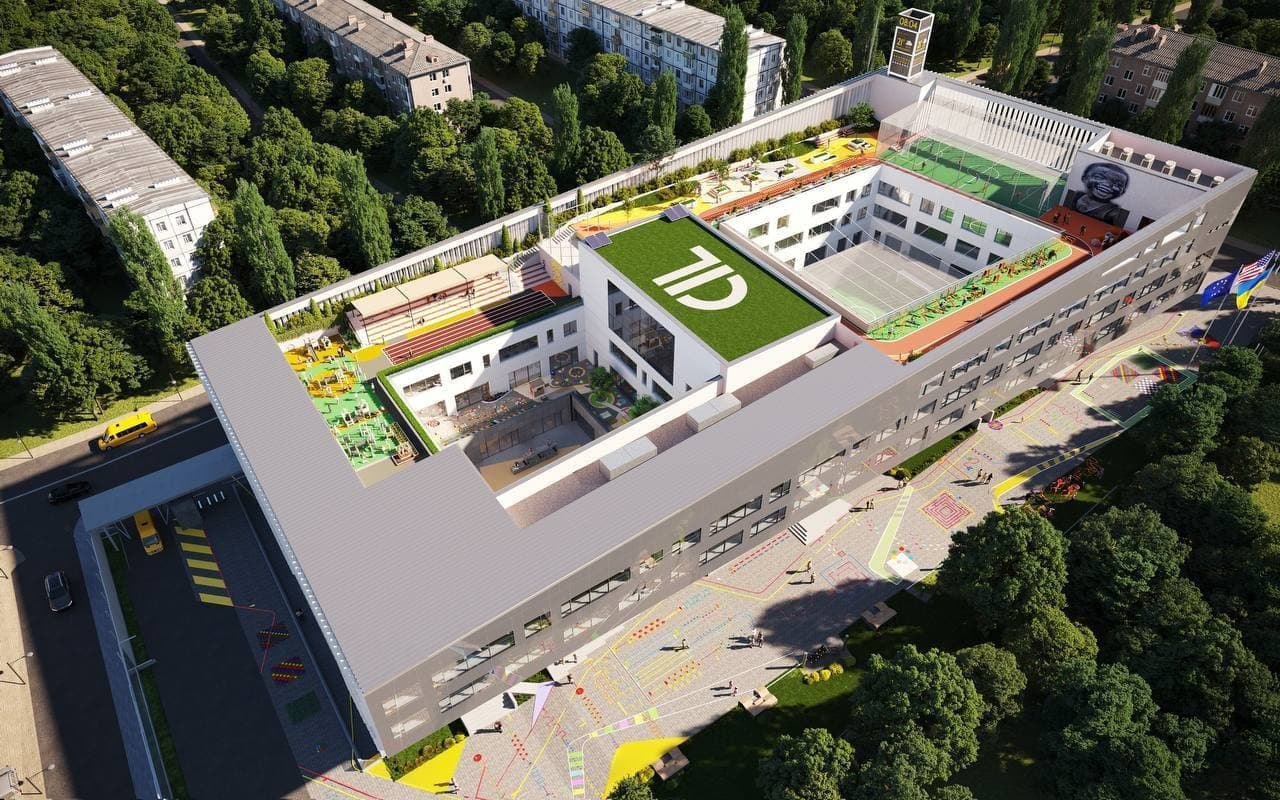 The seamless transition between indoor and outdoor spaces creates the school that fosters student physical, social and emotional well-being. 
7. STUDENT DINING HALL
Brookes CIL believes that students' learning experience can be greatly enhanced by making their eating space inspirational and promoting interaction between students of different age groups and teachers. Dining is an important social mechanism - it naturally fosters social interaction, development, study, and relaxation as well as has a great impact over students' motivation.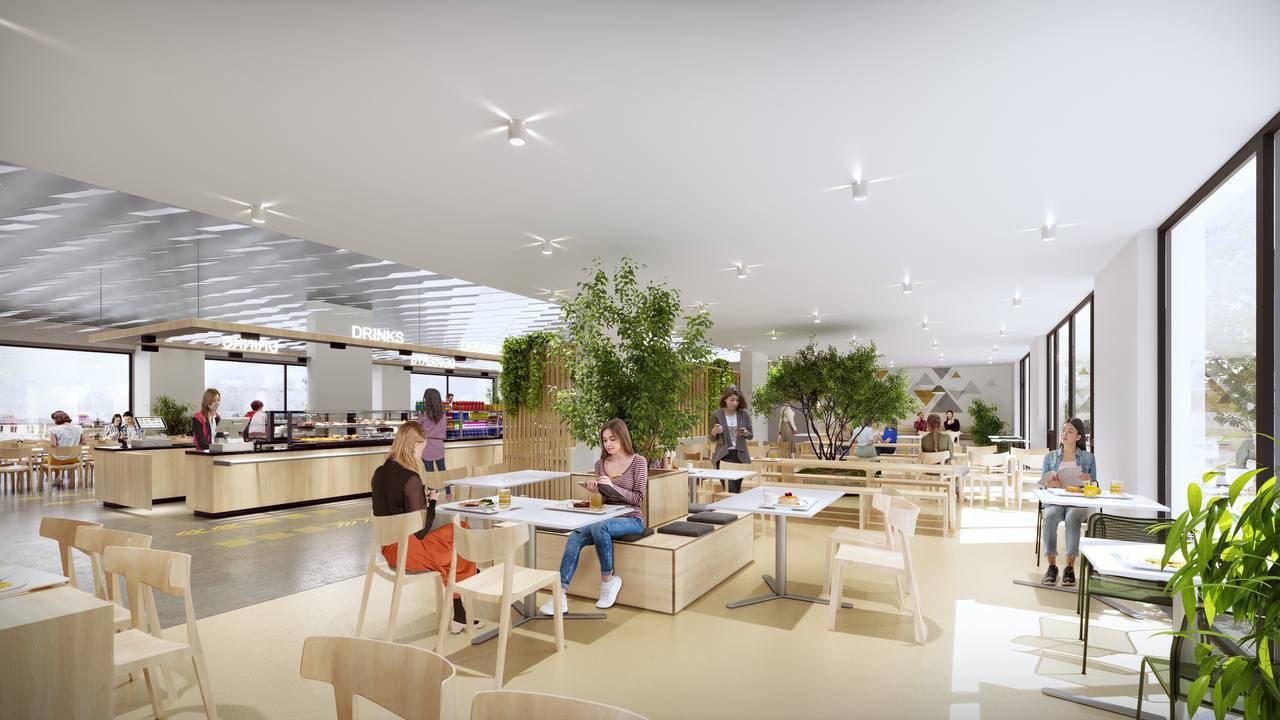 In order to give students and teachers the best dining experience Brookes CIL considered the following factors:
Lighting, acoustics and ventilation – A bright airy space with a lot of natural light to connect students to the outdoors with an optional outside eating area. They implemented acoustics panels on interior walls and in the ceilings, used improved HVAC and ventilation systems, as well as sound systems to allow for some background music.
Healthy and varied food options — Many students are purposeful, healthy eaters and others have adventurous tastes. Nowadays, vegan, vegetarian, ethnic and traditional cuisine options are in demand on campuses, and the school is looking forward to accommodating the needs of students and teachers through diverse meal plans. The school has designed a serving island in the middle of the dining hall to accommodate up to four lines of students and teachers simultaneously to have more time to enjoy the dishes carefully chosen by the school nutritionist.
Design and furniture – With the goal of promoting social interaction for all age groups, the school implemented different table and chair configurations, green trees, pergolas and little fountains to create a variety of quiet and large-open seating areas. The dining hall also includes a special demonstration and cooking area for class as well as extra-curricular use.
These "7 Wonders of CIL" truly offer students endless opportunities for development and getting to know the world around them. However, as they say at Brookes CIL, the most important wonder and centerpiece of their school, as well as of any school, is a child.
*Only schools authorized by the IB Organization can offer any of its four academic programmes: the Primary Years Programme (PYP), the Middle Years Programme (MYP), the Diploma Programme (DP), or the Career-related Programme (CP). Candidate status gives no guarantee that authorization will be granted. For further information about the IB and its programmes, visit www.ibo.org