16.1% of Ukrainian voters say they are ready to support the incumbent head of state Petro Poroshenko in the presidential elections should the ballot be held next Sunday.
The president is followed by the leader of Batkivshchyna party Yulia Tymoshenko (14.4% – for). 12.1% would support rock singer Svyatoslav Vakarchuk.
The figures are evidenced by a joint study of four leading sociological companies in Ukraine (Socis, KIIS, Rating and Razumkov Center) with the support of the Committee of Voters of Ukraine.
The survey was held in the period from October 28 to November 14 and embraced 20,000 respondents across Ukraine with the exception of Crimea and the occupied territories of Donetsk and Luhansk regions.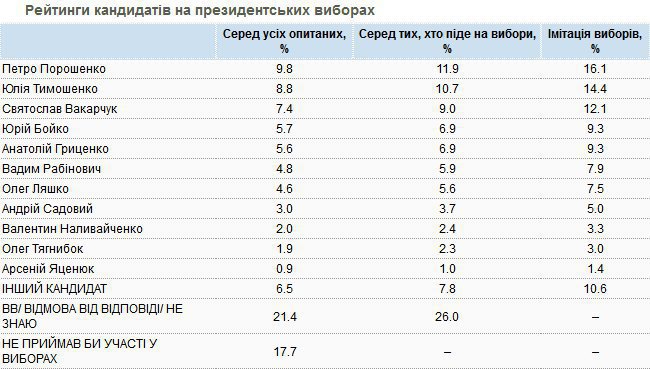 The leader of Opposition Bloc Yuriy Boyko and leader of Civil Position Anatoliy Hrytsenko would garner 9.3% of support, Vadym Rabinovych – 7.9%, leader of the Radical Party Oleh Lyashko – 7.5%, Self-Help leader Andriy Sadovy would get 5% of the vote.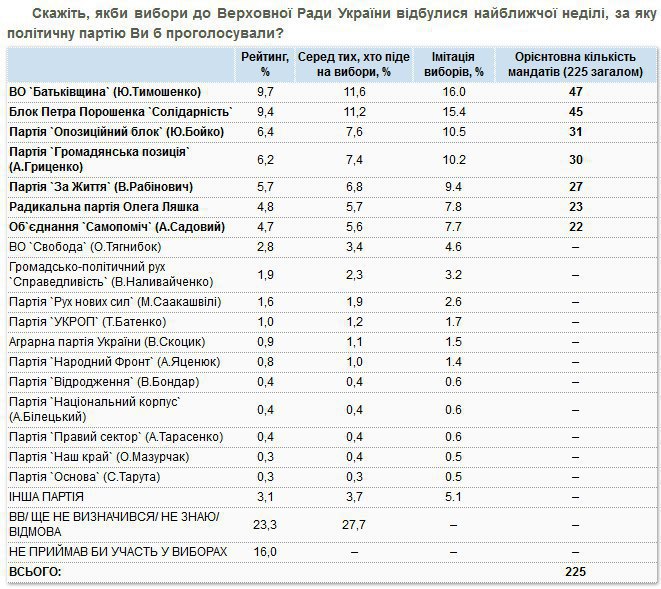 In the parliamentary race, Batkivshchyna (16%) would be slightly ahead of PPB-Solidarity (15.4%). 10.5% of respondents would support Opposition Bloc, 10.2% - Civil Position, For Life – 9.4%, Radicals – 7.8%, Self-Help– 7.7%.
Freedom (4.6%) and the rest of the parties would not pass the 5% entry threshold.
Mikheil Saakashvili's Rukh of New Forces is supported by about 2.6% of respondents, Arseniy Yatsenyuk's Popular Front – 1.4%.
The next presidential election in Ukraine should be held in March 2019.
Elections to the Verkhovna Rada are slated for October 2019.