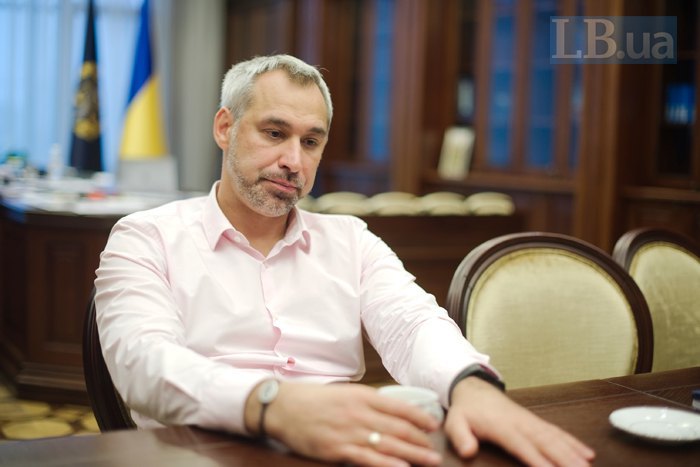 People do not really go into detail, why the proceeding was initiated. An initiated proceeding has already a negative connotation.
According to the decision of the Supreme Anticorruption Court, the Special Anticorruption Prosecutor's Office has initiated criminal proceedings against you. Your comment to our publication makes it clear that you were informed about it a little earlier.
Yes, the head of the Specialised Anticorruption Prosecutor's Office called me and told me about this decision and its content. I learned about the statement (concerning the initiation of proceedings against Ryaboshapka – SK) back in March, following that, approximately in mid-April, the Specialized Prosecutor's Office refused to open proceedings. The Supreme Anticorruption Court has now ordered prosecutors to carry out the proceedings.
Are there one or two proceedings? There are different statements on that.
The statement applies only to the episode regarding the declaration, regarding the loan. Allegedly, the loan was covered and there was added something else - without explaining to whom, for what, how much - the acceptance of illegal benefits. They simply wrote: "Please initiate criminal proceedings under following articles." And where the actual offense lies is not clear.
And what about the declaration? As the official statement shows that you repaid the loan, but did not have a proper income at that time. Right?
No, it is not right. We have been paying for the loan as the whole family, as we do right now. We will be paying for it for another 20 years. So, in order to close this whole situation, it is enough to show a certificate from the bank regarding status of loan repayment. That's all.
Where did the information came from, about the fact that you have already closed it?
There was a technical error in my declaration that I submitted when I was appointed as Prosecutor-General. This was done in the morning, before submitting to the parliament ... The numbers were all correct, I just wrote incorrectly on the notes that this loan has already been repaid. In the next two declarations - for 2019 and three months of 2020 - everything was reflected correctly and corresponds with the figures for the previous 2016, 2017 and 2018 years.
How can you comment the actions of former colleagues who filed a lawsuit against you to the Higher Anticorruption Court?
On this issue, it is necessary to understand, whether maybe someone stands behind this former offended colleague? If it is the case, it is one situation. If it's just some kind of inner resentment - it's completely different. It seems to me, from the way this story was promoted in the media, that it was used to discredit me. People do not understand why the case was initiated. Initiated - and this is a negative connotation.
Who can be behind the "offended colleague"?
A lot of people. At least those who took part in the harassment last time.
The readers should be reminded that your dismissal was forced by co-called Kolomoyskyy's people from the Servant of the People political party. Due to the initiative of one of those deputies, a relevant resolution was registered in the Verkhovna Rada. But what's the point of persecuting you now, as you're not even in Ukraine, but in France right now?
I do not know. Probably revenge, also. The first statement came when I was Prosecutor-General. This is a continuation of that story.
Do you have the intention to find out, whether it was inspired by someone or just revenge?
I do not see any sense to do it.
There is also a proceeding that was initiated against your former deputy, Mr. Kasko. Is this a coincidence?
I didn't know that. I heard from you. Then, in March, when I was still in office, the statement concerned both me and Vitaliy. Perhaps this is a continuation of the same story.
"The authorities go with the flow"
In the first interview with Olesya Batsman after your dismissal, you said that you were considering with your colleagues creating an expert platform that might become political. If you really plan to return to politics, then this situation would be even advantageous for you. The persecuted are loved in our society.
The case has no procedural prospects. Maybe it will benefit me.
What kind of platform would it be? What would be its specialization? Have you already started any practical work?
There is a lack of analytical organizations in Ukraine that deal with issues related to de-oligarchization and the rule of law. This includes judicial reform, reform of criminal justice, including the prosecutor's office, Anticorruption. I guess next week we will hold the first constituent meeting of the supervisory board, to which we would like to invite respected and world-famous people, not only Ukrainians. And gradually we will start working
What kind of people would it be?
Let us wait one more week. Then you will know. These are people with great authority. We will work the way that we would not ashamed, not only in front of Ukrainians, but also in front of them.
What are you planning to do? Research? Discussions? Think tanks deal with a wide range of issues.
I think our main task is to prepare draft strategies and action plans for the government. The government is still floating down the flow and mostly sporadically and chaotically reacts to certain threats. In addition, they did it quite clumsily and with some delay. Obviously, it lacks a good analytical product. I don't know how much this government will be ready to use it, but in general, there should be a package of documents on the table that could be used when the window of opportunity appears.
I doubt that after "everything that has happened" between you and the authorities, the authorities will want to cooperate. Where will you get the funding?
Once we launch, I think there will be support from ordinary citizens and businesses. Because there are many people who are willing to support such kind of platform, from the private sector in particular.
Telling about your project you named specific people you would like to work with. In particular, it was about Oleksiy Honcharuk. Will he join your team?
Not yet. Oleksiy is more interested in economic policy and we have a slightly different direction. It does not mean that we do not communicate with him. Perhaps, with necessity, we will invite him to join too.
And why do you need to create something of your own? Why not join BRDO (Better Regulation Delivery Office, independent expert and analytical centre funded by the European Union - SK) where, in fact, Honcharuk came from. There is also direction close to yours.
Then I would depend on Oleksiy. Therefore, we are on independent directions. We have world-known experts. I think some of the best in Ukraine. In this context Oleksiy among those who could join us.
Will you be the leader or someone else?
I will. Talking about the structure there will be a supervisory board, which will consist of respectable people, experienced, already at the age, with history, with experience. But practical, administrative governance will be mine.
Is the idea ofcreating a centre yours too?
It is. I had this idea for a long time. Finally, there is possibility to create such an organization.
How did you call it?
Institute of Democracy and the Rule of Law
Will Andriy Bohdan be related to your organization? You have been friends with him for a long time.
It depends on him. If he wants to join in any way, we will be happy.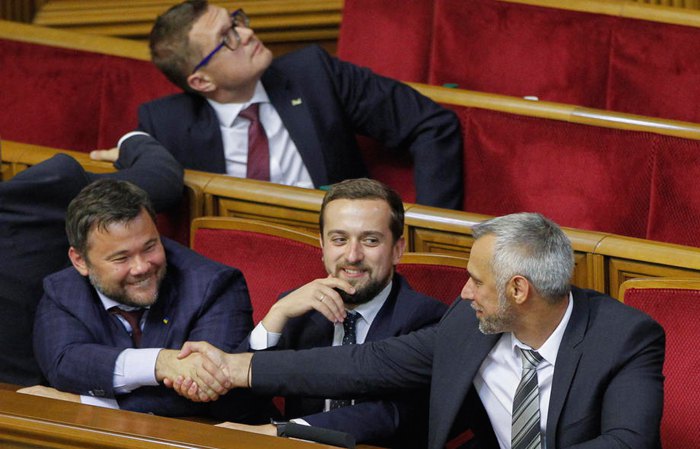 Did you make an offer to him?
We did not talk about it. I was telling I had an idea. It supported the idea. But we did not touch on this topic any closer.
Andriy Bohdan returned to the legal business?
I do not know. It seems to me that he feels himself tight in legal business.
"Bohdan - one of the few who can say to Kolomoyskyy 'no'" – you said once in interview. I will not be surprised if he will act on Kolomoyskyy side against the Ukraine state. About "Privatbank." It would be a nice story line.
I don't know, I didn't talk about this with Andrey. Especially since my position is the opposite and publicly recorded.
"It seems to me that Venediktova career will not last long"
Commenting your resignation, you said that it was caused by a combination of several factors, including the persecution of Kolomoyskyy's people and the interest of those who wanted to take your position. But before the appointment of Iryna Venediktova few people refused the post of Prosecutor-General, including Sergey Kyz' and Sergiy Ionushas. Were there really candidates for the position? Because it seems that Venediktova was strongly persuaded.
Yes, there were some candidates. And this is definitely not Sergiy Kyz and not Sergiy Ionushas. There were some people who predicted my resignation. One of them, in fact, is the current Prosecutor-General. Speaking on that, let's be honest: on the meeting with the president she said him in the eyes that I am selling the criminal proceedings. This happened in my presence.
Seriously?!
Yes. The conversation was about something else, the president was very surprised when she moved on to this topic for some reason. Therefore I can conclude that this person is one of those who constantly "placed in the ears of the President and the head of his Office that it is necessary to change the Prosecutor-General. So said: "Spring is coming, results are needed," and the Prosecutor-General is slowing down cases they "have investigated quickly and effectively." In particular, regarding Poroshenko. Now they can do everything they promised.
Are there any witnesses of this conversation?
There was one person. I do not want to name.
In that case you may simply be accused of lying.
It was an unrealistically "wild" story. My colleague called after and apologized for Venediktova's behaviour. That was it.
I see, then you can guess who this colleague is. What was the president's reaction?
He was surprised, but said nothing.
Didn't you ask Iryna about what her accusations were based on? Which cases?
She named one of the proceedings which we gave to National Anticorruption Bureau of Ukraine (NABU) accusation. This was under the Article 364 of the Criminal Code - for Abuse of power or official duties. Duly, only NABU was to conduct a criminal investigation. Apparently, it was about the fact that I likely to "sell" cases to NABU.
Was it the only such incident?
With my participation - yes. But if she says such things to the president in my presence you can imagine what happens without me.
What do you think was Iryna Venediktova's motives at that time? Ambitions? The understanding that she can't win the competition take the post of the Head of the State Investigations Bureau?
It is hard to tell now. Apparently, the ambition. The understanding that she could not have won the competition for the Head of the SIB if it was honest and transparent.
Why not win?
Because she does not have the necessary qualities - neither moral nor professional - to win this competition. And, in principle, her try to get to the Supreme Court showed this (once Venediktova is already failed to pass the competition tests for the position of a judge of the Supreme Court - SK). I think in the Office of the President no one have doubts that everything is really bad there (in the Office of the Prosecutor-General - SK).
Do you think she will be dismissed soon?
It seems to me that her career will not be long.
Iryna Venediktova heads the GPU. Her closest partner is an acting Head of SIB. Actually, they formed the monopoly. If the president allows this, then he agrees with it.
Absolutely. Today he may be satisfied with this, but tomorrow he may suddenly change the Prosecutor-General and the head of the SIB. Same as it was with the ministers: they were assigned for three weeks period, and then they were dismissed. This is typical of these authorities.
"These authorities"? What an interesting definition to hear from you.
For the president, for his office. So to say goodbye to the people who worked with them.
I don't know about "for the king's times" but "during Bohdan presence" it wasn't like that, right?
Yes, it wasn't.
"Bohdan is the architect of the elections victory. He conquered Poroshenko and the acting government."
Have you had a conversation with the President after you have been dismissed?
No. He did not consider it necessary. And I, eventually, no longer had anything to say to him. Neither before nor after we did not communicate.
When the pursuits started, did you try to talk to him?
I did not ask him to protect me.
It's not about protection. In our interview, you said that the president personally persuaded you to become the Prosecutor-General.
I confirm. I did not ask for this position.
Moreover, you refused twice. The third time had to agree because I was not polite to deny anymore.
Then I wonder why you have not talked with President after the dismissal? Did you ever spoke with Mr. Yermak even?
No. What should I talk to him about?
And why do you react like that?
Well, who is Yermak?
Head of the President's Office. For a minute.
Merely. What does it have to do with the Prosecutor-General and the Prosecutor's Office in general?
And with Smirnov? Did he explain to you what was going on?
We had a normal working relationship with Smirnov. We did not talk about the reasons for my dismissal. There was no point to ask him why this had happened. Smirnov – is not a decision maker.
Just trying to figure out who was supporting you humanly at that moment. Except Honcharuk, of course.
Frankly speaking, there were many people. A lot of messages, calls. It means that there are a lot different points of view, at least at my work in the prosecutor's office.
Did you immediately go to the France to join your family?
In two days. I was supposed to return on March 17, but then the flights were cancelled, quarantine just started and travel restrictions were imposed.
After the dismissal from the Prosecutor-General position, perhaps you have been offered any other jobs?
No. But in case any offered, obviously, I would not agree. The way everything was done did not allowed further cooperation with such a team.
And when did you start noticing that "the new government is floating"?
I think after the New Year.
What happened after the New Year?
Bohdan's influence decreased considerably. And the more his influence and opportunities to work as a crisis manager faded the worse situation with controllability in the state aroused.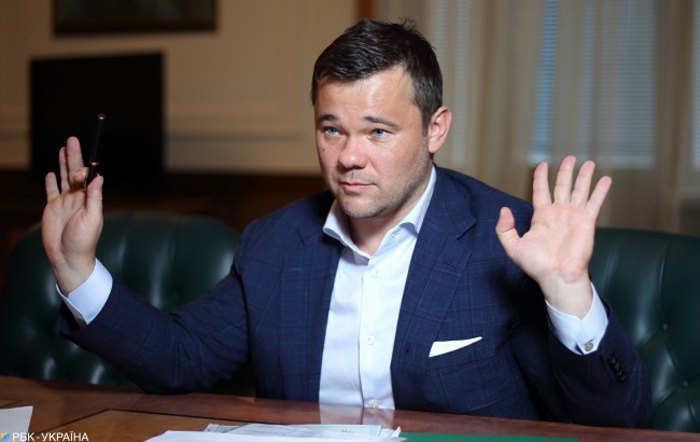 So after Bohdan left everything collapsed?
Strictly speaking, yes.
Didn't the authorities have more "pillars" around except Bohdan?
Let's call these names. Yermak?
Not without Yermak. But there was still a working majority in the Verkhovna Rada at that time.
The majority is not a support for the president. In the office of President must be people who have a broad perspective and can think far than two days ahead, but at least to see a year term. Strategize.
Did Bohdan see prospects?
Bohdan has a very good vision. Finally, Bohdan is the architect of the victory. He beat Poroshenko and the government.
Should we start laughing? Had there been no Zelenskyy, there would have been no Bohdan, at least in public policy.
Without Bohdan, Zelenskyy wouldn't become president.
I understand that this is your friend. You will defend and support him. But don't you think that it is his fault that you were fired? It seems that he left the president no choice.
To some, his style of behaviour may have seemed unacceptable. But he brought a hefty favour of the president and his office.
He managed to quarrel with everyone at the start, and lost his allies. Most adequate people could not accept him. To put it politely.
I do not agree. I know that his views were supported by the representatives of the Western world, foreign embassies. Bohdan met with them, communicated, explained what he was doing. He managed to change the situation to the opposite. Because you remember, first they didn't treat him very well.
Perhaps he was too straight, not quite correctly handled things with the media, so he was criticized. I agree that it would be another way to communicate and cooperate with the media. But I mean, the benefits he brought are not compatible.
Bohdan has a complex character. Perhaps the president is not very comfortable with such a character.
This is an important point. The Head of the Office is a very close person to the president. At the beginning of the year, a month and a half before Andriy Bohdan dismissal's, a person from the close circle told me: "Morally, he (the president - SK) fired him (Bohdan - SK) a long time ago. It's a formality now."
We heard two actors of the tapes of Yermak "who said in an interview with Bigus in November that it was decided that Yermak would become the head of (the President's - SK) office.
"Maybe the president will also be changed very soon"
After what you told me here, the government will never turn to you for strategic plans. Out of principle.
The government is changing. The parliament configuration is changing. I do not exclude that with time there will be another majority situation in parliament. And the different majority state is a different government. Maybe president will be changed very soon. In our country, it is very difficult to predict something.
What do you mean when you talk about the "other" majority? Do you think the Servant of the People faction will finally fall apart, or how?
Everything can happen. It can be fragmented, there may be other centres of influence, which will change the configuration and political forces in parliament.
How seriously are you thinking about turning your expert platform into a political one? Which direction will you choose?
It is too early to talk about this. The expert platform should have appropriate documents, programs and strategies. In addition, someone has to implement these documents. That is, there must be professionals ready to come to power and implement it quickly. And not the people as Yushchenko once said…
"Found on the dump"?
So. Therefore, one of the tasks is to gather such a circle of people, communicate with them and prepare them for coming to power.
Listen, but a significant part of the Servant of the People faction was found on the Internet. Literally. And - in terms of competencies - it is unclear what is better: the Internet or a dump.
Absolutely agree.
And how was it to work with them in the role of the Prosecutor-General?
I was not actually allowed to do anything during these six months, but we set a good pace. Immediately we began to work actively with NABU, there was normal cooperation with Kholodnytskyy. This cooperation, by the way, continues. That is, NABU and SIB for the first time began to communicate normally and showed the results. In three months, we actually re-certified at the central office, reduced the number of employees in the Prosecutor-General's Office by 1,000 people. But we worked not enough.
At the same time, when you were the deputy head of the president's office, you were very serious about having Kholodnytskyy dismissed. But it turns out he is still there.
He will hold the post far longer than many but what you have mentioned was not so. We explained in the president's office that we need to stop fighting and it's time to show results. In fact, since the summer of last year, no-one has pressured them, no-one demanded any imprisonments or cases against specific people, so they started working normally. You haven't heard of any conflicts between Sytnyk and Kholodnytskyy lately.
"Kholodnytskyy probably understands that he has no political future in this country. That's why the only way out for him is to work successfully with Sytnyk," these are your words. Do you still think that he has no political future in this country?
Hard to tell. Our country is so unpredictable….
In your opinion, does the amended NABU law pave the way for Sytnyk's release?
I think not.
It will be defended by Western partners, isn't it?
Including.
Do you think the government of Denys Shmygal is worse than the previous one?
I think it's definitely not better. We do not see that this government has a strategic vision for the future or will work for at least a year.
Why not?
The approach to forming a government did not include the category of professionalism. The ministers of finance and health get replaced during the crisis, and several ministers have not yet been appointed. Very few people have a strategic vision for at least a year.
Do you think that Oleksiy Honcharuk was fired unfairly? Was everything okay with the economy?
I did not say that everything was fine with the economy. However, I think the decision to change the government was wrong. In a situation with the coronavirus pandemic, an unfavourable economic situation, in the midst of negotiations with the IMF, he could be strengthened by several ministers or several ministers could be replaced, but this cabinet could continue to work.
Tell me honestly, do you feel insulted by the President?
(After pause) I guess I do.
An honest answer. Can you say now that Volodymyr Zelenskyy is your president?
He is the president of Ukraine.
Your president?
The president of Ukraine. Since I am Ukrainian and I have one passport, despite the rumours, this is my president too.
Would you vote for him in the presidential election today?
I think not. However, if there was a choice between Poroshenko, Tymoshenko, Boyko and Zelenskyy, I would vote for Zelenskyy.
"Society was convinced that we needed imprisonments and 'blood' was needed, and six months of our work was not enough"
Let's talk about your work as Prosecutor-General. Our last conversation with you was entitled "Society needs blood. Society demands imprisonments." Were you able to meet this demand of society?
I think not. Society was convinced that we needed imprisonments and "blood", and six months of our work was not enough to do that. Serious economic proceedings are revealed in a year or two. Obviously, six months is clearly not enough to investigate a political case from scratch and take it to court, to go through the courts. However, I think we have shown a serious intensification of work. Without having direct leverage over NABU and SAP, only through coordination with them, they began to work more actively.
Who convinced society that imprisonments are necessary?
We did.
Zelenskyy's entourage, isn't it? To which you yourself belonged.
Politicians convinced. Actually during the election campaign. About spring and jailing (refers to election campaign slogans - ed.), it came out of the election campaign. Then this story continued. On the other hand, society has been tired of impunity for so many years. High-ranking officials simply change - from opposition to power, from power to opposition - and only those who are unlucky get behind bars.
You are a lawyer, have a law degree, have worked in this field for a long time. Being from the first day of the election campaign in the team of Zelenskyy, Bohdan, you did not understand that the slogan on the boards "Spring is coming - we will put them in jail" - is wrong? You didn't say a thing, admit it.
Wrong from which side? In terms of law?
This is absurd. This cannot be offered to the society. Pure populism and very dangerous by the way. I don't believe you didn't understand that then. Apparently, you simply kept silent, hoping for a high position after the victory. Now that your hands are free, you can afford criticizing. Typical double standards, sorry.
In fact, it is obvious that these are political slogans, which are very often an exaggeration, a certain allegory. That is, people are given a general message. The task is to convince them that this common message will be implemented. Obviously, it cannot be taken literally and especially through a legal prism.
During our last conversation, I told you that I know about the meetings in the President's Office, which required results, and actually imprisonments, in specific cases. Then you denied it that it is clear, - the position of the public prosecutor demanded. What do you say now?
No, we talked about the fact that certain names were called and the need to carry out proceedings against them, to bring them to justice.
Do you confirm this? Was it brought up at the president's meetings?
Presidential meetings have always raised questions about high-profile crimes. For example, falsifications in the alcohol industry. When the minister, the heads of the National Police and other law enforcement agencies meet and comprehensively analyse the situation where there are the biggest problems with crime. Such meetings were on smuggling, uncontrolled deforestation, and gambling.
Was the name of Illya Pavlyuk raised at the smuggling meeting?
I don't deny it.
In what context?
From the point of view of the people who control this phenomenon.
In the case of Svinarchuk, for example, which was investigated by NABU, there were questions why there are no verdicts and no-one is still not imprisoned?
When Oleh Hladkovskyy was detained, this situation was reported to the president, and it was well covered by the media. Then, to be honest, I don't remember if there were any questions about him. There were questions as to why there were no sentences for people who had been detained, why they had been released on bail or a measure of restraint other than detention was chosen.
How can that be? We have an independent judicial system.
That is why people were released on bail. If it were not independent, they would all be imprisoned.
When you worked as the Prosecutor-General, were there situations when you understood that court decisions are issued based on a call from Bankova?
Why do you think they were issued based on a call from Bankova?
Just asking. Not even with specific surnames. In general.
I have not come across such stories. If this were possible, the people for whose detention there was public demand would be jailed.
Poroshenko's case. Davyd Arakhamiya literally said that you were fired in part because of it: "The last straw is the reluctance to sign a suspicion notice for Poroshenko." Earlier, you denied that you were under pressure to sign a suspicion notice for Poroshenko or to intensify actions. What would you say now?
It was not the case that the criminal proceedings in the SIB required bringing the case to some suspicion or terminating the investigation. They investigated on their own, and some of them came to the preparation of a report of suspicion. They were handed over to the Prosecutor-General's Office, and you can see how it ended.
Do you think Petro Poroshenko will / will not stand trial under President Zelenskyy, will he be put behind bars?
I do not know. As for these 17 criminal proceedings, it is doubtful.
So they need something new?
Yes, more promising would be proceedings for crimes in the economic sphere in which serious convincing evidence would be collected. In those 16 or 17 cases, I do not see anything promising.
Your quote: "Poroshenko's suspicion is legal trash." Why? Is that how the SIB worked, or is it a lack of corpus delict?
This is the quality of the document, which provides for both. The document was prepared by SIB investigators and sent to the Prosecutor-General's Office. Prosecutors looked through and said the same evening that it was a low-quality document. Therefore, they were sent back to the State Investigation Bureau for reworking. The document was all crossed out. Not only that, there was, in fact, no evidence to prove the crimes of which the fifth president is suspected. So from the legal point of view, everything was very imperfect.
That is why I asked you about the prospects for Petro Poroshenko's prison term. I do not want to compare this situation with the case of Yuliya Tymoshenko under Viktor Yanukovych, but there is clearly a similarity.
Such a story could be repeated. Situations are somewhat similar.
... Perhaps little time has passed to find grounds for prosecution.
Is there a need to look for them? Do you have a belief that he did something wrong?
If there are no grounds, it is impossible to try anyone. If there are, then it can be done. And to do as the previous authorities did, obviously, is impossible. I explained to the President, at least in two cases, in particular in the case of the High Council of Justice, that these stories are not promising. Venediktova said that the Prosecutor-General is blocking the work of the SIB.
In fact, Iryna Venediktova complained that you refused to combine the cases of Poroshenko regarding the appointment of Semochko and the High Council of Justice, but now they are united. "Before his dismissal, literally a day or two before, Ruslan Heorhiyovych merged them. I don't know why he changed his mind after all, because at first he didn't want to merge them. However, he merged them and handed them over to the SAP. Nazar Ivanovych told me that he would hand them over to the SIB again." These are her words. Why did you change your mind?
Venediktova is simply not very well aware of the criminal process. It is clear from the suspicion notice that the two episodes have already been merged. The suspicion notie was drafted with regard to two episodes - the appointment of HCJ members and the appointment of Semochko. That is, there was nothing to merge - if the suspicion was based on two crimes, respectively, these two proceedings were already merged. If the fifth president was suspected of committing a crime under Article 364 of the Criminal Code, it means that this proceeding is definitely not the responsibility of the SIB. I think she learned about the breach of jurisdiction when we discussed the quality of this suspicion. We just read her a quote from the Criminal Procedure Code, and she was surprised to learn that it was under NABU's jurisdiction. Therefore, it was necessary to give this case to NABU. Kholodnytskyy excluded Article 364 of the Criminal Code from the qualification, which partially confirmed my rightness that there is no abuse of power, and sent the case back to the SIB.
"There is another subtext in Sternenko's case. At least revenge."
Sternenko's case. When you were in charge of the Prosecutor-General's Office, it was actively investigated. Viktor Trepak, your former deputy, said after his dismissal that Venediktova had demanded that Sternenko be declared a suspect. She herself categorically denied it. However, she said that he could be declared a suspect under either Article 115 or Article 118, ie "murder" or "murder in excess of self-defence". You know this case well: which article applies there - 115 or 118? Should there be no suspicion at all?
I do not want to comment on anything now because it will be a kind of pressure and interference in the work of investigators and prosecutors. When the case is closed, I will make my point.
In fact, it is not as simple as the media describe it, in the first place. Second, there is definitely a political factor in this case. Because I was approached by people who asked me to influence this investigation.
How to influence?
That Sternenko should stand trial.
Who did this?
I don't want to talk about it yet.
Why?
Later.
People come and ask you to lock Sternenko. What would a proper Prosecutor-General do? Obviously, he would report it to law-enforcement agencies…
You are exaggerating in a very rough manner. Everything was not quite so.
Then how, tell me?
The time will come, I will tell.
But the refusal to talk about it can be seen as complicity ...
Why?
Because you are covering up a person who wanted, roughly speaking, to corrupt the Prosecutor-General.
They did not want to corrupt me.
Okay, influence your work.
This was not the case either.
Okay, they told you how to unfold a high-profile case politically best.
Not politically. People believed that the qualifications in this case should be exactly what they see.
Who are these people than?
I'll tell you later. I am absolutely convinced that there is another subtext in this case. At least revenge. I think they are trying to realize the motive of revenge so that Sternenko gets as severe a punishment as possible.
"Venediktova publicly declares that she will continue the reform of the prosecutor's office. However, everything is happening in a slightly different way."
Did Kasko and Trepak talked with you before your dismissal? Did they consult with you?
We met on the evening of my dismissal. We talked. Vitaliy said that he had come to the Prosecutor-General's Office to help me and did not want to stay anymore. He resigned the same day.
Trepak stayed to see what would happen next?
For him, the case of Kateryna Handzyuk was extremely important. He invested so many efforts into it and did almost the impossible. In fact, he wanted to bring this case to completion.
We will return to the Handzyuk case. In an interview after his resignation, Trepak, commenting on the possible reasons for what is happening in the prosecutor's office, said: "Perhaps the reason is that even in this short time we have come a long way in a number of important cases. We have been preparing several very serious actions that would affect the interests of certain oligarchs and the state that is hostile to Ukraine. According to certain signs, the persons concerned could feel that we were "going" in their direction and acted pre-emptively. "I would like you to comment on this. And who are these oligarchs connected with the hostile state - Medvedchuk?
Viktor Mykolayovych should comment on his words.
You were the Prosecutor-General, not Viktor Mykolayovych.
It turns out that I am commenting on or deciphering his words. This is inappropriate.
I want to take a stock of the cases that you have managed to work on because some of them have been transferred to the SIB, some to NABU, some may get lost somewhere along the way. So it is worth talking in detail to prevent this from happening. So. Did you have anything on Medvedchuk?
I can't say.
Why not?
Due to the secrecy of the pre-trial investigation.
The case is in the PGO right now?
The prosecutor's office provides only procedural guidance. There are other bodies of pre-trial investigation.
SIB?
And the SBU.
Perfect. Let's return to the Handzyuk case. The investigation was completed, although it had been extended for two months before that. Activists, including Massi Nayem, see the rush as a threat that the case will fall apart in court.
When the pre-trial investigation was extended, Trepak's team was still working, and the head of the relevant department, Oleh Deyneha, was still in his post. These people had a plan on how to investigate, what evidence to gather and how to put these pieces of the puzzle into one picture. When people left, the vision of how to investigate the case disappeared. Apparently, new people came, saw that everything was allegedly collected, there was enough evidence, and in this state the proceedings were sent to court. It seems to me that Massi Nayem is right here. Maybe that's why Trepak was fired so as not to interfere with the transfer of the case so quickly.
However, he tendered his resignation on his own. Iryna Venediktova confirmed this.
Next is the case of [killed journalist Pavel] Sheremet. In fact, the Prosecutor-General said in an interview with Ukrayinska Pravda that she did not consider it appropriate to hold such a high-profile briefing, as the case raises questions. Much of it was investigated during your tenure as Prosecutor-General, what do you say about that? What is its current condition?
I don't know at the moment.
In what condition did you leave it?
When I resigned as Prosecutor-General, the case was not ready to be taken to court. Sufficient evidence still needed to be gathered to open the files and move on. We extended the police's pre-trial investigation by two months, although they asked for six. Prosecutors have prepared instructions: what evidence to collect and how. These instructions were not followed. We wanted to monitor this case every two months to see if there was any real progress. The absence of such progress directly correlated with the prospects for investigating the case.
Cases of the Maydan. A number of cases were transferred to the SIB in late November last year. Is there any threat to them, as well as to other cases transferred to the SIB?
Hard to tell. We need to look at the results. I'm not in the system now, I don't understand what's going on there. I can see from media reports that procedural actions are being taken in some proceedings.
Can you answer the questions that were not answered last fall, when we recorded an interview with you and I asked in detail about the cases of the Maidan? Then you mentioned that there is a case against Ihor Kaletnyk, which does not concern the "laws of January 16". What about that case?
There seem to have been two proceedings. One is related to land plots and their legalization, the other is related to the "January 16 laws." The January 16 law case was closed about a month before I joined the prosecutor's office. The land plots are being further investigated. Only it seems to have been transferred to NABU.
The case of Mykola Azarov?
The same - transferred to NABU.
Is this a case of importing and accepting Russian grenades under the guise of humanitarian cargo?
This proceeding seems to have gone to the SIB. There is another proceeding with the economic composition of the crime, it is being investigated by NABU.
I can't help but ask you about your brainchild - the reform of the prosecutor's office. There is a lot of talk that it can be cancelled. What will be its fate? Will those people who want to do so be able to renew their positions? You had a mechanism to prevent this, but it seems to be stalled to an extent. What will happen to the reform of the prosecutor's office?
I want to hope that it will be completed. Venediktova publicly declares that she will continue this reform. This is exactly what our foreign partners are saying. However, everything is a little different. Two weeks ago, for example, the commission for appointments to managerial and administrative positions was changed. Whereas earlier the composition of the commission was three to three, ie 50% of civil society, from foreign non-governmental organizations, now four out of seven people are prosecutors. In fact, this commission formally legalizes the decision of the Prosecutor-General. I think this is how it will move forward: it will be publicly declared that the reform of the prosecutor's office is supported, but de facto, it will be as convenient.
What is happening now in the regional prosecutor's offices in terms of reform? There was information that everything hung up there.
"Hung up" due to quarantine. The first stage was completed - testing for knowledge of the law, for general skills. After that, the process stopped, because the next stage is an interview, and this is communication with a large number of people.
During our last conversation, you said the following: "Many prosecutors have their mentors, owners or supervisers who guide them." It was strange to hear this from the Prosecutor-General, who has not been in office for a week or two. Have you eradicated this situation?
It seems to me that re-certification in the Prosecutor-General's Office has made it possible to rectify this situation. Approximately 55% of prosecutors did not pass such certification. During the integrity check, among other things, connections with "supervisors" or "mentors" or those who lobbied prosecutors for these positions were analysed.
In addition, MP Medyanyk promised (during an SMS correspondence in the Rada - SK) to talk to Trepak about the issues of "sugar" and "ocean".
What he wrote is on his conscience.
Did you discuss this with Trepak?
Yes. Viktor Trepak doesn't know this MP, never saw him, didn't communicate. The Prosecutor-General's Office conducted an official investigation into this issue, which removed all possible questions about the rightness of Viktor Trepak.
If the reform of the prosecutor's office fails, what will it have to do with - the inability to carry out the task or the political will?
I think, first of all, it can be connected with political will. If there is this will, there are enough people in the prosecutor's office who can continue the reform. The same Gyunduz Mamedov, who is very concerned and puts his soul into the reform. You just have to give him the opportunity to do so.
Who now has the political will to slip?
At least the Prosecutor-General, who organizes the process in this way.
Why does she need that? Reform is a good thing.
Good for doing it in public. But when the "right" people need to be returned or appointed, or when someone asks from the outside to appoint a person, and you can neither appoint nor refuse, then you start looking for ways to circumvent the reform.
Finally, I want to ask you. You said that the issue of Bohdan was resolved in November.
It wasn't me who said that, but the two guys who traded positions with Yermak's brother.
It was not an interview, but a recording. Who do you think did it, by the way?
This was not a recording. It was an interview with Bigus. I don't know who made the recording.
SBU?
This was happening when I left the Prosecutor-General's Office.
No. The recording was made last fall when you were in office.
Well, I don't know.
If it is the SBU, there are questions to Mr. Bakanov, did he know about it? Okay. The last question. From what moment did your relationship with the president begin to sour? When did you start to feel it?
March 5, when I was fired.
Was everything good before?
There were no complaints or preconditions for resignation. However, when they began to actively collect signatures (for the resignation of Ryaboshapka - SK), it became clear that the decision was made, and it was made by the president. When the faction with the participation of the president discusses Ionushas for the position of the Prosecutor-General, even though I am in this position, then everything is obvious.