In 2016, some 588,900 Ukrainians received their first residence permits in the European Union, 87 per cent of which were issued by Poland.
In this regard, Ukraine is the leader in the EU, according to Eurostat.
For comparison, similar permits were issued to 348,100 Syrians (almost two-thirds – in Germany), 250,900 US citizens (nearly three-quarters – in the UK), 198,400 Indians (more than 60 per cent – in the UK), 195,600 Chinese (mostly in the UK).

Overall, Ukrainians apply for residence permits for employment, while Chinese or Americans are interested in education.
Residents of Turkey and Morocco go to the EU to reunite with their families.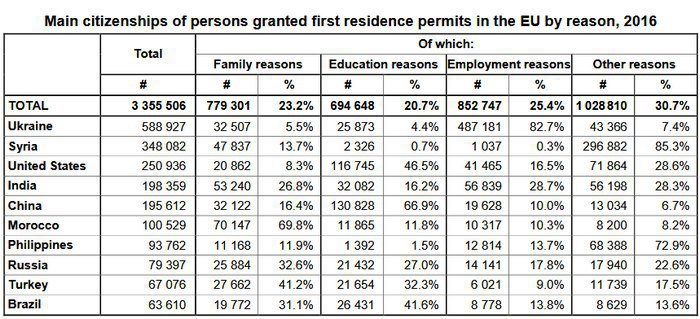 Ukraine has been leading by the number of immigrants to the EU for several years in a row.
In 2015, permits were issued to 500,000 citizens of Ukraine, in 2014 to nearly 303,000, in 2013 about 237,000.