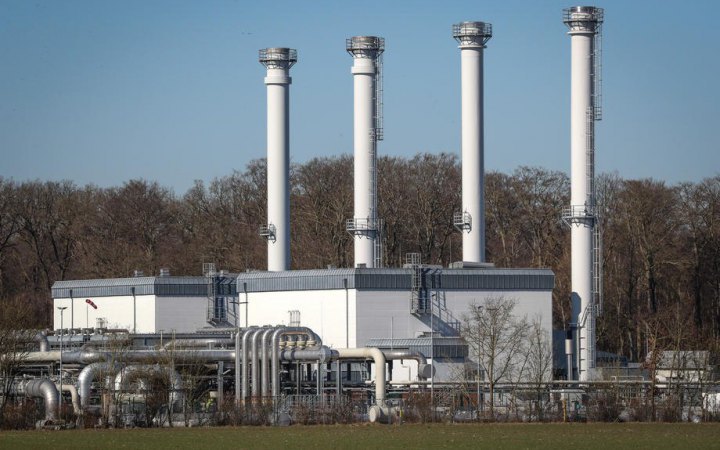 Natural gas storage facilities Astora in Rehden, owned by Gazprom, Germany, 9 March 2022
To provide the security of gas supply, Germany will temporarily nationalize the unit PJSC «Gazprom» in the country. 
This was announced by Minister for Economic Affairs Robert Habeck, reports Bloomberg.
The company «Gazprom Germania GmbH» - the owner of energy supplier Wingas GmbH and Astora company that controls the biggest gas storage facilities in Germany - will be managed by the German Energy Regulator until 30 September. 
According to the Minister, these steps are done after Russian Gazprom left its German subsidiary without the approval of a government, which broke German law. 
According to Bloomberg, Gazprom subsidiaries in Europe are under pressure because customers and business partners refuse to do business with them, which increases the chances that some of them may go bankrupt.
«The Federal Government is taking necessary steps to ensure the security of supply in Germany, - Habeck said. - That means also, that we do not allow Germany's energy infrastructure to depend on the Kremlin's arbitrary decisions.»
Last Friday Gazprom stated that it no longer owns a German subsidiary, which also has a sales branch in the UK and units from Switzerland to Singapore. Palmary became a new shareholder. Its ultimate beneficial owner is unknown: it was registered in October last year to an address in Moscow. 
We remind that Gazprom's German offices were recently searched as part of an investigation into Russia's influence on the energy crisis in Europe. Investigative actions took place in the offices of Gazprom Germania GmbH and Wingas GmbH, which are responsible for about 20% of gas supplies to the German market. 
The European Union is investigating the impact of Gazprom on the energy crisis in Europe in the winter of 2021-22. This is because the Russian monopoly limited additional gas supplies at a time when Europe's natural gas reserves had fallen to their lowest level in ten years.
The investigation revealed Russian pressure on European politicians to approve the Nord Stream-2 gas pipeline launch.