On 21 September, President Volodymyr Zelenskyy met with U.S. senators and House leaders to discuss defence assistance to Ukraine, Reuters reports.
In particular, the head of state met with Speaker of the House of Representatives Kevin McCarthy, House Republican Party Leader Steve Scalise, and House Democratic Party Leader Hakeem Jeffries.
After the meeting, Zelenskyy told reporters in the Capitol that "we had great dialog."
The president told Senators that military aid was crucial to Ukraine's war effort, Majority Leader Chuck Schumer said in the Senate chamber after the briefing, which took place behind closed doors.
"If we don't get the aid, we will lose the war," Schumer quoted Zelenskyy as saying.
The senator noted that he told members of Congress that "right now, this courageous man is at the center of democracy and freedom, and my message to President Zelensky and my colleagues was simple - America must always support our friends around the world, including the people of Ukraine," CNN reports.
Congress is to set a deadline for passing a funding bill by the end of next week. Schumer said that it is "quite clear" that if there is a government shutdown or a stopgap measure that does not include aid to Ukraine, "the damage that could be done to the Ukrainian campaign would be devastating."
The Democratic Majority Leader emphasised that support for Kyiv is more than just helping the Ukrainian people. Schumer criticised some conservative Republicans for opposing aid to Ukraine.
"As President Zelensky reminded us, this is also about American security, because a Putin who wins will be an inspired Putin," Schumer added.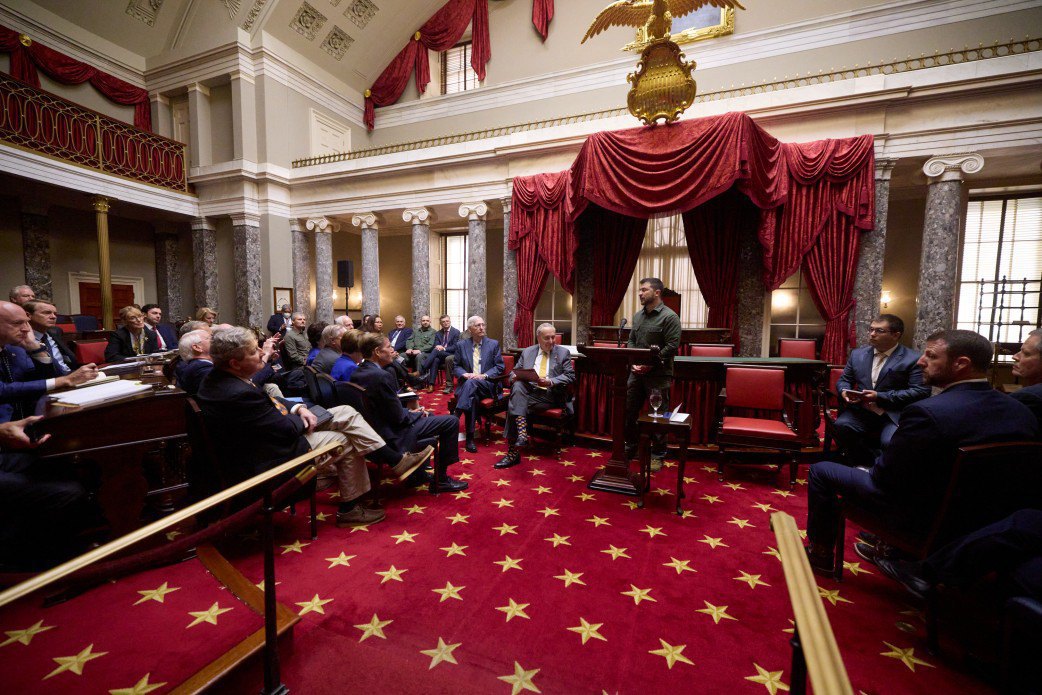 The President informed the participants of the meeting about the situation on the battlefield. They also discussed Ukraine's priority defence needs and strengthening the capabilities of Ukrainian air defence, especially in the run-up to the winter, the president's website says.
The President emphasised that Ukraine's victory would guarantee that neither Russia nor any other dictatorship would be able to destabilise the free world.
"And to win, we must be together. And win together. We are counting on you, on your constant support," Zelenskyy said.
Republican Mitch McConnell said that "American support for Ukraine is not charity" but "an investment in our own interests."
"The deterioration of Russia's military power helps to deter our main strategic adversary, China," McConnell added.
The senator also said that he was glad that "our colleagues had the opportunity to hear [Zelenskyy] firsthand and ask questions about the status of Ukraine's counteroffensive."
After visiting the Congress, the President of Ukraine met with Pentagon Chief Lloyd Austin.
As previously reported, President Zelenskyy will meet with leaders from the House of Representatives in Washington, D.C., during his visit.
Prior to that, Zelenskyy took part in the Atlantic Council Global Citizen Awards in New York. The head of state also met with Penny Pritzker, the US President's Special Representative for Ukraine's recovery.