Sternenko's case
Odesa's Prymorskyy district court has found public activist Serhiy Sternenko guilty of abduction, illegal handling of weapons and attack for the purpose of appropriation of alien property. The court sentenced him to seven years and three months. Sternenko described the verdict as politically motivated and said he would appeal it.
According to the court, Sternenko took part in the abduction and torture of a pro-Russian councillor from Kominternivskyy District in Odesa Region, Serhiy Shcherbych, in 2015. In September 2015, Sternenko was briefly arrested.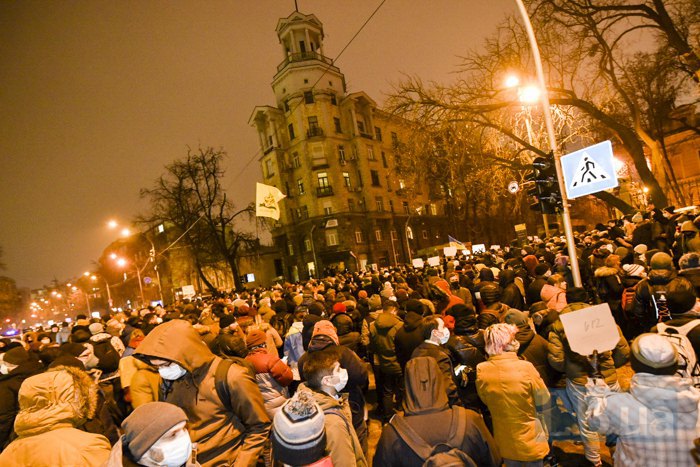 Several thousand people joined a rally outside the presidential office in Kyiv to protest against the sentence handed down on public activist Serhiy Sternenko today. Clashes with the police broke out. Tear gas was sprayed and a few smoke bombs were fired. By 10 p.m., 17 people have been reported detained.
Red Cross volunteers said that five people were brought out of the crowd as they have been injured. Most were poisoned with tear gas.
According to the organisers, 5,000 people attended the rally.
Sternenko's lawyer Masi Nayem called on President Volodymyr Zelensky to react to the verdict.
"What has happened is what we had feared for the past half year. Only pro-Russian forces are happy that Serhiy is not free. This verdict is not about justice. If Serhiy gets locked, we will be deprived of the right to defend ourselves forever. Anyone who defends Ukraine will be put on trial," he said, noting that "no answer is also an answer, Serhiy is not in a remand centre and we do not know where he is".
Participants in the rally said they would not leave the area in front of the presidential office until the morning. They announced that an infinite protest would begin on Saturday, 27 February.
Donbas
One Ukrainian serviceman got killed and one wounded as Russia-backed militants violated the truce seven times today, the Joint Forces Operation HQ has said. Militants fired with banned 82-mm mortars and mounted anti-tank grenade launchers near Zaytseve, causing casualties among Ukrainian servicemen.
They also fired with 120-mm mortars and mounted anti-tank grenade launchers near Krasnohorivka and heavy machine-guns near Pisky. More grenade launchers were used near Luhanske, Avdiivka and Hnutove. Near Shumy, militants fired with an automatic mounted grenade launcher and a heavy-machine gun.
Ukrainian troops returned fire.
Crimea
Exclusive: Ukraine, in cooperation with partners from the UN Security Council, is convening an Arria formula meeting on the situation in Crimea in March, Permanent Representative of Ukraine to the UN Serhiy Kyslytsya has said in an exclusive comment for LB.ua.
Russia has been busy boosting its nuclear potential in Crimea, thus undermining Ukraine's non-nuclear status, Ukrainian Foreign Minister Dmytro Kuleba has said. He added that Russia's actions undermine the architecture of global security as they violate a series of international treaties, including those on non-proliferation.
Russia
The Ukrainian Foreign Ministry has demanded that Russia prosecute the man who stabbed a Ukrainian border guard in the consulate-general in St Petersburg.
The Government of Ukraine has filed a lawsuit with the European Court of Human Rights against Russia over political assassinations.
Media
The 112 Ukrayina, NewsOne and ZIK TV channels, which were incorporated in MP Taras Kozak's Novyny media holding, have established an eponymous limited liability company with the statutory fund of 100 hryvnyas, Culture Minister Oleksandr Tkachenko has said. It has 100 founders.
Coronavirus
Ukraine registered the AstraZeneca (CoviShield) and Pfizer vaccines on 22 February, Chief Sanitary Doctor Viktor Lyashko has said. He insists that the CoviShield vaccine made by the Serum Institute of India is absolutely safe.
The first batch of 500,000 doses of CoviShield arrived in Ukraine this morning. Once it goes through customs clearance, it will be sent to the regions, Health Minister Maksym Stepanov has said.
Ivano-Frankivsk Region will move into the red zone quarantine zone as of 26 February. The regional authorities will need to install checkpoints on motorways leading to the region and ensure temperature screening. Railway, aviation and automobile public transport will be banned from stopping in the region.
Economy
Exclusive: The Cabinet of Ministers is not planning to dismiss Naftogaz of Ukraine CEO Andriy Kobolyev and the company's supervisory board "because there are no formal reasons or political opportunity for this", sources in the government have told LB.ua.
Cyber security
Cyber experts of the Security Service of Ukraine (SBU) have exposed a hacking ring which gained authorised access to private accounts for money. Their clients mostly included Russian nationals and local "private detectives. The virtual server hosting owner is being checked for connection with Russian special services.