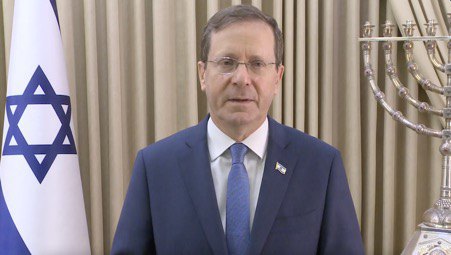 President of the State of Israel Isaac Herzog
Anti-Semitism is a phenomenon that affects more than just Jews. It also breeds other forms of intolerance, so joint efforts are necessary to combat anti-Semitism. This was stated by the President of the State of Israel Isaac Herzog during the third Kyiv Jewish Forum.
"When it comes to threats of violence or hate attacks against our sisters and brothers, as well as against anyone, we must raise this issue properly. This is not just a Jewish issue. If anti-Semitism is allowed to grow, other forms of intolerance are also hidden behind it, poisoning our society and harming us all," the President of Israel said.
He also recalled his recent visit to Ukraine during a commemorative event marking the 80th anniversary of the Babyn Yar tragedy, which has become a symbol of the Holocaust in Eastern Europe and a reminder of what anti-Semitism can lead to.
"My visit to Babyn Yar only a few weeks ago will stay with me forever. This is the most convincing reminder that we, in the international community, cannot afford to ignore the profound destructive power of anti-Semitism," Herzog said.
The Kyiv Jewish Forum, which is being held for the third time in 2021, has become a respected international platform for discussions on the most pressing issues of concern to Jews and the world community. This year, it is dedicated to the 30th anniversary of the establishment of diplomatic relations between Ukraine and Israel. Opening the KJF, the founder of the forum, President of the Jewish Confederation of Ukraine, Vice President of the World Jewish Congress Boris Lozhkin reminded that 30 years ago Chaim Herzog, the father of the current President was the President of Israel.
Apart from Isaac Herzog, the President of Ukraine Volodymyr Zelensky, Prime Minister of Ukraine Denys Shmyhal, representatives of the European Commission, the UN, the US Senate and House of Representatives, representatives of parliaments and governments of Ukraine, Israel, UK, Canada, Italy and other countries, scientists and businessmen are the participants of KJF-2021.