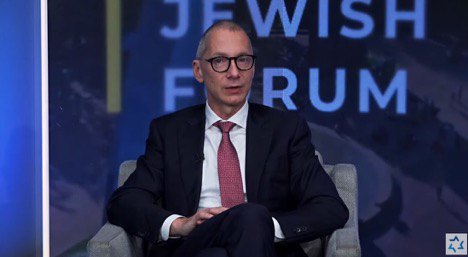 Boris Lozhkin, President of the Jewish Confederation of Ukraine
The third Kyiv Jewish Forum, held on December 15-16, was devoted to the main issues of the modern Jewish world. Fighting the threat of growing anti-Semitism, Israel's successful experience, which is worth adopting by other countries, how to make Jews around the world even more united and through education give the world more democracy, accelerate progress, make the world more successful.
This was related by the founder of the Kyiv Jewish Forum, President of the Jewish Confederation of Ukraine, Vice President of the World Jewish Congress Boris Lozhkin at the closing ceremony.
"Every time we announce the closure of the regular KJF, it seems that not everything has been said, not all important issues have been discussed, someone or something has received less attention than should have. And this is good, as it means we will have a reason to get together again and discuss the missed points and the new issues that will accumulate over the next year," said Boris Lozhkin.
He thanked all those who helped organize and hold this year's Kyiv Jewish Forum: Center for Jewish Impact and its founder Robert Singer, Combat Anti-Semitism Movement, Euro-Asian Jewish Congress and others.
Boris Lozhkin expressed special gratitude to the governments of Israel, Ukraine, the United States, Canada, the European Union, scientists, business representatives, public organizations, President of Ukraine Volodymyr Zelensky, President of Israel Isaac Herzog and President of the World Jewish Congress Ronald Lauder for the participation in the forum.
The founder of KJF also named the media partners with whose help the audience of the Kyiv Jewish Forum is growing every year. The Jerusalem Post, Times of Israel, Jewish Telegraphic Agency, Novoye Vremya, RBC-Ukraine, Obozrevatel and Lb.ua helped in covering this year's event.
"Thank you all, and see you at the fourth Kyiv Jewish Forum!" Boris Lozhkin added.