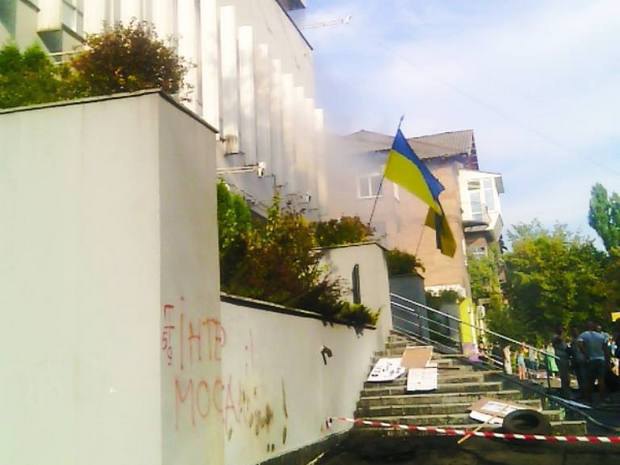 The editorial office of the Podrobnosti daily newscast broadcast by the Ukrainian opposition-leaning TV channel Inter has allegedly been set on fire.
"We were pushed outside when they were setting fire from the inside, we were close to the exit. There are fire crews, five engines," Inter staffer Lyudmyla Panasyuk said on Facebook.
She alleged the office was set on fire by people who deemed the channel to be a mouthpiece of the Kremlin. Panasyuk posted photos of a building on fire and police detaining a man.
According to the spokesperson for the Kyiv police, Oksana Blyshchyk, the fire was caused by a smoke bomb, allegedly thrown from a crowd of about 20 people who were burning tyres in front of Inter's office.
The director of the National Information Systems, which produces news for Inter, told Ukrainian News, incorporated into the same Inter Media Group holding, that the office was attacked by 15 men wearing balaclavas, who stormed through the security, spread several powder fire extinguishers, set the studio on fire and left. They allegedly left an anti-tank bomb behind.
One of Inter's staffers broke her leg during the fire, several journalists got poisoned with smoke and powder from fire extinguishers.
Inter has faced much criticism lately and at least two attacks this year.