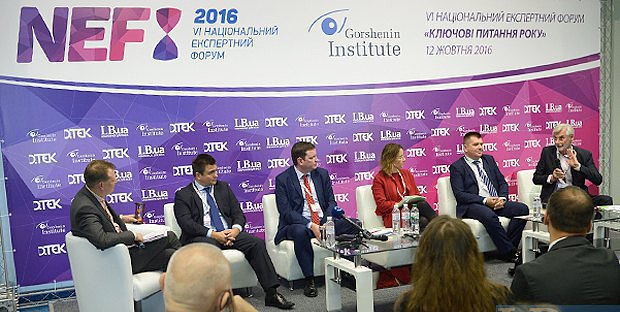 From left to right: moderator Dmytro Ostroushko, Pavlo Klimkin, Juris Poikāns, Isabelle Dumont, Ihor Kohut and Michael Emerson
Highlights:
Ukraine's success is the defeat of Russia, therefore it will not stop to destabilsze Ukraine and the entire region. The post-Soviet space does not exist any longer, Russia and Ukraine parted ways for good. The role and place of Ukraine in the world depends on the country itself – on its reforms, values, social capital. There is no alternative to the Minsk agreements, but Russia is in no hurry to fulfill them, just as it does not seek peace in Syria, Libya or Karabakh. The Minsk agreements may vary in detail, but not in the key issues. Ukrainian Foreign Minister Pavlo Klimkin's speech set the tone of the conversation. In particular, he shared the following thoughts:
"The world around us is changing faster than we expected. Security (of individual states, citizens and business) looks different than a few years ago. I'm not even talking about cyber security, about a very different perception of terror threats, about the perception of migration as something that threatens the lifestyle [of a citizen]. Now many people - I am not talking about all - in the world have a feeling that security could and should be turned into a kind of commodity. Safety and danger. The way Russia does it," Klimkin said.
He compared safety to a commodity which Russia uses not only at negotiations but also to create a system of leverage on many levels. He described Russian policy as "conscious raising of bets in many areas". In this situation, Ukraine must somehow compete with this kind of commodity, have something to oppose Russia. In fact, Ukraine offers security from Russia to the world and especially Europe.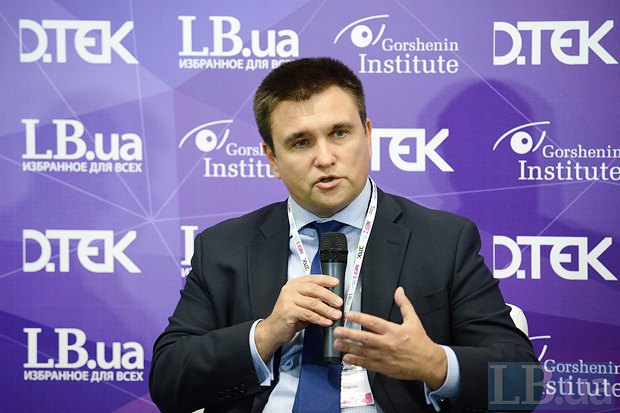 Pavlo Klimkin
Ukraine's role in the world and its abilities are determined by both internal and external factors.
Internal ones depend on the endurance of the Ukrainian state and society, their ability to navigate the world and confront the threats, as well as to raise interest and act as a certain "hub" in terms of security.
By external factors, he meant Ukraine's role in the world. "To what extent we are embedded (I want to use this word) into the different systems of the civilized world in the first place - the Transatlantic community. Because we are now acting in a very coordinated manner with the Transatlantic community. In fact, from the point of view of foreign policy, we have always dreamed about it, we said that we would [come to this] through NATO membership, through membership of the EU. Now in fact, we are growing to become - and do this consistently – a part of the Transatlantic community in the broadest sense, I mean Japan and some ACN (Andean Community, of which many Latin American countries are current or potential members – ed.note) countries," the minister said.
Klimkin stressed that Russia seeks to fragment Europe, not just weaken it. Whereas for Ukraine it is important that European countries speak with one voice: "The main problem that I see today as a challenge for the European Union is not terrorism, not migration flows, but the logic of how the European policy of consensus, a consensus discourse, will function in Europe."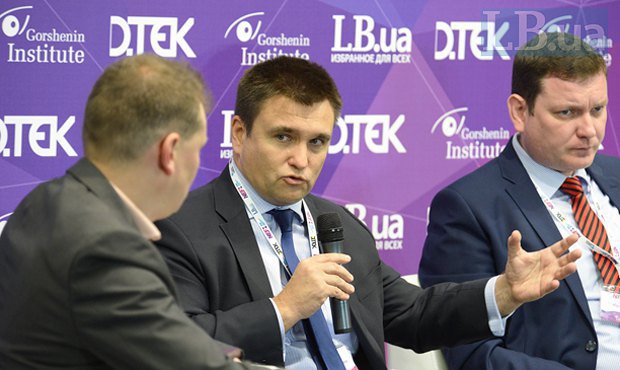 The Ukrainian minister also stressed that "Russia will not stop at destabilising us and the entire region because the success of Ukraine as a state means total delegitimisation of what there is in Russia. Mental, historical and religious delegitimisation."
Russia, which can be described as a failed democracy, seeks to portray Ukraine as a failed state with the help of propaganda.

—
For this reason, Ukraine should have both a clear logic of tactical steps and a clear strategy of relations with political friends and partners. Klimkin illustrated his position with Churchill's famous phrase: "There is only one thing worse than fighting with allies, and that is fighting without them."
Later on, Mykhaylo Pashkov of the Razumkov Centre added that Ukraine should have a clear concept of relations with Russia: "We need a medium-term concept of relations with the Russian Federation on the basis of existing instruments, because there are visa issues, breach of diplomatic ties, an existential problem concerning the extension by default of the Big Treaty with Russia, which we will face in November." Pashkov thinks the treaty should not be cancelled.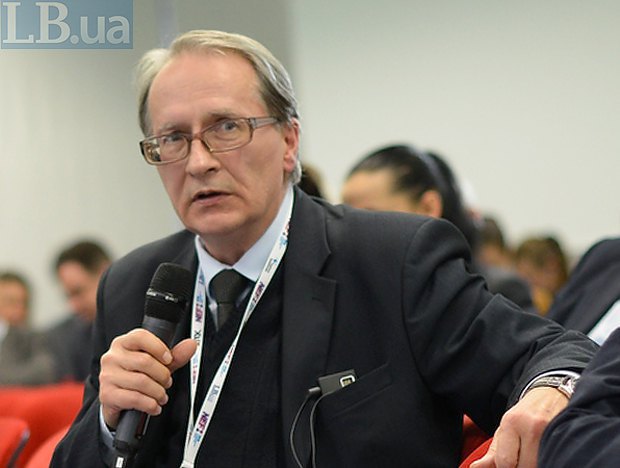 Mykhaylo Pashkov
Finally, Klimkin made an important remark that changes in the post-Soviet space were irreversible, in fact referring to the collapse of the former Soviet Union into the pro-European democratic and pro-Russian undemocratic parts.
"What is happening now (between Ukraine and Russia - ed.note) is not just the collapse of the empire in terms of some historical mental outlook. This also involves disintegration of society depending on the orientation. And if you look at what is happening within the Russian society (these days Berlin hosted the Nemtsov forum which was very interesting in terms of discussions it involved) and what the Ukrainian society today is about, you will see two absolutely different mentalities. Never again will Russia be able to reach agreements with any even theoretically possible government of Ukraine. They do not fully understand this yet. We have not arrived where we would like to be yet. But we have left a post-Soviet Ukraine behind," Klimkin said.
Political analyst Olesya Yahno shares a similar opinion: "There will be never be a post-Soviet space, there is no return. And when we say in recent discussions whether Ukraine should leave the CIS, whether visas with Russia are necessary, it is not the question. Because the Customs Union and the CIS as such no longer exist because the Customs Union member states have different economic policies already, because Kazakhstan and Belarus did not support the introduction of duties on Ukrainian products. One way or another, in the former Soviet Union, Ukraine will remain a pro-Western country, which will always be subjected to pressure from the Russian Federation."
French ambassador to Ukraine Isabelle Dumont noted inter alia that NGOs in Ukraine are much more active than in neighbouring countries.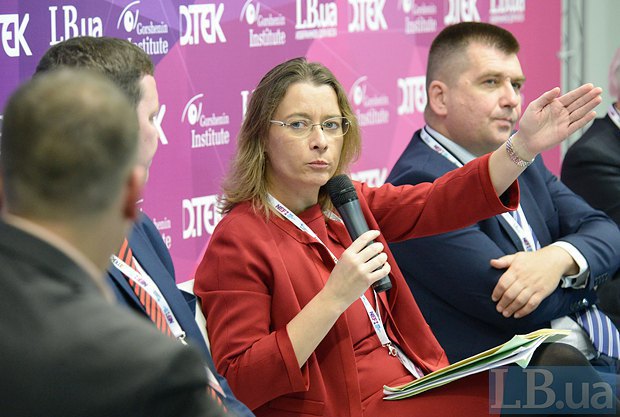 Isabelle Dumont
In the course of the discussion, the experts also raised the issue of the timing of Ukraine's accession to the European Union. Minister Klimkin advised against focusing on the timing because in today's terms it does not make much sense to make plans several years in advance.
"The logic of all that is happening in the European Union (changing). Well, what was the migration crisis in the EU two years ago? Everyone knew that the entire Muslim space operates on a completely different logic of demography and that these problems will arise. Nevertheless, everyone finds this surprising. Now there is a problem of terrorism, there is a problem of the Russian hybrid war. Let's calm down and forget about the deadlines. We should rather work on ensuring that Europe, the European project, as we see it, is indeed a guarantee of stability and security," the minister shared his vision.
The ambassador of Latvia to Ukraine, Juris Poikāns, for his part, recalled how his country came to join Europe. In 1995, Latvia signed the declaration on its European path (and became a member of the Council of Europe, and later in 2004 an EU member - ed.note), which opened the way for it to the EU.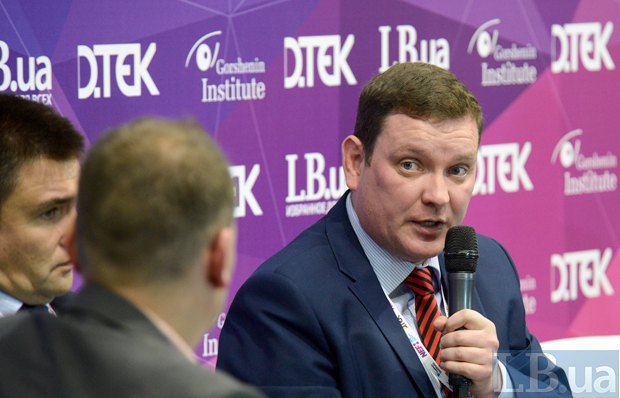 Juris Poikāns
"Ukraine's path to Europe will be more difficult than that of the Baltic countries, and will take much longer. Due to the aggression from the east and because of the heavy historical heritage," the diplomat said.
However, he is not inclined to dramatise the situation. If the path of reforms in Ukraine is irreversible, the road to Europe will take only "a few years". And until that time the association agreement between the EU and Ukraine will be in operation. Poikāns listed the main achievements of Ukraine in the past two years: the stabilisation on the front line and resumed economic growth.
The ambassador also said that Russian pressure on Europe is not something to be afraid of because "it has never worked". Instead, he urged Ukrainians to prove that the path of reform and European integration are irreversible.
French ambassador to Ukraine Isabelle Dumont also assumed that Ukraine may choose a third way (not pro-European or pro-Russian) in the future after it completes reforms. "Is there a moment for any country, after which it goes in one direction only? Maybe in 20 years Ukraine will take some third way? Not back, but not to Europe either," she said. Nevertheless, she considers the EU-Ukraine association agreement to be a certain point of no return. After the signing of this document, the two sides cannot take a step back, and will have to cooperate, she added.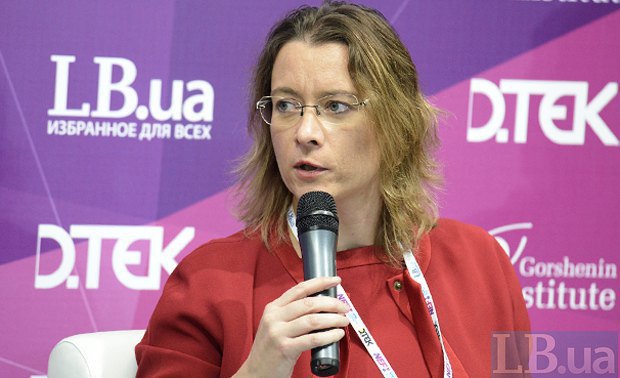 Isabelle Dumont
Ihor Kohut, director of the USAID RADA Programme, also urged the audience to think what, apart from security from Russia, Ukraine can offer the world, what new senses, innovations and values. According to him, the key objective is to build Ukrainian citizens' trust in their country and in the institutions of power.
"Our whole society should be united around the same ideas. When we, as a bee colony, should take care of our honey, but while collecting it, we, like those bees, must pollinate [plants around] by adding some value with our presence, our ideas and innovations."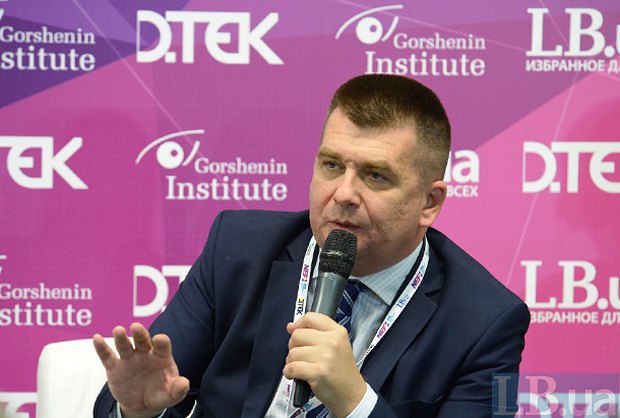 Ihor Kohut
Kohut noted that Ukraine, on the one hand, is a wall between Europe and Russia, but at the same time is a gateway for the promotion of European civilization to the east.
Michael Emerson, associate senior research fellow at the Centre for European Policy Studies, was surprised that the association agreement with the EU generated little discussion in Ukraine. He presented a study on the subject, which will be presented in Russian and Ukrainian in November, and is now available in printed form in English and French (the study of Ukraine in full and in brief, about Moldova in full and in brief, and Georgia in full and in brief) .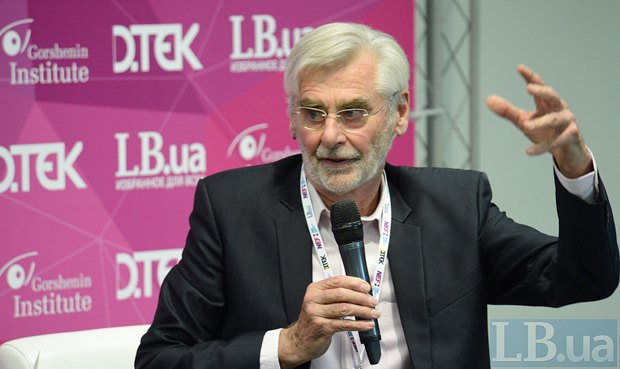 Michael Emerson
The discussion also touched upon a popular question of visa-free regulations between Ukraine and Europe. Ihor Kohut called the visa-free regime an important symbol, though he believes its value to be exaggerated: "Today, ordinary Ukrainians cannot go to Paris, to visit the Louvre. Therefore, the key issue here is poverty. What is important is not only the visa-free regime, but for people to be able to afford to see other countries."
French ambassador to Ukraine Isabelle Dumont, as well as Latvian ambassador to Ukraine Poikāns, noted the progress of the country on the path of reform, despite the military aggression in the east and the Russian annexation of Crimea. However, the main part of her speech was devoted to the Minsk talks, which is not surprising because France is one of the key mediators in relations between Russia and Ukraine.
"Is there an alternative to the Minsk agreements there? I do not see an alternative. Not because Minsk is something good. Minsk is a basic agreement. To withdraw arms, to withdraw troops. Critics do not offer any better solution," Dumont said.
Klimkin does not see any other way either, but he noted that Russia was not interested in the implementation of the Minsk agreements: "In practice, Donbas is now occupied as there are Russian regular troops, the situation from the military point of view is controlled from Rostov, and from the political point of view from Moscow. In many dimensions this is already a Russian protectorate since the Ukrainian hryvnya is being squeezed out by the Russian rouble. And this is being done consciously, many payments are done under some grey schemes, by the way, through some institutions in Ossetia, Abkhazia. Exactly this is a deliberate attempt on the part of Russia to turn Donbas into an absolutely grey area and thus create a problem for all, not only to us as a democratic European Ukraine, but to entire Europe and around the world. If it remains under such control, it can be blown up in five seconds."
Klimkin noted: "Russia's absolute unwillingness to implement the agreements as it will mean another way for it." He also drew parallels between the situation in Donbas and Syria, in Libya and Karabakh.
"Russia does not want anything. It does not want all those who were expelled from Donbas to vote in elections. While we cannot take the people's right to choose their own destiny. It does not want Ukraine to play any role in this election, starting with the role of Ukrainian parties and Ukrainian media. Then it is not an election. We do not hope for a perfect choice, but we want to see elections under the OSCE supervision. Compromises are possible on the level of detail, but not on the level of ideas. Russia is deliberately trying to destabilize Ukraine and the region with the help of Donbas. If it succeeds, it certainly will be a fundamental challenge for the European project, as the European project in its current form will be no more," the minister warned.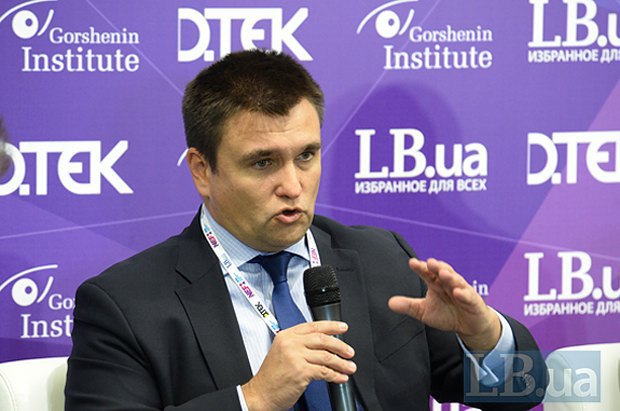 Pavlo Klimkin
Political analyst Olesya Yahno expressed doubts that Europe is fully and really aware of the risks of the situation. She stressed that what is happening in Donbas cannot be considered separatism in its pure form, as in the case of the occupied territories of Donetsk and Luhansk regions of Ukraine there is no talk of their self-sufficiency.
"It is an instrument of military blackmail, and it is under the pressure of military blackmail that it [Russia] tries to get certain concessions from Ukraine. Therefore, when it comes to elections, one can imagine that an election constituency (if these elections take place) ends in Rostov or Moscow, because the border is absolutely free," Olesya Yahno said.
The only speaker who spoke in favour of changing the Minsk agreements was Mykhaylo Pashkov, an expert at the Razumkov Centre: "We must be looking for solutions in the framework of the agreements or outside them. The idea of the OSCE police mission was born outside the framework. For example, it seems to me, if there was good will of all parties, why would not we cut three clauses from the Minsk agreements, which are not connected in any way politically with the rest, and submit them as a separate memorandum at the Normandy talks? Yes, it means freezing the situation, but it is the most acceptable option for today."