The sociological service of the Razumkov Centre think tank published on 22 November a survey of electoral sentiments of Ukrainians.
The poll was held from 4 to 9 November and is based on the interviews of 2018 respondents living in 118 settlements across Ukraine (excluding Crimea and the occupied regions of Donetsk and Luhansk regions).
The poll found that should presidential elections be held in mid-November, Poroshenko and Tymoshenko would come out the second round. The incumbent president would have garnered the support of 16.2% of the voters, while the leader of the party Fatherland would have 11.5%. The leader of the Opposition Bloc Yuriy Boiko would have ended up with 9.4%.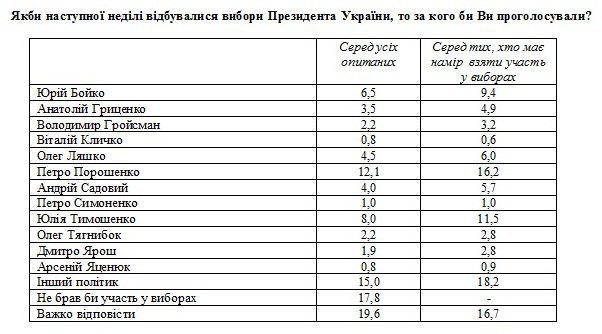 Should parliamentary elections be held in the near future, the Bloc of Petro Poroshenko – Solidarity could have counted on 13.3% support among those who intend to take part in the ballot: Fatherland would have 12.2%, followed by the Opposition Bloc (10.6%).
Self-Help enjoys the support of 8.9% of respondents, the Radical Party - 6.3%, the party "For Life" - 5.1%, "Civil position" - 4.2%, and "Freedom" could have garnered 3 .1%. Other political forces have scored less than 3% of the vote each.