The head of the National Bank of Ukraine Valeriya Hontareva is involved in the laundering of 30 billion hryvnya, MP Serhiy Taruta claimed in an interview with the authoritative publication Austrian Trend.
"[The central bank of Ukraine] NBU is a corrupt structure involved in the laundering of 30 billion Ukrainian hryvnia (about 1.1 billion euros by today's rate). This sum is international financial aid that the IMF and the EU have allocated for the refinancing of Ukrainian banks," Ukrainian tycoon told Trend.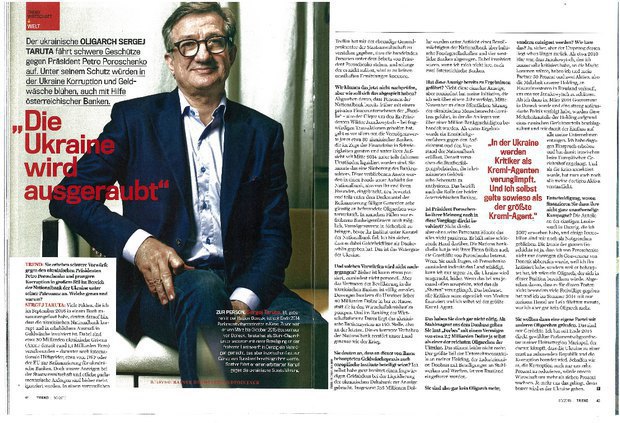 Photo: ukranews.com
Taruta further claimed the prosecutor's office of Ukraine has ignored his numerous requests. The former chief prosecutor made him to understand that the officials involved in corrupt activities person were under the patronage of President Poroshenko, so law enforcers would keep blocking any probes into the matter at hand.
The publication notes that Valeriya Hontareva had before the appointment collaborated with companies close to the ex-president Yanukovych, "helping them around with suspicious transactions" and turned the elimination of Ukrainian banks into a lucrative business.
"We are talking of the assets of 80 Ukrainian banks that had experienced difficulties because of the financial crisis, and since the middle of 2014 have been eliminated under the NBU supervision in pretty suspicious circumstances," Taruta said.
"Within what the National Bank called the cleansing of the banking sector, the remaining assets were under the NBU supervision further resold to friendly oligarchs for pittance. In some cases, the former bank owners managed to save their assets before their institutions were shut down by the NBU. I'm sure they have thanked [NBU leadership] with kickbacks in cash," Taruta said.
"This is some kind of Ukrainian Watergate," he said.
The MP says that corruption in the National Bank of Ukraine's is more destructive for economy than the war in the east.
"Public confidence in the Ukrainian banks is entirely lost, so the Ukrainians are more likely to keep 80 billion dollars under their mattresses, than support the economy. In the meantime, the Ukrainian banking system is in the last, 140th, place in the ranking of the Economic Forum in Davos. This corrupt behavior of the National Bank is no less destructive for the country than the war," Taruta said.
Last month, Serhiy Taruta said in an interviewhe has submitted the information about the alleged abuses in the National Bank to the leadership of the National Anti-Corruption Bureau of Ukraine.
"It was a conversation. The detective wanted to understand the essence of the charges in detail. I also said Hontareva, and [the deputy head of the NBU] Rozhkova are responsible for massive violations of the anti-corruption law, which qualify as conflict of interests, which is a criminal offence," stressed Taruta.