Regardless of faces: Russian provocations in UN Security Council continue
By accusing Ukrainians of being insufficiently humane yet again because Ukraine is not sufficiently mourning for killed Russian servicemen and now for the diplomats (who, by the way, defend Russia's crimes on the international arena), Russia is demonstrating some outstanding examples of cynicism.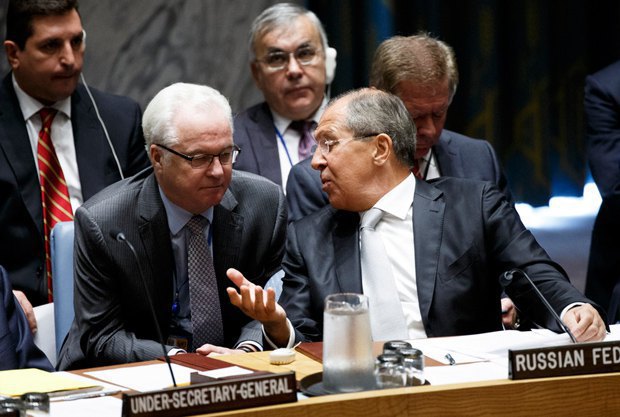 Vitaliy Churkin and Sergey Lavrov
Although late Russia's top diplomat in the UN, Vitaliy Churkin, is yet to be buried, Moscow is already making publicity on his death.
After the death of its leader, the Russian delegation in the UN suggested changes to the draft statement prepared by the UN Security Council head over the death of Churkin. Ukraine, which has been presiding in the UN Security Council since 1 February, blocked this proposal. This unleashed an avalanche of accusations from Moscow.
"This is what the incumbent Ukrainian authorities are all about: they can do no good, they can only ruin everything for everyone, including themselves," Russian Foreign Ministry spokesperson Mariya Zakharov said on Facebook.
Her boss, Russian Foreign Minister Sergey Lavrov drew a direct parallel between the blockade of the UN Security Council's statement and an instruction from Kyiv because Ukraine's permanent representative to the UN, Volodymyr Yelchenko, "would not dare such a feat, which means he was ordered to."
"This is certainly not what Christians do, this is beyond the edge of good and evil. But the incumbent Ukrainian authorities taught us that this is the way how some in the country treat Russians, including those who do not want to jump through neo-Nazi hoops," he said at a news conference in Moscow.
Lavrov's deputy Gennadiy Gatilov added some clarity about what was happening in New York around a format of expressing condolences over Churkin's death. Regretting the Ukrainian delegation's decision which, as he said, "could not step over its political positions", he admitted that although the Ukrainian delegation did not agree to issue an official resolution on behalf of the UN Security Council chairman, it did not mind expressing condolences in a press statement.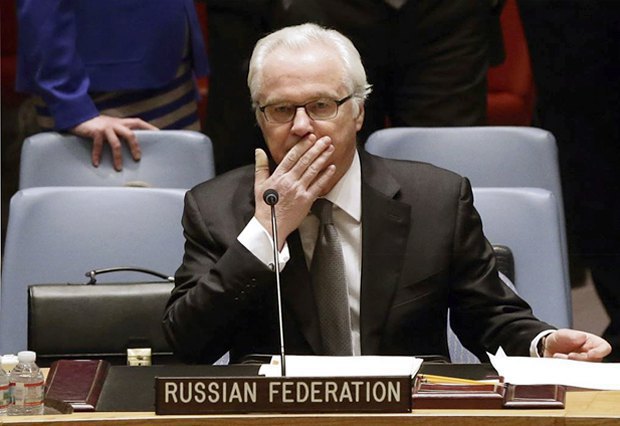 So what is the difference between the two formats?
The format of condolences suggested by the Russians – a statement by the UN Security Council chairman – is in fact a political declaration whose legal consequences are similar to those of any Security Council resolutions.
Therefore it is not surprising that in similar tragic cases in the past, the Security Council has had no precedent of expressing condolences in the format of a statement by the chairman. The regular practice would be to issue a press statement on the Security Council's website, which is also considered an official document. Which is exactly what was done.
Besides, before the Conflicts in Europe debate which was initiated by Ukraine on 21 February, Volodymyr Yelchenko as the chairman of the UN Security Council asked the audience to honour the memory of his former colleague and opponent with a minute of silence. And he gave the Russian and other delegations an opportunity to make statements on the matter, which took over 30 minutes.
Therefore Moscow making a fuss about Ukraine's position reeks of a deliberate provocation ahead of the Conflicts in Europe debate, whose agenda in particular includes the issue of Russia's war against Ukraine, to divert public attention from this important problem by once again accusing Ukrainians of taking a "non-Christian position" as Lavrov did.