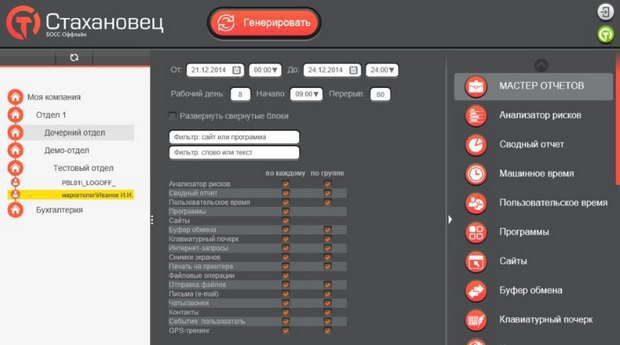 Screenshot
The developers of the software to monitor employee computer activity and analysis of the collected data Stakhanovets (Mirobase) Mykhailo Yakhymovych and Volodymyr Vyazmitin are sought on suspicion of working for Russian special services. They are charged of the transfer of the data about Ukrainian state institutions and personal data of citizens of Ukraine, according to the website of the Security Service of Ukraine (SBU). Criminal proceedings are opened on charges of the illegal use of special technical means for the secret collection of information.
According to the SBU, Yakhymovych and Vyazmitin are in Russia.
In 2016, Ukrainian experts recognised the Stakhanovets software "a special technical means of secretly receiving information" in the framework of a criminal probe.
In late April 2017, the SBU conducted searches in eight companies (including the investment fund Dragon Capital and Ukrgazvydobuvannya ), which used the Stakhanovets software.
Yakhymovych is the founder of the Russia-based company. Vyazmitin is a commercial director.