Donbas
The deputy head of the trilateral contact group on Donbas, Vitold Fokin, has told RBC-Ukraine that he "has not seen any proof that there is a war between Russia and Ukraine, I have not seen them yet".
Fokin's remark appears to have outraged Interior Minister Arsen Avakov. In a Facebook post, Avakov said: "Fokin, in the war which you said does not exist, thousands of our soldiers and civilians were killed.Tell this to the families of those who were killed by Russian Grads near Savur-Mohyla and Ilovaysk!?...Scum." In his words, Fokin's words "cause the colossal damage to the country and cause pain and wreath in Ukrainians' hearts".
Voice MP Solomiya Bobrovska has prepared an MP inquiry to President Volodymyr Zelensky, calling on him to dismiss Vitold Fokin from the trilateral contact group over his controversial statements about Donbas "which not only undermine our authority in the international arena but also greenlight Putin to carry put his bloody plans in our territories". The inquiry has been signed by 49 MPs.
The parliamentary committee for public administration, local self-government and urban planning has also called on President Zelenskyy to condemn Fokin's remarks and dismiss him from the Donbas contact group.
Over 60% of Ukrainians believe that that the war in Donbas was waged by Russia, a survey by the Ilko Kucheriv Democratic Initiatives foundation and the Razumkov Centre has found. One in five Ukrainians believes that the war was launched by the Ukrainian authorities and oligarchs, 18% failed to make up their mind.
The ruling Servant of the People faction plans to hold a meetingof parliamentary factions in Donbas, tentatively next week, its leader Davyd Arakhamiya has said, according to Interfax-Ukraine.
NATO
After Ukraine became a member of the Enhanced Opportunity Programme, the NATO HQ said that it was ready to accept a Ukrainian representative for work in the defence sector, the acting head of Ukraine's mission to NATO,Heorhiy Tolkachov, has told Interfax-Ukraine.
Human rights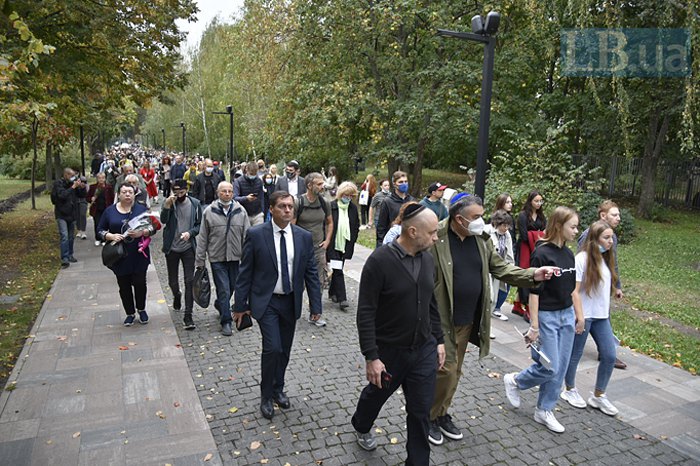 A march to commemorate the victims of the 1941 Babyn Yar massacre has been held in Kyiv for the fifth time. Several hundred people walked the same route Jews took that day in 1941 towards a ravine where they were shot down in thousands during several days.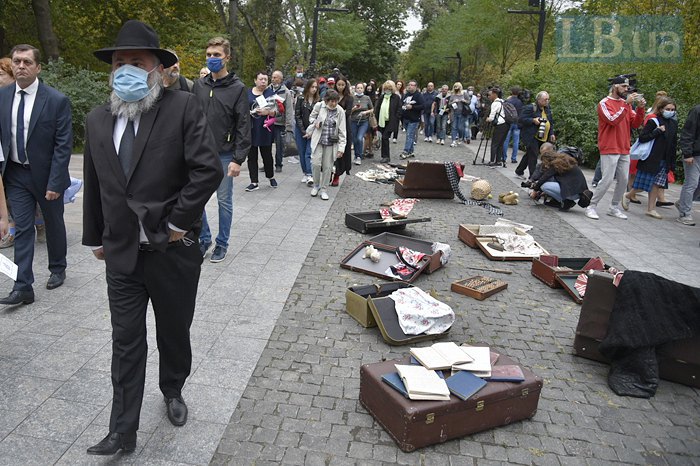 President Volodymyr Zelenskyy took part in commemorative events earlier in the day. "We bow our heads before all the victims of Babyn Yar. And we have no right to forget these terrible crimes. Never again! Eternal memory to the victims of Babyn Yar!" he said.
Odesa's Prymorskyy district court has placed a public activist and former head of the Odesa office of the Right Sector, Serhiy Sternenko, under night house arrest. In May 2018, Sternenko put up resistance when two men tried to attack him. In the course of the fight, one of the attackers was fatally stabbed.
Coronavirus
Ex-President and MP Petro Poroshenko has said that he has tested positive for the coronavirus. "For the last six years I have been used to carrying diseases on my feet. But this is more insidious. Much more insidious. That's why I am being treated at home," he said on Telegram.
Other MPs and officials who were reported infected today are Voice party head Kira Rudyk and Servant of the People MP Zhan Belenyuk, Kharkiv regional council head Serhiy Chernov, ex-MP and Kyiv mayoral candidate Boryslav Bereza.
Under the updated entry rules for foreigners, they must have a medical insurance which could cover the costs of Covid-19 treatment and observation. Foreigners arriving from countries with high Covid-19 rates.
By 29 September, Ukraine has registered 204,932 Covid-19 cases since the start of the pandemic, including 3,627 cases over the past day. Currently, there are 110,617 active cases.
Economy
Ukraine's state debt decreased by 16.9bn hryvnyas in August down to 2,338.18bn hryvnyas (85.1bn dollars), the Finance Ministry has said.
Employees of the Kryvyy Rih railway locomotive depot hasgone on a so-called Italian or work-to-rule strike, trade union member Vyacheslav Fedorenko has told Radio Liberty. Earlier this month trade unionists wrote a statement in which they said that their remuneration and pension rights were violated, which should be remedied by 29 September. They demanded a 25% payrise and repair of old rolling stock.