Belarus
Around 100 people took part in a rally in support of Belarus in Kyiv on 13 September. They walked from Independence Square to the Belarusian embassy. They unfurled the large Belarusian national white-red-white flag.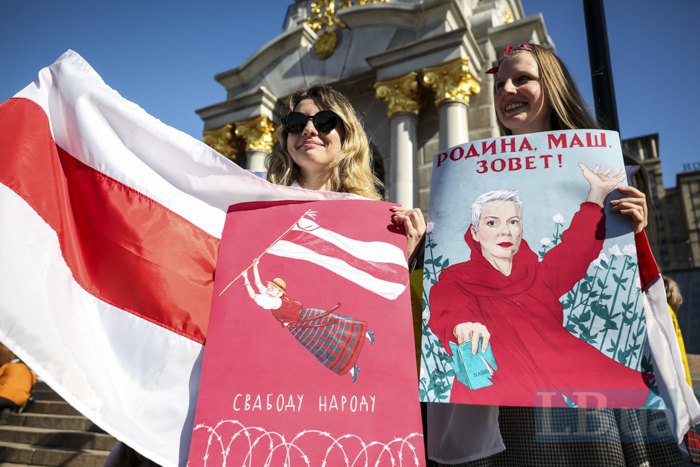 A day earlier, women in Kyiv held a march of solidarity with Belarusians. Around 50 people took part.
The State Border Service of Ukraine has stepped up security at the border with Belarus by deploying more patrols, aviation, drones and boats. This is done to prevent crimes and any acts of provocation, the State Border Service said.
Donbas
An OSCE drone has spotted dozens of tanks and howitzers on the militants' side of the line of contact in violation of the Minsk agreements.
Coronavirus
By the morning of 13 September, Ukraine has registered 2,746 new cases, 30 deaths and 547 recoveries. Overall, Ukraine has logged in 154,335 coronavirus cases.
Russian occupation
Ukraine's Deputy Prosecutor-General Gyunduz Mamedov has told Radio Liberty that preliminary findings of criminal proceedings on Russia's aggression against Ukraine show that the losses caused by the Russian occupation of Crimea amount to 1,000bn hryvnyas.
Ukraine has called on the international community not to recognise the 13 September local pseudo-elections in Crimea held by the Russian occupying authorities. The Foreign Ministry noted that they cannot be considered legitimate and will have no legal consequences.
Russia will push for having water supply to Crimea resumed by putting pressure on Ukraine's international partners, the Ukrainian president's office in Crimea has said. "Supplying water to the temporarily occupied territory of the Autonomous Republic of Crimea and the city of Sevastopol is quite expensive for the Russian Federation as the occupying state. That is why it is and will be trying, by putting direct pressure and pressure on international partners, to force Ukraine to resume water supply to the temporary occupied territory of the Crimean peninsula," it said.
According to President Volodymyr Zelenskyy, Ukraine is not afraid of a large-scale military exercise, Caucasus-2020, during which Russia is planning to deploy 120,000 servicemen, hundreds of tanks, planes and other military hardware close to the Ukrainian border. The active phase of the exercise is scheduled for 15-26 September and is expected to involve Belarusian, Myanmar, Iranian and Pakistani troops in addition to Russians.
USA
Prosecutor-General Iryna Venediktova has said that Ukraine is carrying out an independent investigation into MP Andriy Derkach's alleged recordings of conversations between ex-President Petro Poroshenko and US high-ranking officials. She suggested that the case rather concerned political corruption rather than legal one.
Government
The head of the Chernihiv regional state administration, Andriy Prokopenko, has tendered his resignation letter because he was "deprived of any influence on personnel policy and the formation of a pool of candidates for the regional council". He added that without his own councillors he would a weak governor.
Crime
The State Investigation Bureau has opened several criminal cases based on reports that the special operation to lure mercenaries of the Russian private military company Wagner to Ukraine for trial may have been derailed, Prosecutor-General Iryna Venediktova has said.
The Security Service of Ukraine (SBU) has detained an agent of the Russian FSB in Rivne Region who was preparing an act of sabotage at a local water supply facility and passing military information to Russians.
Demyd Hubskyy, head of the Mykolayiv regional branch of the far-right Freedom movement, died two months after he allegedly accidentally shot himself in the head.
A man in Dnipro sustained wounds to his hands and feet after setting off an explosive based on a RGD-5 grenade. He was walking in a street when the incident happened.
Incident
A light plane crashed near the village of Dyakivka in Sumy Region on 12 September. It allegedly got tangled in an overhead transmission line. The pilot got killed.