As of the morning of 15 December 2022, more than 1303 children have suffered in Ukraine as a result of the Russian Federation's full-scale armed aggression. According to official information from juvenile prosecutors, 447 children were killed and more than 856 sustained injuries of varying severity. These figures are not final, as work is underway to establish them in the areas of active hostilities, in the temporarily occupied and liberated territories, the Prosecutor General's Office reports.
Most children were affected in Donetsk Region - 426, Kharkiv Region - 267, Kyiv Region - 117, Mykolayiv Region - 80, Zaporizhzhya Region - 78, Kherson Region - 72, Chernihiv Region - 68, Luhansk Region - 65, Dnipropetrovsk Region - 33.
On 14 December, an 8-year-old boy died as a result of the shelling of Kherson by the enemy. While recording war crimes committed on the territory of Mykolayiv Region, in Novopetrivka village of Bashtanskyy District, the fact of death due to occupiers' shelling of three sisters, two aged 16 and one - 14, was established.
It became known that on 24 November, a 17-year-old teenager was wounded as a result of shelling in Kherson. Due to bombardment and shelling by the Russian armed forces, 3126 educational institutions were damaged. 337 of them were completely destroyed.
You can provide information about a war crime against a child through a single evidence hub: warcrimes.gov.ua and by phone: +380961004438, +380683235856.
"Children of War" is a platform where you can report and find all the information about children affected by the war of the Russian Federation against Ukraine.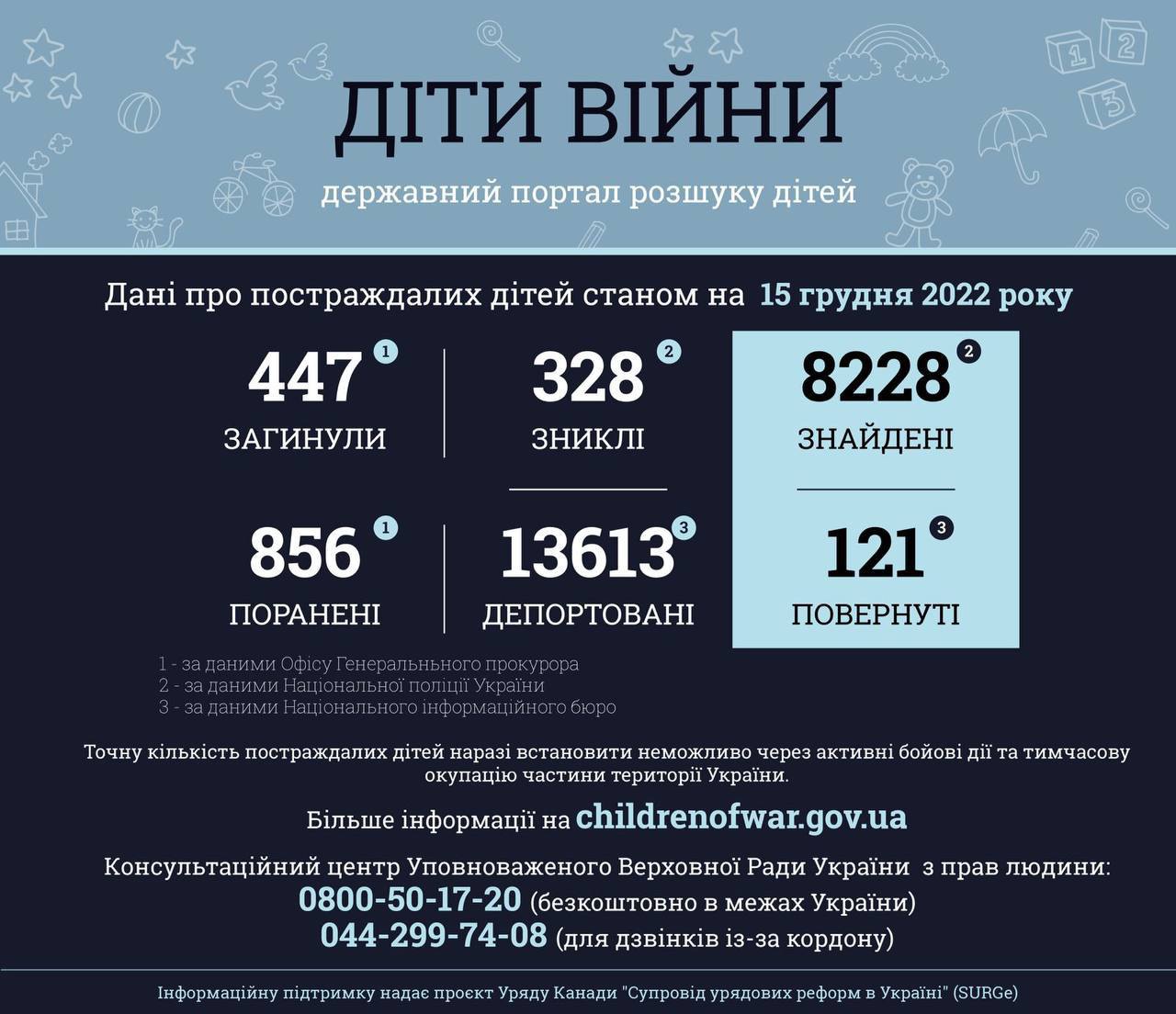 Recently, the Verkhovna Rada Commissioner for Human Rights Dmytro Lubinets stated that in Kherson the Russian military kept children in torture chambers. Children were detained for photos of Russian equipment on their phones.