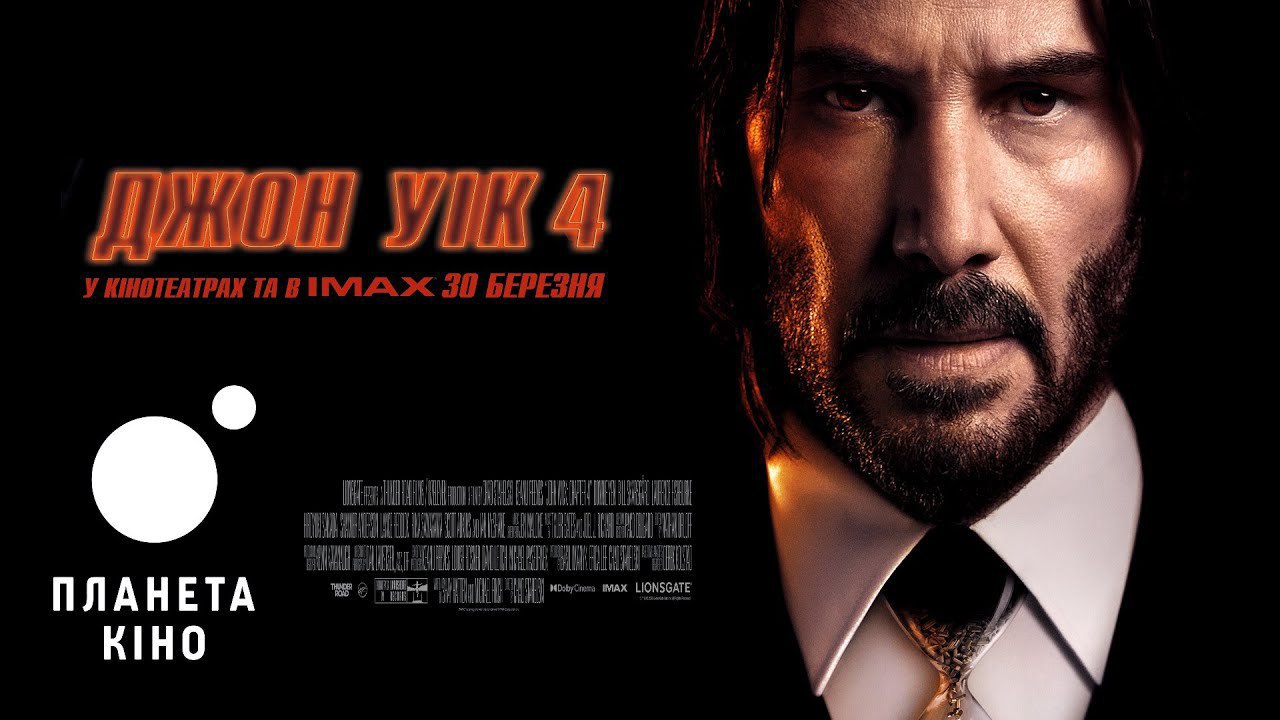 The popular film John Wick: Chaper 4 was released in Ukraine at the end of March 2023. It is being screened on more than 350 screens across the country and is one of the leaders in terms of box office. In Ukraine, it is distributed by UFD (Ukrainian Film Distribution). And there is reason to believe that this company is a Ukrainian intermediary of a Russian distributor. In other words, UFD did not buy the rights to show this film in Ukraine directly from the producer, but received them from a Russian company.
The UFD website offers the following information: "UFD is a group of Ukrainian film distribution companies (UFD LLC and Ukrainian Film Distribution LLC) that distributes American, European and Ukrainian films in Ukraine".
According to open sources, these two Kyiv-registered LLCs share the director, Ukrainian businessman Andriy Dyachenko. According to Wikipedia, the history of UFD dates back to 1996, when the company was established as a Ukrainian division of the Russian film distributor Gemini Film; in 2011, as a result of a reorganisation, Gemini Film Ukraine changed its name to Ukrainian Film Distribution. The Opendatabot website indicates that as of 23 February 2022, the company had Russian owners. The website's archive says that in 2018, UFD was co-owned by Russian producer Michael Schlicht (co-founder of Gemini Film). Schlicht's next company, Monumental Pictures (later Monumental Partners), is known for producing Russian patriotic films such as Stalingrad or Battalion. The official website of this company states that as of 2018, its International distribution division was purchasing film distribution rights in Ukraine for UFD. The division was headed by Michael's daughter, Polina Schlicht. Nowadays, Michael Schlicht positions himself mainly as a German (he was born in Germany), but still actively cooperates with the Russian government (in particular, he produces debut films by Russian directors financed by the Russian Ministry of Culture).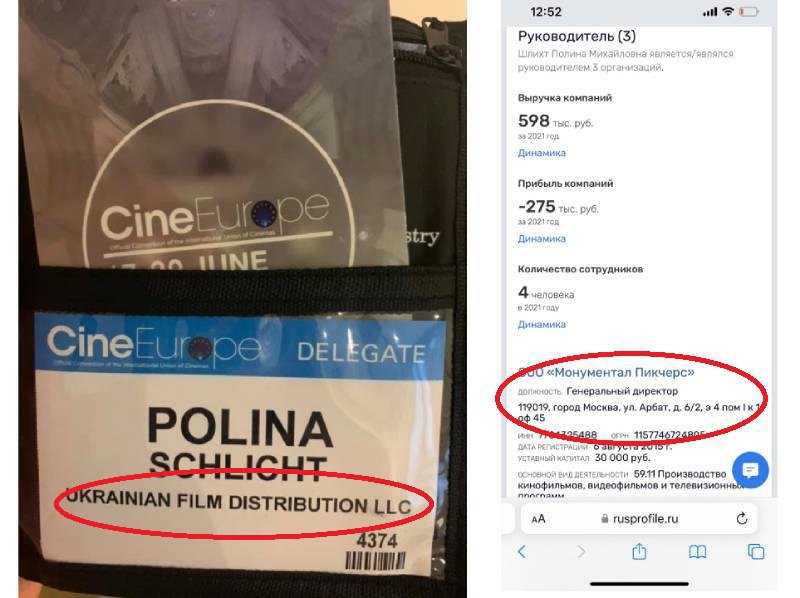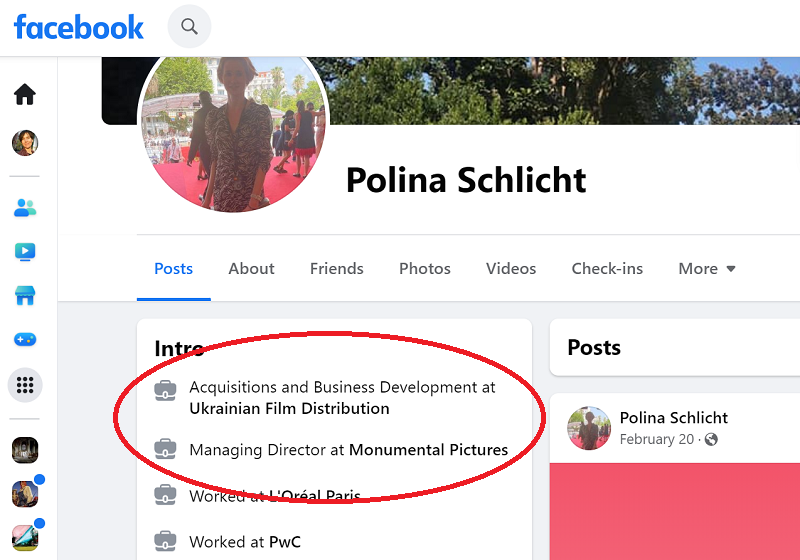 UFD's page on the Cannes Film Market website, one of the world's main film sales platforms, lists a Kyiv address and Kyiv landline, but the indicated mobile number starts with the Russian area code 7985. The UFD team includes Polina Schlicht, who is listed with the note "Moscow office" and the same mobile number. Just like her father (he is listed on the Cannes Film Market website as the managing director of UFD), Polina continues to cooperate with Russia. For example, in 2022, she was a member of the short film jury at the Moscow International Film Festival, which is supported by the Russian Ministry of Culture. The president of the Moscow International Film Festival is director Nikita Mikhalkov, who is on the list of persons who threaten the national security of Ukraine.

All this information available online did not prevent UFD Group from obtaining distribution rights in Ukraine. Since 24 February 2022, UFD has released more than 20 films in Ukraine, which means that the Ukrainian State Film Agency has issued more than 20 distribution certificates to the company.
So, we have a vicious circle: it seems that, despite the appeals of Ukrainian producers, foreign companies can still sell the rights to screen films in Ukraine to Russian companies since it is more convenient and profitable for them. Russian companies can still screen films in Ukraine they have bought through Ukrainian intermediaries, who are not averse to such cooperation even during a full-scale war. The State Film Agency is busy with "strategic issues" (reorganisation of the Dovzhenko Centre, privatisation of property) and does not consider it necessary to prevent such business from operating. Box office receipts are trickling in, and all parties involved are satisfied.
"If government agencies, distributors and cinemas took an unequivocal stance on separating the Ukrainian market from Russian purchases of independent foreign content, and if the films bought in this way had no chance of making money in Ukraine, I am convinced that international sales would stop the practice of selling films to Russian film businesses in Ukraine," producer Denys Ivanov explains. "To be fair, I am not sure that the Ukrainian State Film Agency has effective legal tools for checks at the moment. Most companies whose main business is located in Russia have subsidiaries in Latvia, Cyprus, Canada or the UK, and the process of issuing a distribution certificate does not involve investigations and selective sanctions by the State Film Agency."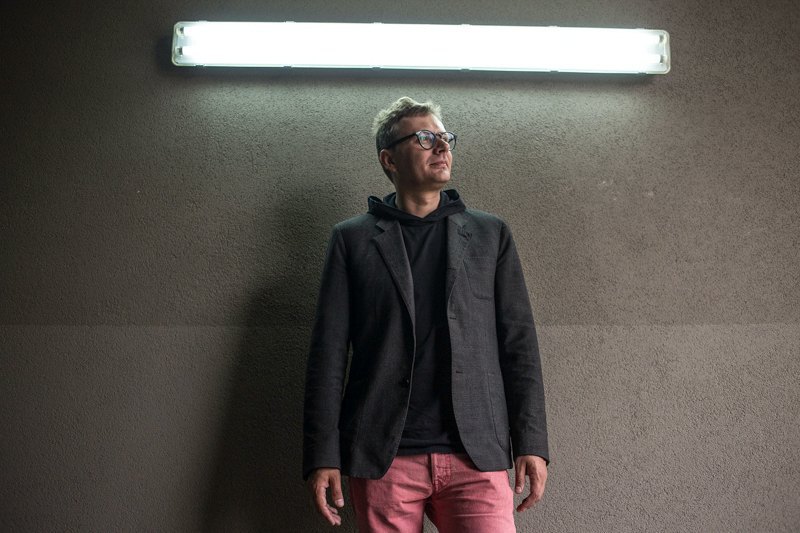 Producer Denys Ivanov
"However, the State Film Agency has the right to request additional documents, such as a chain of contracts up to the end right holder. The Ukrainian State Film Agency also has political and diplomatic tools: communication with Ukrainian cinema networks, distributors, foreign companies and their associations. During the year of full-scale war, much could have been done to separate the independent content market from the Russian purchasing pool in the territory of the former USSR. But the state body responsible, among other things, for Ukraine's international film policy has done nothing. I'm not sure that the State Film Agency has the competence to understand this problem at all, let alone solve it."
To understand whether the Ukrainian State Film Agency is trying to protect the Ukrainian film market from Russian expansion, we sent it an inquiry. In response, we received an explanation: "On 15 April 2022, an announcement was posted on the State Film Agency's website (...): since Ukraine currently has legislation regulating relations involving persons and enterprises associated with the aggressor state, the fulfilment of any obligations, and transfer of any payments in favour of the Russian Federation, its citizens and companies, as well as Ukrainian companies in which Russians have a share, are prohibited. Also, on 7 March 2023, in order to prevent the distribution and screening of films in Ukraine acquired under agreements with companies resident in the Russian Federation or whose end beneficiaries are citizens of the Russian Federation, the State Film Agency issued clarifications on the need for distributors to comply with the current Ukrainian cinematography legislation. The State Film Agency considers it unacceptable to issue distribution certificates (...) for films whose rights were acquired in pre-war, let alone wartime, from rights holders who are residents of the Russian Federation or are controlled by them in whole or in part."
So, the State Film Agency defended the Ukrainian film market with an announcement on its website. We won't comment on this, but we would like to point out that UFD is not the only player in the Ukrainian film market which raises questions. Be it reasonable, the State Film Agency could also take a closer look at other participants in the process.
For example, the Svoye Kino film company, which officially cooperated with the Russian Capella Film and ARNA MEDIA. Recently, Svoye Kino distributed the French film Gangs of Paris in Ukraine. The Ukrainian State Film Agency issued a distribution certificate for it as a film whose rights, according to documents, were acquired from the Swedish company A&A Kungsten AB. At the same time, A&A Kungsten AB specialises in web design and has nothing to do with the film business; in Russia, Gangs of Paris was distributed by Capella Film. At the Tbilisi International Content Show, Russian Capella Film is presented as a company with offices in Moscow, Kyiv, Yerevan, Berlin and Nicosia.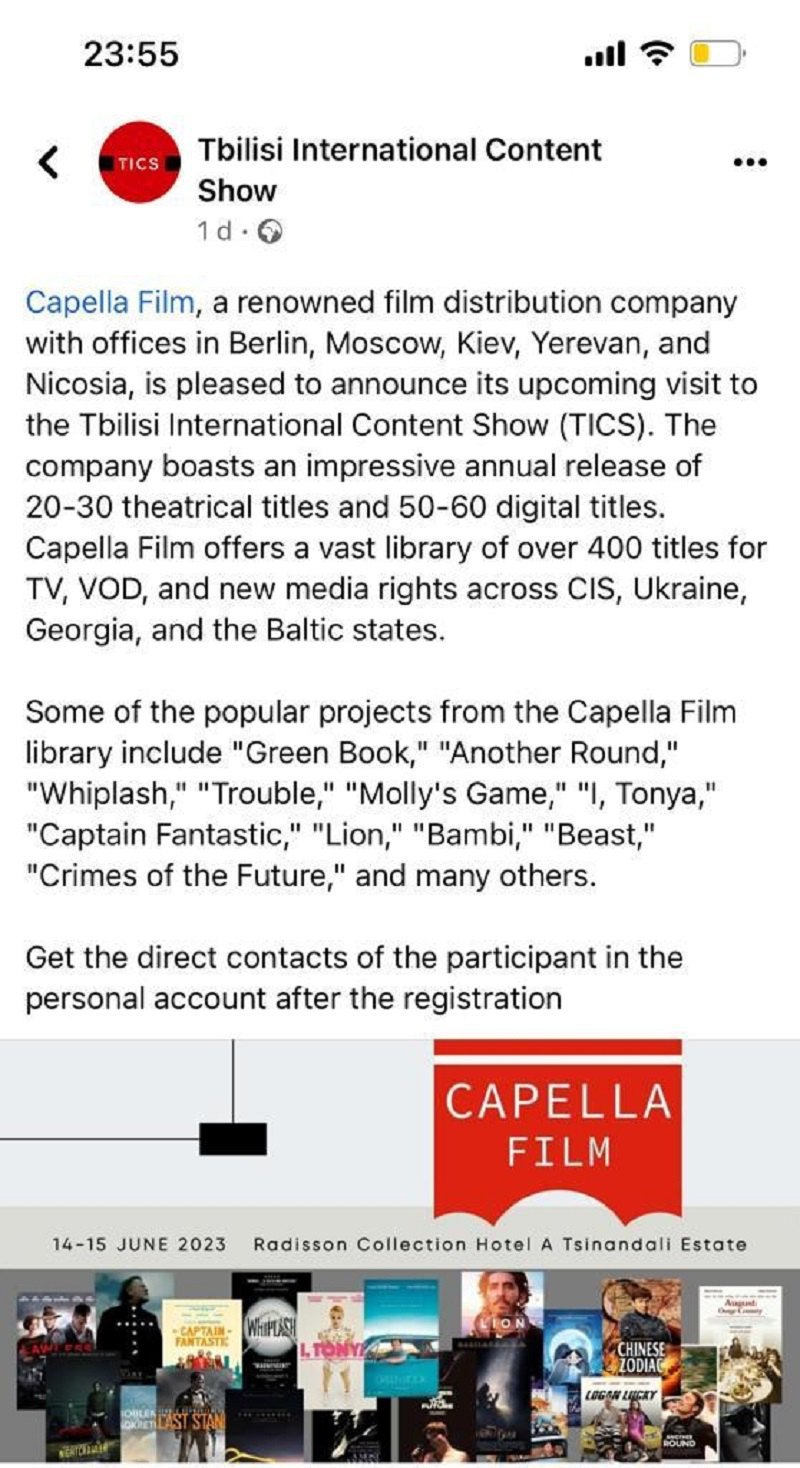 Another example is the Russian film company Volga, which also operated in Ukraine, and later changed its official Ukrainian name to Adastra Cinema and replaced its ultimate owner, Serhiy Yershov with a former Volga-Ukraine lawyer, Oleksandra Kryvasova. It is not known who paid for the licence to the American rights holders to distribute such films as Everything Everywhere All at Once, The Whale, and Beau Is Afraid. The Russian company Volga and the Ukrainian company Adastra Cinema have distributed the identical key films.
It is also worth looking at this story: in 2022, top managers of the Russian film company Top Film/Megogo Distribution, who collaborated with Ukrainian businessman Volodymyr Artemenko, created a new Russian company called Global Film. It distributed Guy Ritchie's film Operation Fortune in Russia (including in occupied Crimea). In Ukraine, this film was distributed by the Ukrainian company Kinomania, which received the rights to it from Top Film, which has a Ukrainian registration.
It should be understood that although the Ukrainian distribution market is smaller than the Russian one (at different times it was estimated at 10-15-20% of the Russian market) and, accordingly, less important for international companies, it is not as small as we (and they) used to think. According to annual box office statistics, independent foreign projects alone (i.e., without major foreign films and without Ukrainian content) grossed $17.6 million (or 5.7% of total annual box office in Ukraine) in the pre-Covid year of 2019, $12 million (32.9%) in 2020, and $8.8 million (13.4%) in 2021. In the war year of 2022, independent box office figures dropped to $2.9 million, or 9.9% of the total annual box office in Ukraine. In general, the Baltic states, the Czech Republic, and Romania have similar levels of box office, but this does not prevent them from dealing directly with all foreign companies.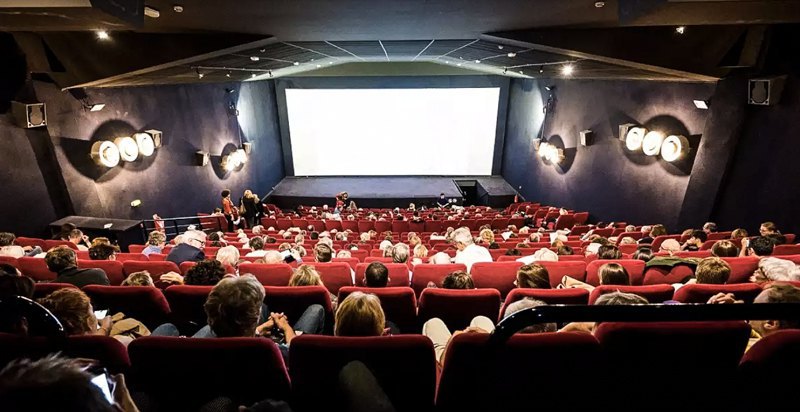 Culture cannot be outside of politics, and it seems that everyone in Ukraine has already understood this. But culture cannot be outside of business either. And here we have something to work on.