On 7 September, the National Anti-Corruption Bureau and the Specialised Anti-Corruption Prosecutor's Office (SAPO) said that the former ultimate beneficial owner of PrivatBank, Ihor Kolomoyskyy, was suspected.
According to the SAPO, five other former employees of the bank were also served with a notice of suspicion. All of them are accused of misappropriating more than 9.2bn hryvnas of PrivatBank funds.
According to the prosecutor's office, in January-March 2015, one of PrivatBank's owners developed a criminal plan to seize the bank's funds to further finance a controlled offshore company and increase his own share in the bank's authorised capital.
He involved five employees of the bank, including the Chairman of the Board of PrivatBank; Deputy Head of the Department - Director of the Bank's Interbank Dealing Department, who was also a trusted representative of a non-resident company associated with PrivatBank; Deputy Chairman of the Board of PrivatBank - Director of the Treasury; Head of the Department for Support of Interbank Operations of the Treasury and Deputy Head of the Department for Servicing LORO Accounts of Correspondent Banks, Non-Residents of the Head Office of PrivatBank.
"The scheme of the crime consisted in artificially creating an obligation of the bank to pay more than 9.2bn hryvnas to one of the controlled companies for the alleged repurchase of its own bonds at an inflated value by an organised group by forging the relevant documents. More than 446min hryvnas we're legalised by transferring them under the guise of securities purchase and sale transactions to the personal account of the ultimate beneficiary of PrivatBank through a number of financial transactions with controlled companies, and subsequently contributed to the bank's authorised capital to fulfill the requirements of the PrivatBank Financial Recovery Program," the SAPO said.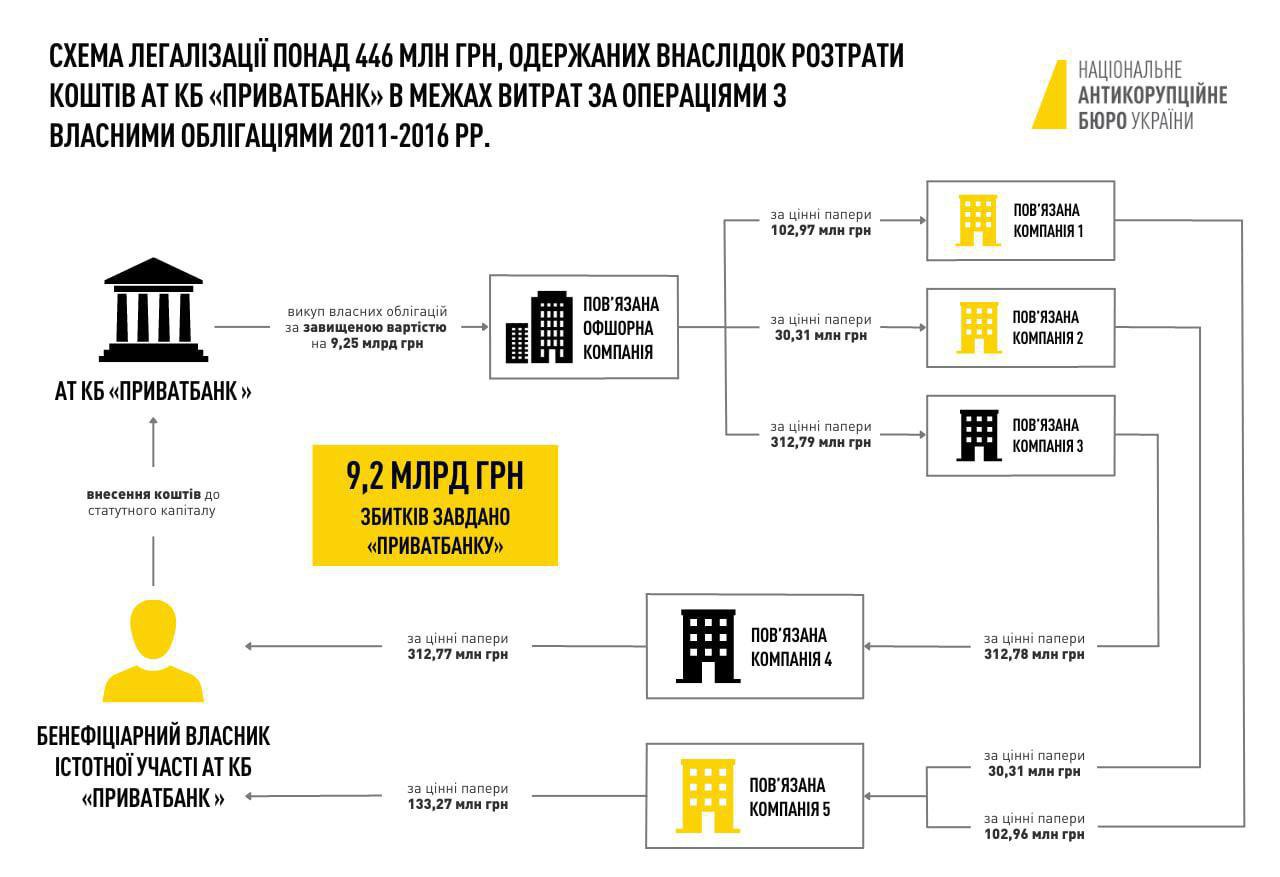 The scheme of 466mn hryvnas legalisation
The offenders disposed of the remaining funds at their discretion.
The suspects are charged with committing crimes under Articles 191, 209, 366 of the Criminal Code of Ukraine, depending on the role of each participant in the criminal scheme.
The pre-trial investigation is ongoing.
On the morning of 2 September, Ihor Kolomoyskyy was served a notice of suspicion for legalisation of fraudulently obtained property. On the same day, the Shevchenkivskyy District Court of Kyiv imposed on him a two-month custody with the possibility of bail in excess of 500mn hryvnas.
On 6 September, the Kyiv Court of Appeal was unable to consider the appeal against Kolomoyskyy's preventive measure because it had not received the materials from the Shevchenkivskyy Court.