After the full-scale invasion of Ukraine by the Russian Federation, the number of women who joined the Armed Forces has increased significantly. They hold not only financial or medical positions, but also military ones. This was stated at the Military Media Centre by Deputy Minister of Defence Natalya Kalmykova.
According to her, in 2014, the total number of women in the Armed Forces was 49,926. Of these, 16,557 were servicewomen. As of October 2023, 62,062 women were serving in the Armed Forces, including 43,479 holding military positions.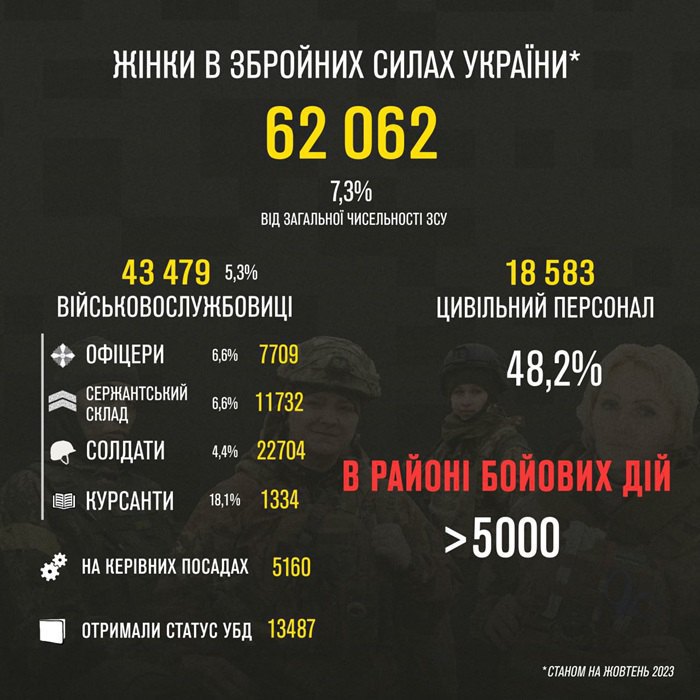 In general, women make up 5.3% of the Armed Forces of Ukraine, in particular:
officers - 7,709 (6.6%);
NCOs - 11,732 (6.6%);
soldiers - 22,704 (4.4%);
cadets - 1,334 (18.1%).
About 5,000 servicewomen are performing tasks in the combat zone.
"Today, we have the largest number of women on the battlefield in Ukraine in modern world history. They prove themselves not only as good military financiers or doctors, but also as brave servicewomen who are devotedly defending their homeland," Kalmykova said.
She added that today the Ukrainian army has cancelled any restrictions on the appointment and service of women servicewomen in all positions (including combat) in all groups of military specialities.