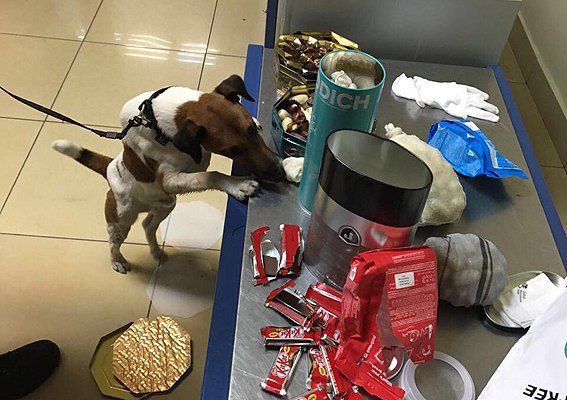 Ukrainian law enforcers acting in coordination with their colleagues from Brazil, Armenia and Turkey have busted an international cocaine supply channel. They seized 18.7 kg of the drug and detained eight people.
The Interior Ministry has said on its website that the department for drug crimes of the National Police, the State Border Service and the Security Service of Ukraine (SBU) had been preparing this operation since 2015.
The ring smuggled cocaine from Latin America to Ukraine and other states.
A Ukrainian woman, who brought cocaine from Brazil's Sao Paulo via Dubai, was detained in Armenia's Yerevan airport. She was found to carry 3 kg of cocaine.
Ukrainian law enforcers were tipped off about another Ukrainian courier. He was to bring large batches of cocaine to Ukraine. On 13 February, he was detained in Odesa airport. Some 5 kg of the drug were found in his hand luggage.
On 29 February and 1 March, Ukrainian nationals who arrived from Dubai were detained in Kiev's Boryspil airport with 7 kg of cocaine.
Two more were detained in Odesa on 1 March. They are suspected of organizing an international cocaine supply channel, recruiting its members and transporting the drugs.
One more Ukrainian woman was detained in Boryspil airport on 1 March with 3.3 kg of cocaine in her hand luggage disguised as candies.
Overall, eight member of the international drug ring were detained and 18.7 kg of cocaine, worth over 310m hryvnyas (11m dollars), were seized.