Belarus marked its Day of Freedom on 25 March with brutal police clampdown of unprecedented scale, the Belarusian news website Tut.by has reported. Several thousand people took part in an unauthorised rally in Minsk in the absence of opposition leaders.
Over 700 people were reported detained.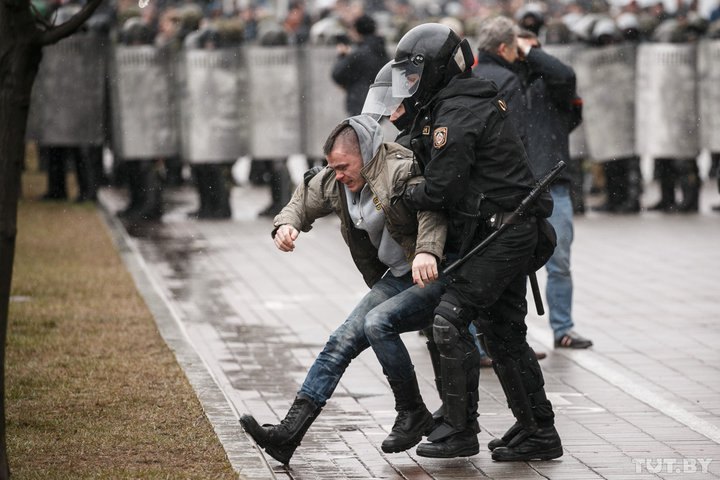 Bangalore Square, the only authorised venue for the opposition rally, remained secluded. People attempted to gather near the Academy of Sciences and the October cinema but the riot police did not let them stand in place, thoroughly checking the documents and grabbing those who did not want to leave into police vans.
Subway trains skipped three stations at once – Yakub Kolas Square, the Academy of Sciences and the Chelyuksintses Park, tut.by said. Ground transport did not stop in the centre, therefore most people who planned to take part in the rally gathered near the Belarusian National Technical University on Independence Avenue.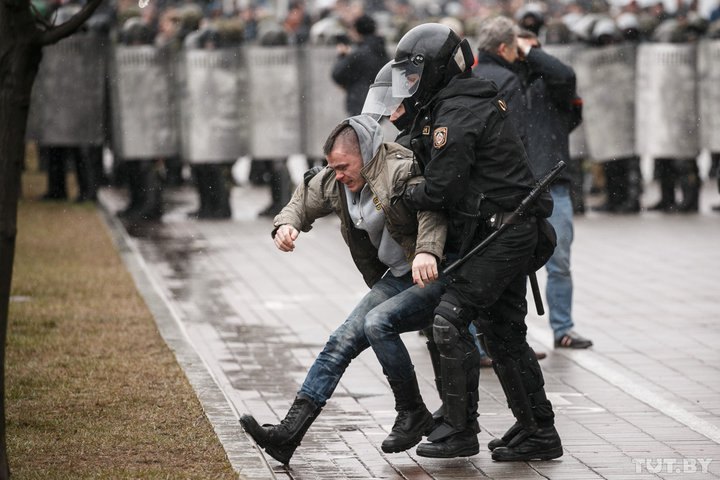 Police vans and the OMON riot police branding shields blocked the avenue in several sectors as well as adjacent streets. Brutal detentions were recorded along the entire length of the avenue and in Yakub Kolas Square where the protesters were encircled.
The final clampdown occurred at around 1230 gmt, half an hour after the start of the rally when police started pulling people out of a column moving towards October Square. All people emerging from the underpass in Victory Square were also detained.
According to tut.by, there were many journalists among the detained. They were apprehended despite their press cards and other visible attributes.
According to rights activists, by the evening of 25 March they have learnt about over 700 participants in the rally who have been detained. After 1530 gmt police started releasing the detained.
Rallies of around several hundred people were also held in Hrodna, Brest, Homel and Vitsebsk. Unlike in other cities, the rally in Vitsebsk was not authorized by the authorities.
Former presidential candidates Tatstsyana Karatkevich and Alyaksandr Milinkevich attended the rally in Brest.
According to the Belarusian opposition website Charter'97, calls are now being made to come October Square at noon (0900 gmt) on 26 March to protest against the brutal clampdown and demand the release of the detained.