Photo: Serhiy Nuzhnenko
The National Bank advises to immeditely start negotiations with the International Monetary Fund on a new cooperation program.
The NBU in a fourth Financial Stability Report released on Monday, 18 December, said that the key macroeconomic risk to Ukraine's financial stability in the coming years is the termination of cooperation with the IMF.
"The lack of financial support from international institutions will significantly complicate the refinancing of over 20 bn dollar in sovereign and government-guaranteed debt maturing in 2018 – 2020. Ukraine should start talks about the launch of a new program of cooperation with the IMF before the completion of the current one in 2019. The new program will not only allow refinancing existing debts on more favourable terms but will also accelerate the pace of reforms," the NBU said.
Moreover, procrastination with the continuation of cooperation is fraught with the cessation of assistance from other international financial organizations and foreign governments; rise in the cost of borrowing on the commercial market; the actual closure of access to other external capital markets; reduction of investment attractiveness of Ukraine.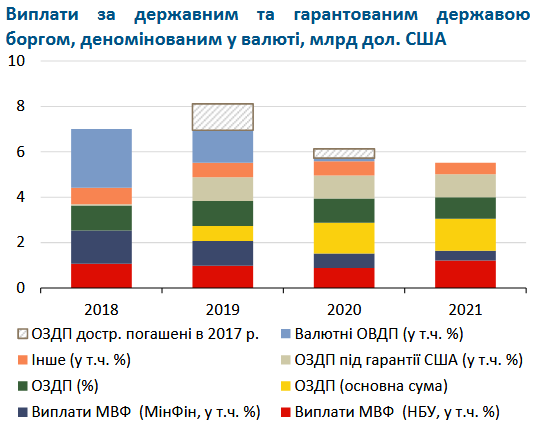 "Without IMF lending, there is high probability of a significant reduction of international reserves of the National Bank of Ukraine, devaluation of the hryvnia, an acceleration of inflation, and reduction in medium-term economic growth will," the NBU said.
The IMF's current program for lending to the Ukrainian economy using the Enhanced Financing Facility (EFF) began in March 2015 and will last until March 2019.
The total size of the program amounted to 17.5 bn dollars. Meanwhile Ukraine so far attracted only 8.7 bn dollars out of the total amount: the first tranche of 5 bn – in March 2015, the second 1.7 bn in August 2015, the third 1 bn in September 2016, and the fourth – for 1 bn dollars in April 2017.