The Holy and Sacred Synod of the Ecumenical Patriarchate has decided to issue a tomos of autocephaly to the Orthodox Church in Ukraine, Ukrinform has reported.
The Synod approved a respective decision at a meeting in Istanbul on 11 October.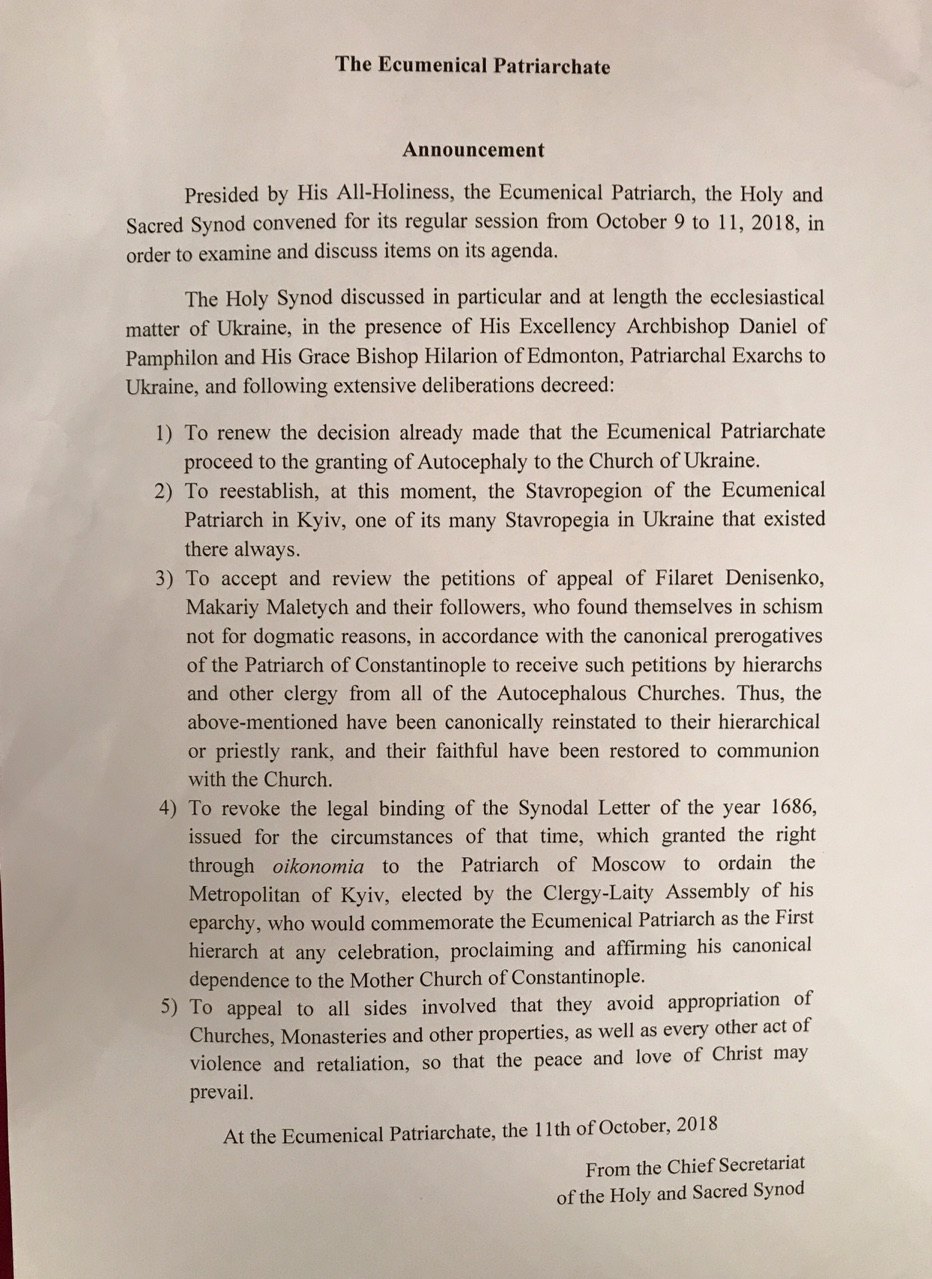 "To renew the decision already made that the Ecumenical Patriarchate proceed to the granting of Autocephaly to the Church of Ukraine," reads the decision, signed by 12 members of the Holy and Sacred Synod and Ecumenical Patriarch Bartholomew.
According to the document, the Synod satisfied the request of Patriarch Filaret and recognized the head of the Ukrainian Orthodox Church of the Kyiv Patriarchate as the canonical hierarch of the Orthodox Church.
Head of the Ukrainian Autocephalous Orthodox Church Makariy was also reinstated in his canonical status.
"To accept and review the petitions of appeal of Filaret Denisenko, Makariy Maletych and their followers, who found themselves in schism not for dogmatic reasons, in accordance with the canonical prerogatives of the Patriarch of Constantinople to receive such petitions by hierarchs and other clergy from all of the Autocephalous Churches," the decision says.
In addition, the Synod recognized as illegal the annexation of the Metropolitan of Kyiv by Moscow in 1686.
"To revoke the legal binding of the Synodal Letter of the year 1686, issued for the circumstances of that time, which granted the right through oikonomia to the Patriarch of Moscow to ordain the Metropolitan of Kyiv, elected by the Clergy-Laity Assembly of his eparchy, who would commemorate the Ecumenical Patriarch as the First hierarch at any celebration, proclaiming and affirming his canonical dependence to the Mother Church of Constantinople," the document says.
The members of the Synod urged all parties involved to avoid conflicts.
"[We] appeal to all sides involved that they avoid appropriation of Churches, Monasteries and other properties, as well as every other act of violence and retaliation, so that the peace and love of Christ may prevail," reads the decision.
The session of the Holy and Sacred Synod of the Ecumenical Patriarchate in Istanbul lasted for three days - from 9 to 11 October. On Wednesday and Thursday, the Synod listened to a report by Exarchs Archbishop Daniel of Pamphilon and Bishop Hilarion of Edmonton following their visit to Ukraine.