Belarus
A rally in support of Belarusian President Alyaksandr Lukashenka's opponents was held in central Kyiv under the motto "Together for free Belarus". They demanded a fair count of votes cast by Belarusians in the presidential election.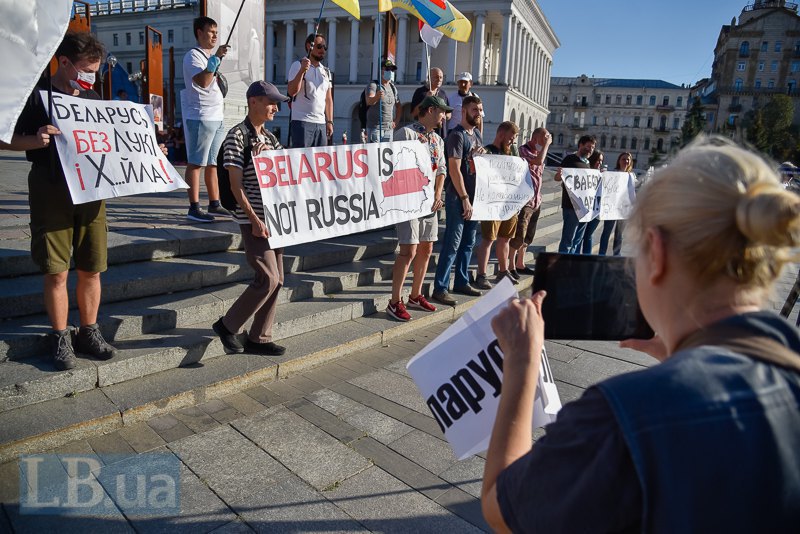 When polls closed at 8 p.m. local time, there was still a long queue of Belarusians who wanted to cast their ballots near the Belarusian embassy in Kyiv. They held their passports high in the air and chanted "Shame".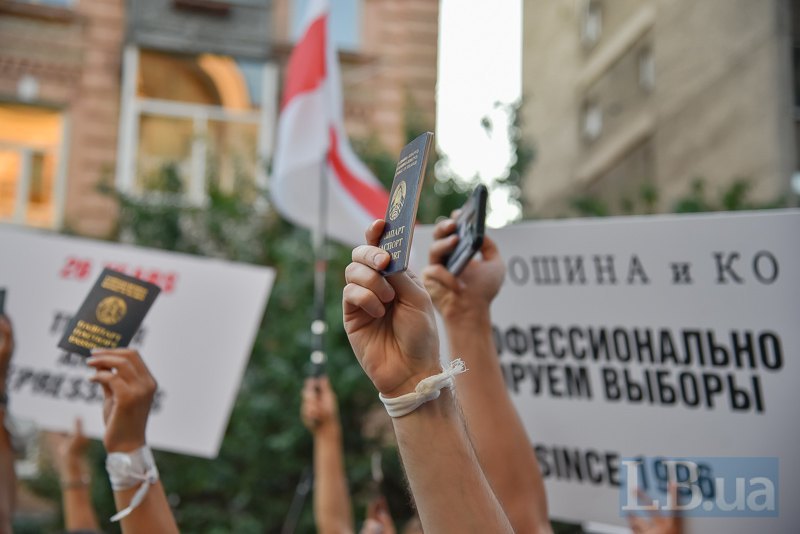 According to the Belarusian national exit poll, Lukashenka received 79.9% of votes, followed by Svyatlana Tsikhanowskaya with 6.8%.
Three Nastoyashcheye Vremya journalists – Ukrainians Ivan Hrebenyuk, Iryna Romaliyska and Russian national Yuriy Baranyuk – were searched and briefly detained in Minsk, where they came to cover the election, and then flown out to Odesa.
Ukrainian local elections
The Central Electoral Commission has scheduled 1,441 first local elections in 24 regions of Ukraine to be held on 25 October.
The Central Electoral Commission has taken into account the reports by the Donetsk and Luhansk military-civil administrations that it is impossible to hold local elections in 10 territorial communities in Bakhmut, Volnovakha, Mariupol and Pokrovsk districts of Donetsk Region and eight in Severodonetsk and Shchastya districts of Luhansk Region.
Yuliya Tymoshenko's Fatherland has nominated Oleksiy Kucherenko to run for Kyiv mayor. His priorities include the financial audit of Kyiv, modernization to avert utility problems, and fair utility tariffs.
Crimean Tatars
President Volodymyr Zelenskyy has announced his intention to restore the rights of Crimean Tatars as an indigenous people in Ukraine. The settlement of this issue is long overdue, and we must finally resolve it. We can say with confidence - we will definitely celebrate this holiday of solidarity in free Bakhchysaray," he said on Facebook.
Donbas
The restoration of militant-controlled areas of Donetsk and Luhansk regions would require around $10bn, according to the president's economic adviser, Oleh Ustenko.
Beirut blast
A 32-year-old Ukrainian, William Azar, got killed by the blast in the Beirut port on 4 August, according to ambassador Ihor Ostash. "A young and promising economist", he left the local KPMG office to go home when the tragedy happened.
Coronavirus
Ukraine has registered 1,199 new coronavirus cases by the morning of 8 August. The total number of Covid-19 cases has reached 80,949, including 43,972 recoveries.
At an extraordinary meeting on 8 August, the Cabinet of Ministers endorsed an action plan due to the deterioration of the epidemiological situation in Ukraine. Health Minister Maksym Stepanov must check whether hospitals are prepared for the second wave of the coronavirus, how many hospital beds and how much personal protection equipment, medicine, oxygen and medical staff each region has.
The Cabinet of Ministers banned Ukrainians from entering and leaving Crimea by the end of the summer due to the deteriorating epidemiological situation, Minister for the Development of Communities and Territories Oleksiy Chernyshov has said. Checkpoints on the administrative border between Ukraine and Crimea will be closed from 8 a.m. on 9 August to 8 a.m. on 30 August.
Two players of Dynamo Kyiv FC, Nazariy Rusyn and Roman Vantukh, have tested positive for coronavirus. They shared a room at the training camp. Other players were urgently tested but turned negative results. The sick players will be isolated and quarantined for 14 days.
The acting city head of Lutsk, Hryhoriy Pustovit, has said on Facebook that he tested positive for coronavirus. However, he still objects to adding the city to the coronavirus red zone.
Crime
Schemes investigative show journalist Mykhaylo Tkach has found signs of wiretapping activity in his flat, which he reported to police. According to editor in chief Natalka Sedletska, they found a drilled hole at least 60 cm long in the ceiling of his flat located on the upper floor right under a shared attic. Tkach is known for his explosive reports about Zelenskyy's Oman trip and the controversial affair of Denys Yerma, the brother of the presidential chief of staff.
Police have destroyed a suspected explosive device in Kyiv's Velyka Vasylkivska Street after receiving a tip-off. It looked like a mobile phone covered with wire.