Coronavirus
The Cabinet of Ministers has extended the coronavirus quarantine until 31 August. Measures will be applied depending on which epidemiological zone – green, yellow, orange or red – an administrative unit falls into. The placement will depend on the share of hospital beds occupied, the average number of tests, the infection rate and the infection dynamics.
The Education and Science Ministry has already said that schools in the red zones will remain closed on 1 September.
By the morning of 22 July, Ukraine has registered 829 new coronavirus cases over the past 24 hours, as well as 973 recoveries and 16 deaths.
Donbas
The trilateral contact group has reached an agreement on a full and comprehensive ceasefire in Donbas as of the midnight of 27 July 2020.
The third serviceman killed during the shooting attack near Zaytseve on 13 July was identified as Serg Yaroslav Zhuravel, commander of the intelligence platoon of the 35th detached marine brigade.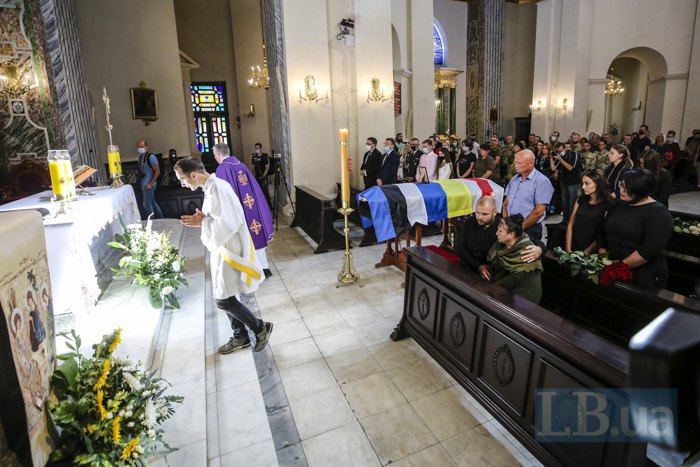 The church service for army medic Mykola (Nikolay) Ilin, an Estonian national who was killed in the 13 July ambush, was held in Kyiv. Polish ambassador Bartosz Cichocki attended the ceremony.
Lutsk incident
Maksym Kryvosh, who took 13 people hostage in Lutsk on 21 July, is suspected of terrorism, seizure of people as hostages, attempt on the life of an law enforcer, and illegal handling of weapons and explosives. Prosecutors will ask the court to place him in custody.
Russia
Ukrainian Foreign Minister Dmytro Kuleba has said that the sentence of up to 3.5 years handed down on Russian historian Yuriy Dmitriev is "a war against the truth about the history of Ukraine as part of the USSR." He added that "Dmitriev is a victim of the Russian state's desire to trample on historical memory and those who preserve it".
Nowak's case
The Warsaw court has arrested the former head of the State Road Service of Ukraine (Ukravtodor), Slawomir Nowak, and two other Polish nationals for three months. They are suspected of receiving illegal benefits and money laundering.
Government
The Cabinet of Ministers has established the Ministry of Strategic Industries under the lead of Deputy Prime Minister Oleh Uruskyy.
Energy
Ukraine has resumed export of electricity to Belarus which was suspended in 2015.
NBU
Yuriy Heletiy, a former deputy finance minister, has been appointed deputy governor of the National Bank of Ukraine. He will replace Oleh Churiy, whose five-year contract has expired.
Crime
The Security Service of Ukraine (SBU) has exposed large-scale embezzlement at the state railway company Ukrzaliznytsya which could potentially undermine the stability of railway transport.