Lutsk siege
The man who has held 13 people hostage at gunpoint in Lutsk since the morning was detained by the Special Operations Centre "A" of the Security Service of Ukraine (SBU) and the National Police after the 12-hour drama by 9 p.m. All the hostages were released.
The man, who was identified as ex-convict and Lutsk resident Maksym Kryvosh, seized the Berestechko-Krasnylivka bus this morning in central Lutsk, threatening to set it off with explosives unless officials admit on the video that they are "terrorists in law".
In 2005, he was sentenced to 8.5 years for illegal storage and mishandling of weapons, banditry and extortion. He also had other convictions.
The first three hostages were released after President Volodymyr Zelenskyy uploaded a Facebook video calling on Ukrainians to watch the 2005 film Earthlings, as the terrorist had requested. Later the president deleted the video.
According to Interior Minister Arsen Avakov, the terrorist had accomplices in other cities. "His accomplices have been detained, one of them in Kharkiv. Cartridges, explosives were found there," he said. The minister described the culprit as a mentally unstable person.
Kyiv security
The police have beefed up security in Kyiv, especially in crowded places, after two improvised explosive devices were found at the Minskyy market near a subway station following a tip-off today. The market had to be evacuated and the police destroyed the explosives.
Also, the Kyiv police received a number of anonymous alerts about bombs allegedly planted at the central railway station, Zhulyany airport and the Ocean Plaza shopping mall, which proved hoax.
Swiss president's visit
Swiss President Simonetta Sommaruga has come to Ukraine on a state visit. During a meeting with President Volodymyr Zelenskyy, the latter called on Switzerland to invest in Ukraine's tourism sector.
Art protest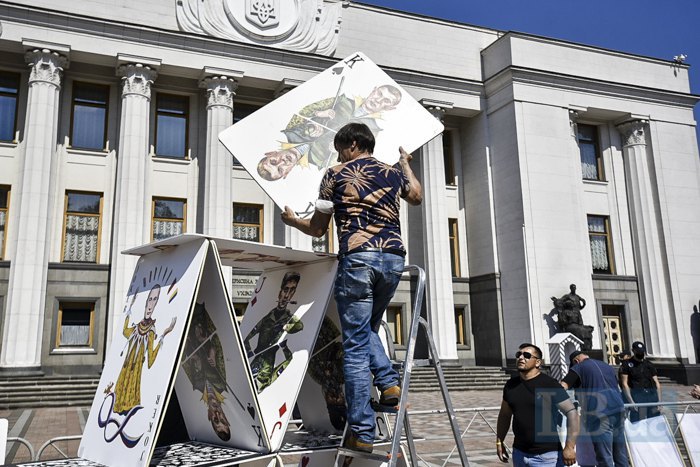 Law enforcers and people of art held an art performance called "Putin's Card House" to draw attention for the absence of punishment for Russia's war crimes.
Nowak's case
A former acting head of the State Road Service of Ukraine (Ukravtodor), Slawomir Nowak, who was detained in Poland two days ago, was served a Ukrainian notice of suspicion. He is suspected of accepting a proposal, promising or receiving illegal benefits by an official, according to the National Anticorruption Bureau of Ukraine.
Maidan case
Prosecutor-General Iryna Venediktova has appointed Oleksiy Donskyy acting head of the department dealing with the crimes against Maidan protesters in 2013-2014, Hromadske has reported.
Donbas
A Ukrainian serviceman who was wounded near Pavlopil (Volnovakha District, Donetsk Region) succumbed to shrapnel wounds in a hospital, the Joint Forces Operation HQ has reported. One Ukrainian serviceman has been killed and one wounded since midnight.
NBU
The newly-appointed governor of the National Bank of Ukraine (NBU), Kyrylo Shevchenko, has met G7 ambassadors to ensure them that the NBU will remain an independent institution which takes apolitical and economically justified decisions.
Coronavirus
Ukraine has logged in 673 news coronavirus cases, 760 recoveries and 20 deaths, according to the Health Ministry.