Ceasefire
The ceasefire agreed by Ukraine, Russia and the OSCE last week took effect last midnight.
However, according to the Joint Forces Operation HQ, the occupying troops violated the ceasefire twice. "In particular, near Vodyane, the enemy fired at night on the positions of Ukrainian servicemen with handheld anti-tank grenade launchers and small arms, and near Pivdenne it fired with automatic grenade launchers, heavy machine-guns and small arms at lunchtime," it said in the evening update. Near Novomykhaylivka, separatists installed three POM-2 anti-personnel mines with the help of anti-tank grenade launchers. The Ukrainian army did not return fire.
Joint Forces Commander Lt-Gen Volodymyr Kravchenko has said that the Ukrainian Armed Forces are further prepared to stand up to the occupying troops in Donbas. "By ensuring the implementation of political agreements, the Armed Forces of Ukraine enable politicians to make progress in the peace process," he said.
Exclusive: Ukrainian Deputy Prime Minister Oleksiy Reznikov has told LB.ua that he hopes that Russia and the illegal military formations under its control would not want to break the truce now without starting it. "If the OSCE SMM confirms that there was a shooting on the other side and there will be no consequences after that, then it can be stated that there was no truce. However, if it was an excess of perpetrators, we will see the reaction of the enemy when Russian officers punish those who fired, and there will be no further escalation, so, obviously the truce began," he said.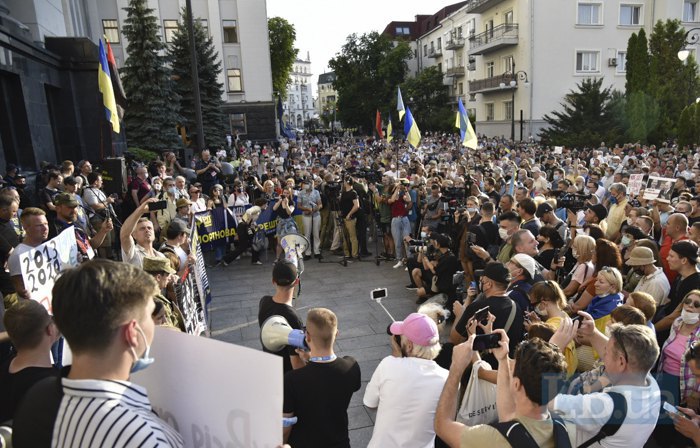 Several hundred people took part in a protest against yet another Donbas ceasefire, which was organized by the Capitulation Resistance Movement, outside the presidential office. Protesters are concerned that the new ceasefire will effectively turn Russia into an observer and will force Ukraine to make deals with the separatist Donetsk and Luhansk people's republics.
President Volodymyr Zelenskyy has formed a military-civil administration in Lysychansk, Luhansk Region.
Poll
Were a presidential election held this weekend, 30.2% of voters who have already made up their mind would vote for Zelenskyy, 14.4% for pro-Russian Opposition Platform-For Life member Yuriy Boyko, 13.7% for ex-President Petro Poroshenko and 9.1% for ex-Prime Minister Yuliya Tymoshenko.
Crimea
Ukraine is inviting Poland to take part in a future international platform on the deoccupation of Russia-annexed Crimea and become one of its leaders, Ukrainian Foreign Minister Dmytro Kuleba said at a meeting with his Polish counterpart Jacek Czaputowicz in Warsaw.
USA
President Zelenskyy may visit the USA before the presidential election there, according to Ukraine's ambassador to the USA, Volodymyr Yelchenko.
Blackout
An equipment failure at Kyiv's cogeneration plant left Pecherskyy, Holosiyivskyy and Solomyanskyy districts without electricity for several hours.
Economy
The Ukrainian railway company Ukrzaliznytsya has completed a $200-million debt restructuring agreement with Ukraine's Sberbank, which is due by the end of the year.
In an interview with LB.ua, Ukrainian Deputy Prime Minister for Strategic Industries Oleh Uruskyy has ruled out cooperation with Russia in defence industry. He added that every company should be looking for market to sell its products to in Europe, Asia and America.
Incident
Oleh Cherevko aka Smert (Death), a serviceman of the Azov regiment, died in a Zaporizhzhya hospital after he was savagely beaten in the street after he stood up for girls being bugged by an ex-convict.
Four utility workers in Kharkiv died after getting poisoned with sewage gases, the State Emergencies Service said.
Kyiv prosecution
Prosecutor-General Iryna Venediktova has introduced Oleh Kiper as head of the Kyiv prosecutor's office to his staff. Before this, he was Kyiv's deputy prosecutor. Although he was vetted out in 2014, five years later a court found this decision ungrounded.
Football
Dynamo FC Ihor Surkis has confirmed that Mircea Lucescu will become the club's head coach although he is very upset by fans' critical response to his appointment.
Coronavirus
By the morning of 27 July, Ukraine has registered a single-day increase of 807 coronavirus cases, bringing the total count to 65,656, which includes 36,122 recoveries and 1,616 deaths.