Belarus
A rally of solidarity with peaceful Belarusian protesters was held outside the Belarusian embassy in Kyiv. Its participants spoke in support of victims of police abuse and called on the Belarusian authorities to punish those who violated human rights, according to an LB.ua correspondent. They also demanded the release of detained Belarusians and Ukrainians.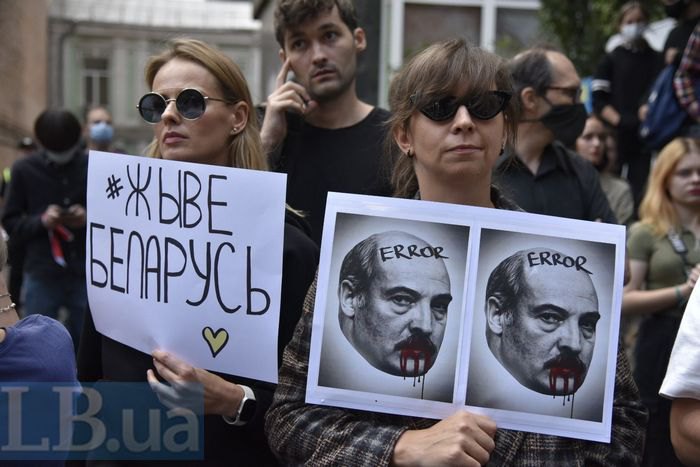 The Voice faction will demand an extraordinary meeting of the Ukrainian parliament to issue a draft resolution on the developments in Belarus, its deputy head Inna Sovsun has said. In her opinion, Ukraine must clearly say it does not recognize the Belarusian election the way it was held, and call on other parliaments in democratic countries to follow suit.
Ukrainian Vostok SOS volunteers Kostyantyn Reutskyy and Yevhen Vasylyev, who were detained in Minsk, are suspected of participation in mass riots by the Belarusian authorities. The Ukrainian Foreign Ministry and the presidential office demanded their immediate release as there is no evidence of wrongdoing on their part.
Ukrainian ombudsman Lyudmyla Denisova has called on the Belarusian authorities to release Ukrainian nationals detained during the protests.
Former Ukrainian President Leonid Kuchma has called on Belarusian President Alyaksandr Lukashenka to stop the bloodshed because "it cannot be justified". He also suggested that the trilateral contact group on Donbas could change its meeting venue from Minsk to Stockholm.
Military
There have been no ceasefire violations by Russia-backed militants since midnight, according to the Joint Forces Operation HQ. However, one Ukrainian serviceman got killed and the other wounded after they left the set route and triggered an unidentified explosive device.
A Ukrainian scout died during a combat mission in Donbas as a result of mishandling weapons, the North operational-tactical command has reported. The case is being investigated.
The state defence concern Ukroboronprom is planned to be transformed into two state-owned managing holding companies, according to Deputy Prime Minister Oleh Uruskyy. One of them will focus on the functions of defence industries while the other one will bring together aviation and space and will include the Antonov aircraft company.
Kherson Region will host the 10-day Joint Effort 2020 exercise, involving territorial defence units, on 17-26 September, according to the Defence Ministry.
Coronavirus
Ukraine has reported another single-day anti-record of 1,592 Covid-19 cases. Thus the total count has reached 86,140 cases, including 46,216 recoveries and 1,992 deaths.
Crime
The Security Service of Ukraine (SBU) and the National Police have uncovered an illegal money laundering centre in Dnipro with the monthly turnover of around 0.5bn hryvnyas.