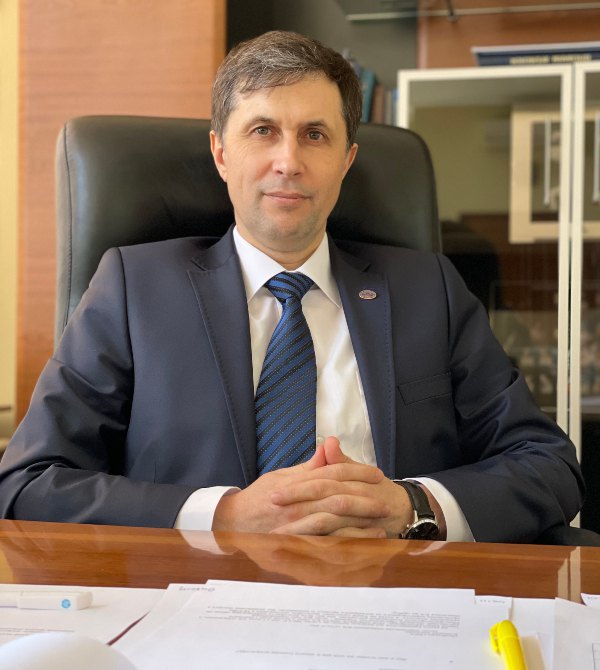 Volodymyr Taftay
The prospect for 20 to 30 years: active exploration of Mars and creation of a lunar settlement. Ukraine's task is to get actively involved
During his recent visit to the USA, Ukrainian President Volodymyr Zelenskyy visited the NASA headquarters for the first time to meet its Administrator Bill Nelson. Can you tell us what space projects they discussed? Any documents signed?
The meeting was truly historic. There have been no such talks in the last 20 years. We believe that now we can talk about the high level of attention that the leadership of Ukraine has begun to pay to space issues. This is a significant signal to our US partners that we are reliable partners in the space sector, that they can work with us and count on us in the long term.
This is very important, given that we are now in the first stage of working together on the Artemis project. And in general, on the creation of a lunar settlement. This is a long-term project, not limited to a year. The attention of the entire world will be on this project, and Ukraine is indeed very interested in taking part in it. Apart from discussing a number of important issues of space cooperation, this meeting was important to us because we had an opportunity to show that our intentions are serious and, most importantly, how we can contribute to the project. I think we coped with this task. The next few months will show progress in this direction.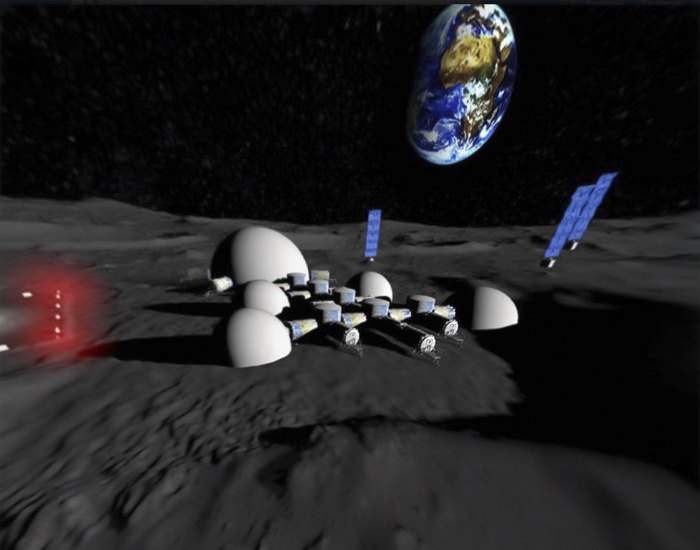 A lunar settlement concept
So Artemis was one of the key issues for discussion during the US meeting?
Yes, it was a key issue. I should note that it is not the only matter on the agenda of our communication with American partners. However, it is really important. We need to understand the current trends and demands in the space sector, where the world is going and where the main efforts and resources are now focused to be able to find our place on the global agenda for space exploration. We must understand that the overall trend is now shifting from low-Earth orbit to orbits of the Moon and Mars. A great deal of effort and very substantial funding are now being invested in this all over the world. And the prospect for the next 20 to 30 years is precisely the active exploration of Mars and the creation of a lunar settlement. This is a task the mankind will be working on. And the task for Ukraine is not to stand aside from these processes but to take an active part in them. We have every opportunity for that. Accordingly, this meeting that we are talking about was a basic one, it discussed certain strategic parameters according to which Ukraine and the United States can move further in this direction.
It also discussed the existing projects. In particular, Antares. Zelenskyy assured NASA that the Ukrainian government supports this project. And Bill Nelson actively supports it on behalf of NASA. We will continue to develop this very interesting American-Ukrainian project. As you know, in Antares, we are working on the first stage of launch vehicle. We work with Yuzhmash (Pivdenmash), Yuzhnoye (Pivdenne) SDO and a number of other enterprises which are part of this cooperation. We expect that in future the total amount of financing under this programme may reach nearly 80 million dollars.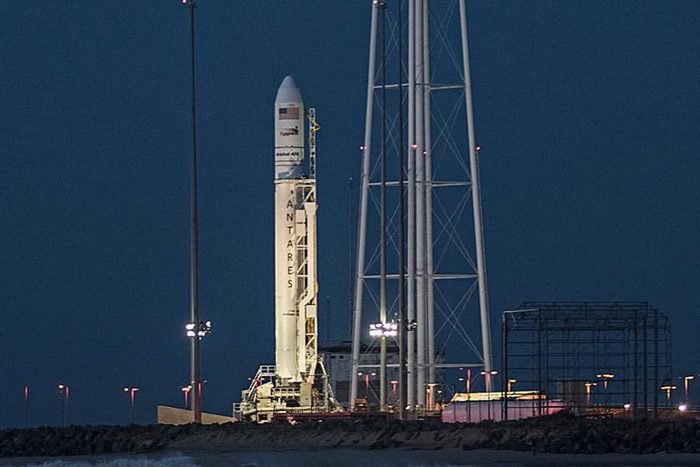 Antares
As you have already noted, Ukraine has become part of the US Artemis programme. We know that this requires members to pay for participation and to create developments necessary for this big programme. Without resources, it is impossible to participate in the programme. What kind of projects does Ukraine propose? Which ones are you planning to implement?
We have quite a lot of developments. From what I can talk about, we can offer, for example, life support systems, energy accumulation on the Moon. We have developments that are very important for ensuring the functioning of a lunar settlement. This is one example.
Are most of them developed by private or state-owned companies?
Most of them are state-owned. But there are also private ones. There is a whole list of developments that may be interesting to implement on the Moon. And these are the projects that we propose to implement together with the USA.
Perhaps some individual developments were also discussed during the meeting?
This is a high-level meeting that does not discuss the technical details of any specific systems. I would describe it as a strategic meeting. Its main result is that we have received confirmation that the USA really deems it necessary for our agencies to continue technical cooperation and for all the declared intentions to be put to life. The main thing is that there is a political foundation for implementing these projects. Also, technical specialists from NASA and our State Space Agency are currently doing technical work. We hold video conferences to discuss technical details of Ukraine's participation in these projects.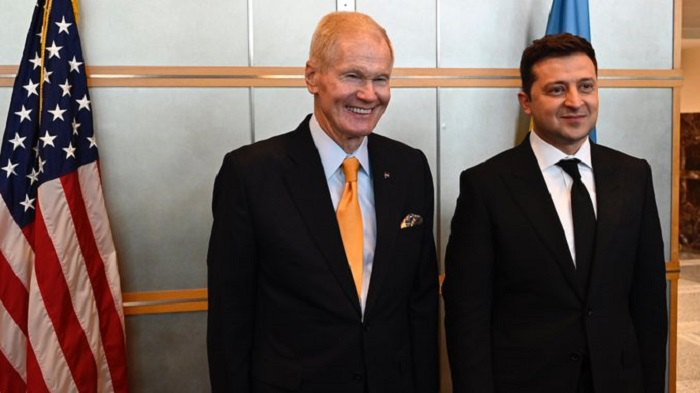 Volodymyr Zelenskyy and Bill Nelson
Artemis does not involve very intense technical work yet, because its pool of participants was only formed last year and there has only been one video conference that discussed the general principles of work. Now an understanding is being formed as to who should take part and in what role. At this very moment, it would be premature to talk about any clear-cut cooperation since the basic principles are being defined as we speak. So, actually, if you are not active enough at this stage, if you do not offer your developments and opportunities at the highest level, there is a risk of being left out of this ambitious project at all. 
In the USA and a number of other countries which joined Artemis, the model of participation looks as follows: the state invests money in the development of new technologies and grants a patent to or makes an order with private companies creating space projects. After commercialization, the money is returned to the state budget. In the USA, every invested dollar brings about 8-10 dollars back to the budget. Is Ukraine ready for such an approach?
This is a very clever model, which is a good example to follow. But, apart from it, there may be other approaches. For example, we are now focused on joint cooperation with American companies. The mechanism you have mentioned can also be used, and we are now considering different ways of implementing it with regard to legislation in effect. Moreover, if necessary, we will have to adapt our legislation in such a way that it facilitates Ukraine's wider integration into global space systems and programmes instead of hindering it. We are ready and able to move fast enough in technical cooperation. Today Ukraine also has political will to participate in really big projects.
So, for now we are still talking about co-financing our projects with the USA, aren't we?
Yes. And there is funding for such projects in the space programme.
What is the next step in the Artemis project?
The overview of the programme and the breakdown of tasks among its participants should appear soon. The Americans, for their part, should form a vision of how it should be. We are awaiting these decisions. For our part, we have clearly declared that we are ready to take an active part in the programme to create a lunar settlement as a base for further research of the Moon and deep space. And not only do we share the concept of this project, we have every opportunity to take part in its technical development and implementation.
Space exploration, the availability of opportunities in space give the state extraordinary benefits that will ultimately save billions of dollars already on Earth.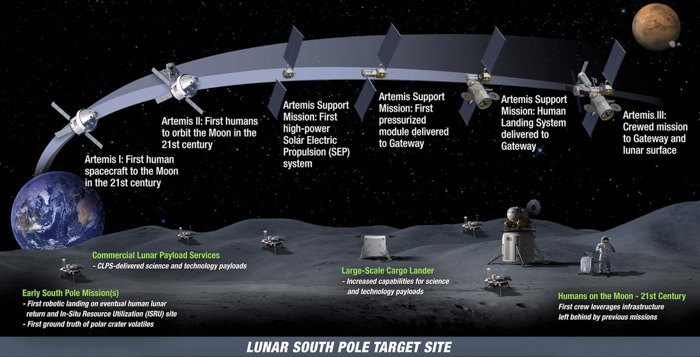 We are to launch Sich-2-30 on Elon Musk's rocket in December 2021
We want to put our Sich-2-30 satellite on the Falcon 9 launch vehicle of Elon Musk's company. Could you tell me if such agreements with the American side indeed exist? And is it realistic to attach and launch the Ukrainian satellite using such a modern rocket? After all, our satellite was actually developed back in 2011.
Work on this satellite began in 2015. Therefore, it is much more modernized than its prototype Sich02-1, and it is now undergoing a number of necessary tests. The contract with SpaceX, under which we are to launch Sich-2-30 on their vehicle, has been signed. The launch is scheduled for December 2021. As part of preparations, a programme of testing and the necessary work to adapt the satellite for launch on a rocket are underway. Because each rocket has its own peculiarities: the location of a satellite in the rocket body, the construction of the adapter, the separation system. There have been no hiccups in the programme so far. We will be fully ready for launch in December 2021. By the way, the launch costs nearly half of the entire contract budget.
How much is that?
Two million dollars. We pay a million for putting the satellite into orbit, and another million for adaptation: the adapter, the separation system, and so on.
How will the satellite be controlled after we have lost our own ground station in Yevpatoriya due to the occupation of Crimea?
We have done a great job and another station of our own is almost ready. Now it is still being finalised and adapted for the satellite, but in general it is fully ready to control the satellite and receive data from it.
By the way, the Space Agency includes the National Space Technology Test and Control Centre, which includes the Mission Control Centre. The centre has a 32-metre radio telescope, which we have upgraded to such a state that its parameters are better than those of the lost 70-metre Crimean telescope. This telescope is one of the scientific achievements of 2020. That is, not only have we not lost but we have even improved our own facilities.
By the way, we have also discussed options for cooperation in science and technology with the Americans. In my opinion, this is a very important element of cooperation. After all, research opens the doors to high-tech cooperation. In particular, a memorandum was signed with the US Space Force during President Zelensky's visit to the United States, which opens up opportunities for joint work on flight safety and space situational awareness. This is a very important documentary framework for space exploration both for commercial and scientific purposes.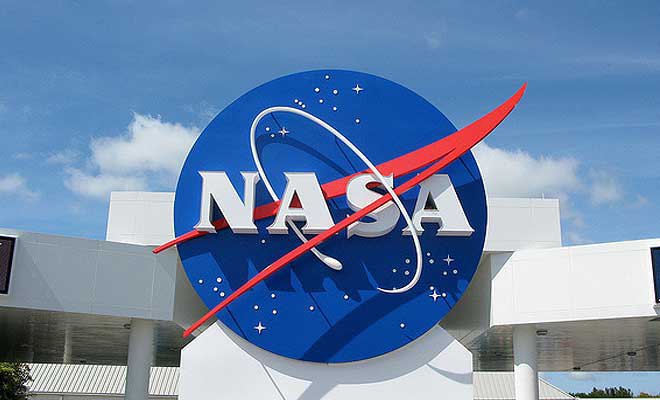 NASA
According to this memorandum, will Ukraine get access to US satellite data? How can we use and want to use it?
Satellite data is quite versatile. Depending on the need, it can be used both for security and defence purposes, and for the general security of the country. This includes control over the situation at the border, agriculture and use of natural resources. For instance, it is easy to use the satellite to control the intended use of quarries, the amount of land sown with various crops and deforestation. These are the issues that require constant control in order to avoid significant losses.
Do you remember how in the spring of 2020, all of Kyiv was covered in smoke? That was because the forests were burning. A very detailed analysis of the situation was needed. The causes were analysed, this experience was used to prevent similar situations from happening in the future. Now we're working on an early warning system for possible fires. This year, as you know, there have been no big fires in Ukraine. That is, we clearly see that space exploration and opportunities provided by space givesthe state extraordinary benefits and opportunities, which in the end will save billions of dollars already on the Earth. This system is already working in test mode. Thanks to it, many forests have already been rescued, and one of these days we are planning its official launch with the participation of a deputy prime minister.
Going back to the memorandum, we are planning to exchange satellite data with the USA. We will also share the data that we will receive from the Sich-2-30 satellite with the Americans.
Do they need this data from us?
Yes. The thing is, you cannot have too many satellites. The more satellites there are, the better the monitoring of the territory is. Therefore, we also have an agreement with the European Space Agency under the Copernicus programme (of which our Sich satellite will also be part), with which we will be exchanging data. This will strengthen their group and give us the opportunity to receive data from more satellites. It is a win-win situation.
NASA chief gladly accepted Zelenskyy's invitation and promised to visit Ukraine soon
While in the USA, Volodymyr Zelenskyy has invited the NASA chief to Ukraine. What could this visit be about and when it could take place?
I am very grateful to the president for this invitation. This is a very clear signal at the political level that we are open to and ready for great cooperation.
As for the dates of the visit, it has not scheduled yet. It is difficult to plan meetings at the moment, given quarantine restrictions, but this visit will definitely take place. The NASA administrator gladly accepted the invitation and promised to visit Ukraine in the near future. For us, it will be a very important and decisive visit during which we want to present the capabilities of our space industry, primarily with regard to possible cooperation. In particular, on the creation of a lunar settlement. Artemis and a lunar settlement are among our priority areas, so it is important for us to show our developments in the flesh. We have something to surprise and interest even such fastidious guests as the NASA delegation.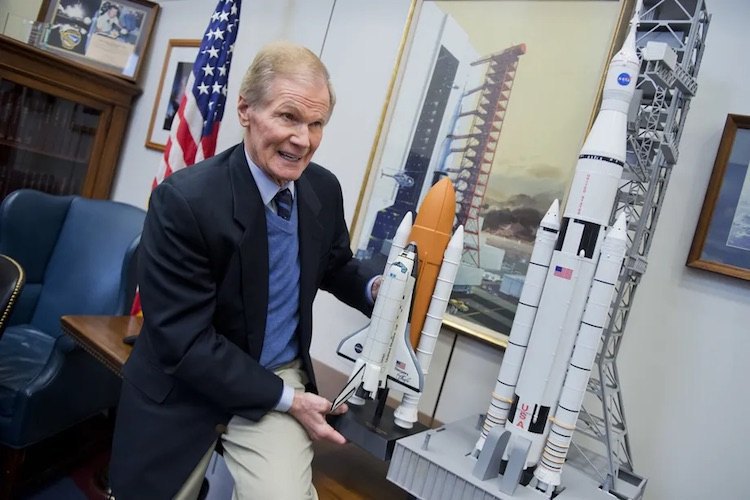 Bill Nelson
By the way, how do you assess the dynamics of Ukraine-US space relations in general?
This year we have made considerable progress in our relations with NASA, I mean the institutional level. We have already had a number of meetings, in particular, together with the NASA chief we took part in a panel at the 36th Space Symposium in Colorado. This Symposium also became the starting point for the implementation of joint projects by the State Space Agency of Ukraine and the Canadian Space Agency. Now we are planning to lay the cornerstone for the Cyclone 4M project. I consider this symposium to be a very important event. This is a portal to a new level of relations. Until now our relations with the USA were at the level of individual commercial entities. We seek to change this approach and bring the relationship to the national G2G level. This approach will create many more opportunities for our enterprises and specialists to take part in US space projects.
It should always be remembered that the space industry is one of the most promising areas of human activity. I am convinced that the countries which have the necessary research and production potential and which can find their place in the global tasks facing humanity will join the club of the world's privileged countries. Being currently responsible for this part of work, I see and know that Ukraine has everything necessary to be in this club. It is important that all government offices work towards this result, and in this case it will not keep us waiting.