For a month, philanthropists from all over the world have been providing humanitarian aid to the people of Ukraine most affected by the Russian-Ukrainian war. And initiative Ukrainians organize humanitarian headquarters, where they receive aid and control that medicines, food, clothing, and other basic necessities arrive to refugees and those in need quickly and without delay.
HЕLP UKRAINE ROMANIA — is one of the humanitarian outposts on the border between Ukraine and Romania. The initiative was created in the first days of the war with the assistance of the Chernivtsi City Council, Ukrainian authorities and volunteer business projects.
The hub's logistics centers in Chernivtsi (Ukraine) and Siret (Romania) help transport humanitarian aid from around the world across the Ukrainian-Romanian border. HELP UKRAINE ROMANIA receives requests for humanitarian aid, accepts goods in warehouses and organizes their transportation throughout Ukraine.
Yulia Grytsku, the founder of HELP UKRAINE ROMANIA and a deputy of the Chernivtsi Regional Council, telling us on the features of the work of the humanitarian hub and its successes.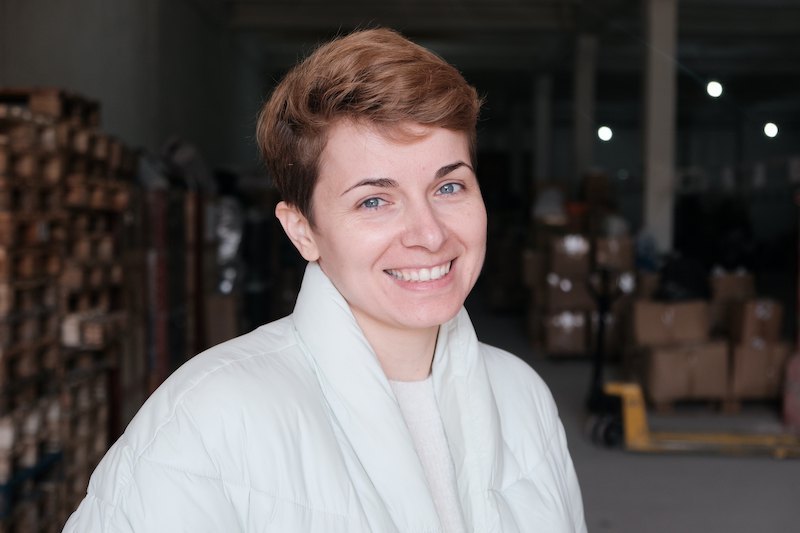 Yulia, how did you manage to organize a humanitarian hub in just two weeks?
It all started with a phone call on the night of February 25-26 from acquaintances from the United States. They said that they wanted to help Ukrainians affected by the war and asked whether they could be of any use. I replied that now we need medicines most of all and that I am ready to take on the logistics of their delivery in Ukraine.
We started thinking about purchases. We realized that delivering cargo from America is expensive. Therefore, they contacted a person from Romania, who agreed to purchase humanitarian aid through an NGO.
Then it was necessary to find a humanitarian warehouse and solve the logistics issues. We turned to the authorities of Siret, the nearest Romanian city on the border with Ukraine, an hour's drive from Chernivtsi. The mayor and his team readily agreed to support our initiative. They provided us with premises not only for the storage of cargo, but also for the accommodation of workers from Ukraine.
In conclusion, we lacked only a reliable operation model that could ensure the stable operation of the hub. On March 3, I came to a meeting at the Chernivtsi City Council, where I met activist Yulia Solovei. Yulia agreed to take on this part of the work. She assembled a team of logisticians, built transportation routes. Everything slowly turned around.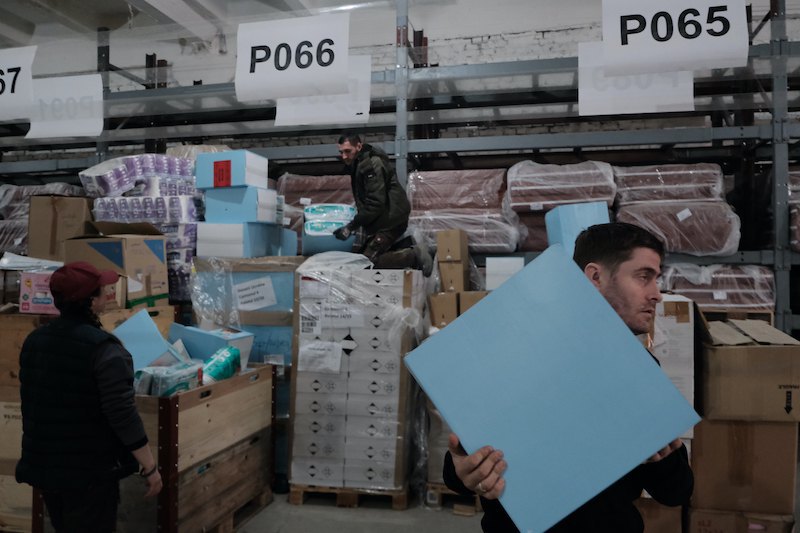 How do you determine what items to buy?
We receive requests from ministries and communities. All of them are collected and systematized on our website. When international humanitarian organizations come to us with offers of assistance, we focus them on a list of urgent needs.
Where do most requests come from?
From communities. They've got a lot on them now - the needs of both refugees, and territorial defense, and self-sufficiency.
Community representatives write a request directly to the Chernivtsi City Council, and then we join and work with the cargo.
How do communities with requests for humanitarian assistance find out about you?
Now it works on the principle of word of mouth. I still have connections with regional development centers in other areas. We constantly communicate, exchange information.
What difficulties do you face when transporting goods across Ukraine?
Shelling, destroyed bridges and roads. Our drivers heroically deliver goods to the hottest spots.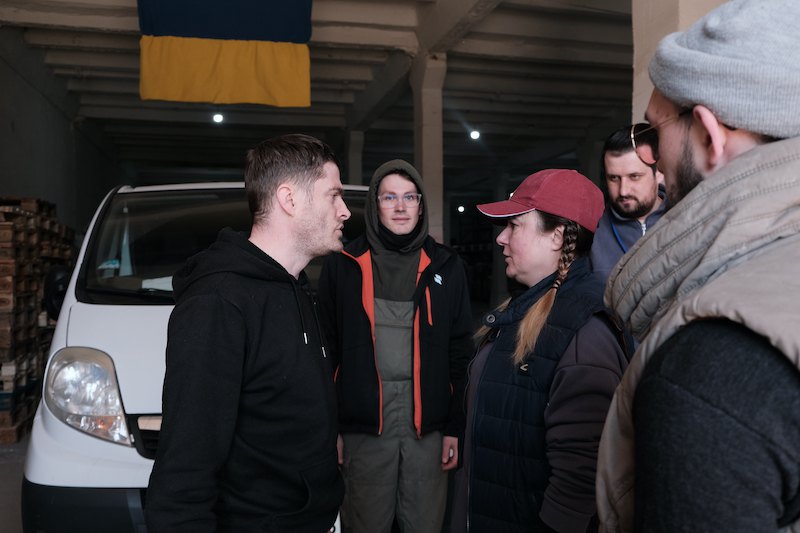 How is cargo transported in Europe?
We have a vast network of trucks that can pick up cargo from anywhere in Europe. These are carriers of Ukrainian logistics companies that travel around European countries, but due to the war do not enter Ukraine.
In Europe, a separate group of logisticians works for us. The same in Ukraine.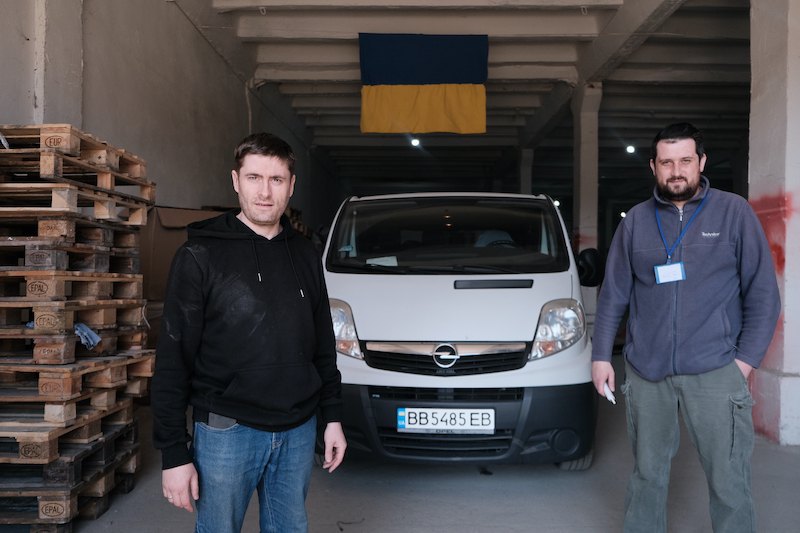 Recently, the Ukrainian authorities launched the Humanitarian Aid Portal (help.gov.ua). It focuses on rail transport. How is your approach different from theirs?
This model is convenient for receiving interstate aid from international humanitarian organizations such as the Red Cross.
Our approach is to help from city to city. It is possible thanks to the close cooperation of Chernivtsi with sister cities in other countries. It is gratifying that international non-governmental organizations trust local self-government.
For us, "efficiency" means "quickness". We try to work in such a way that every evening the warehouse remains empty, so that the products do not stale and do not deteriorate. In my opinion, it is better to make a small but quick shipment with quality goods than to wait until the carriage is full, and it's not clear with what goods.
How many humanitarian supplies have you already sent?
For 3 weeks, 56 cities and communities received about 700 tons of humanitarian aid from us. They were transported across Ukraine by 89 trucks.
How does HELP UKRAINE ROMANIA present itself in the public arena?
We have developed a logo and website. Every day we publish in open access reports on the number and directions of humanitarian convoys routes. And we send gratitude and diplomas to our benefactors.
Do foreign businesses help you?
I met recently with representatives of Amazon. They have a manager from Ukraine who is very supportive of our initiative. Twitter management transferred $1 million to our American philanthropists for the purchase of humanitarian goods. It is energizing and inspiring.
How can a foreign organization send humanitarian cargo to Ukraine through HELP UKRAINE ROMANIA?
First of all, you need to go to our website (helpukraineromania.org) or call the call center to clarify the current needs or offer already collected humanitarian cargo. If you have your own transport, then you need to register it, indicating the type of cargo and the date of arrival in Siret. If there is no transport, we are here to help with the organization of logistics.
Humanitarian cargo can be targeted with an already defined recipient. Or it can be general, when we in Ukraine distribute it according to the highest priority needs of territorial communities. In the first case, the customer on the territory of Ukraine can immediately pick up the goods and go to the addressee. If it's general humanitarian aid, we need to check the shipment and determine how it's distributed and stored. For example, while it is cool outside, no special conditions are needed to store food, but in the future we plan to use refrigerators.
After completing all the procedures, the sender, if desired, can trace where the goods go. Many shippers make special stickers and images for shipments to check if they have arrived at their destination.
Recipients write thanks to us in social networks, shoot videos. Personally, I remember a grandmother from Voznesensk, Nikolaev region, who made a video with our cargo and the words: "Now I will bake pies for our military so that they win. Glory to Ukraine!"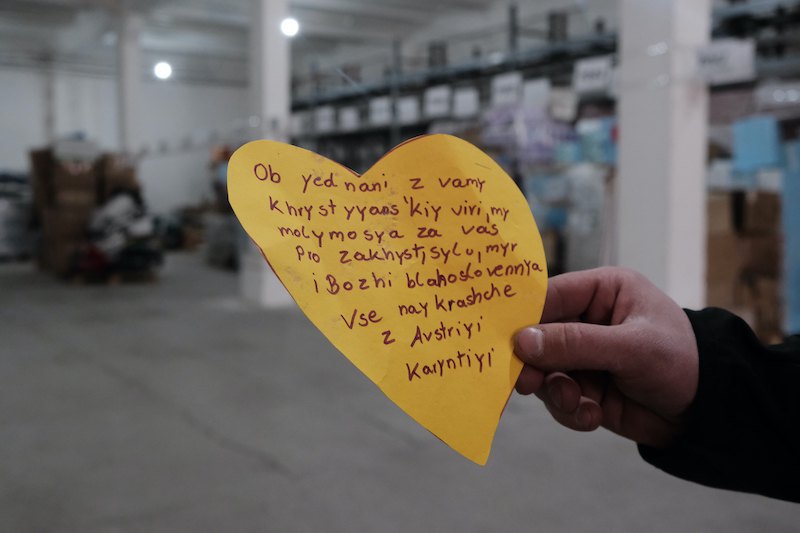 How do you work with Ukrainian and Romanian colleagues?
The best Ukrainian project managers work in our hub. Our team is constantly replenished with new people who are actively involved in the work. Among them there are those who have just arrived from the shelling. Thanks to this high level of professionalism and commitment, we are able to work at an accelerated pace.
I also want to thank the Romanian volunteers. Many of them are students of Suceava University. And older people, like their peers from Ukraine, still remember communism, so they have a close emotional connection with us.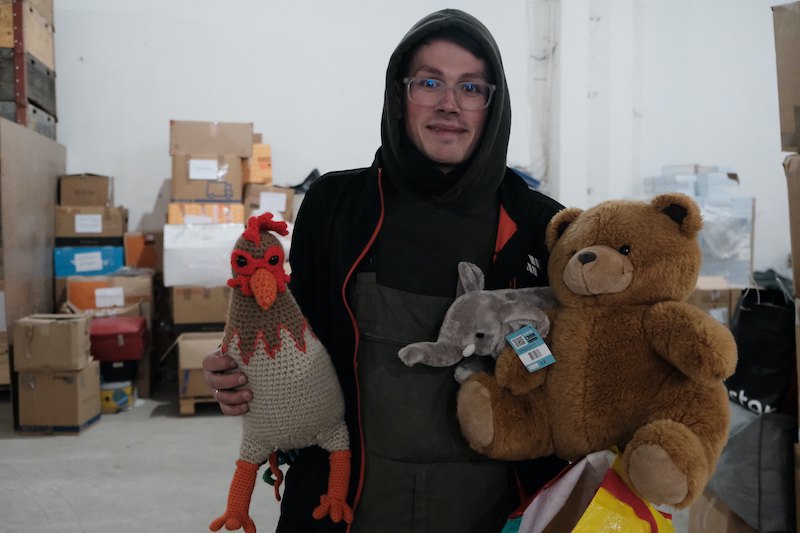 How do you see the future of the humanitarian hub?
Right now, we're focusing on wartime logistics, so there's not much time left for planning. However, we already have ideas on how to develop HELP UKRAINE ROMANIA further.
We hope that the war will end as soon as possible. But we clearly understand that Ukrainians will experience its devastating consequences for a long time to come. So, our skills and abilities will definitely be useful in rebuilding Ukraine.
We are also thinking about expanding our activities. We want to help not only with humanitarian aid, but also with the organization of social housing for temporarily displaced persons and the restoration of housing for those who have lost a roof over their heads.
There are preliminary agreements on cooperation with the Save The Children project in partnership with Amazon. But it is too early to talk about specifics in this direction.
In the near future, our priority is the search for grant funds to finance logistics. We must supply our drivers with fuel and our field workers with decent living and food conditions.
I would like the HELP UKRAINE ROMANIA project to be sustainable and continue to function after the war. I hope it will become the basis for strong connections between Ukraine and partners around the world, a logistics hub. When you receive a message that the cargo has reached the farthest corner of our country and ended up in the hands of the needy, this is happiness that cannot be expressed in words.