Photo: Anna Yutchenko
A car approaches the entrance of the Lviv Regional Clinical Children's Hospital "Okhmatdyt", from which a man and a boy in glasses aged six or seven get out. The man is carrying a package of books, colored corners of which peek out of the package. These are books for children. They leave the package with the security guard and return to the car.
The entrance to Okhmatdyt is flooded with aid. Everything here: mountains of diapers, clothes, baby food, ordinary food, toys. Locals leave packages and boxes at the checkpoint. Some help young patients and their families. Another part is distributed as humanitarian aid to those who need help, particularly those forced to come to Lviv due to the war.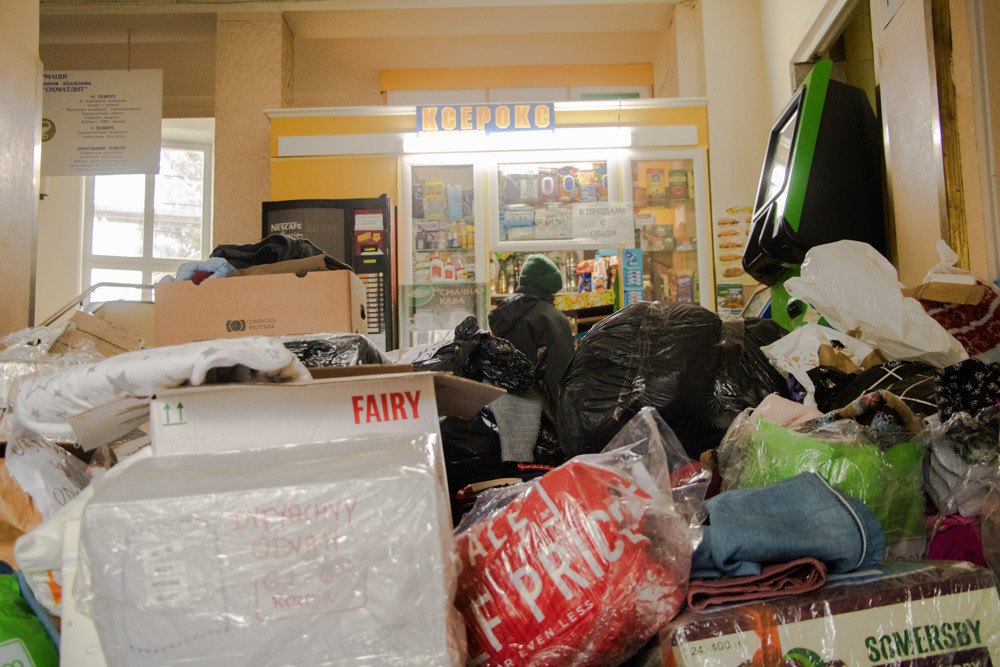 Photo: Anna Yutchenko
Light is pouring from a large window in a narrow double room on the hospital's third floor. A dark-haired woman sits on a chair with her back to the light and holds a baby in a pink plush blouse on her lap. The baby is connected to the drip. The woman holds the baby's head and feeds it from a bottle. The baby is sometimes distracted and screams loudly—the voice echoes from the hospital walls. The mother attempts to calm down by rocking lightly on her knees. There is a baby cot nearby.
Alla and her two-month-old daughter Ellie were in Okhmatdyt in Kyiv from the beginning of the war. Her family: husband, 12-year-old daughter, mother - was outside Kyiv, at home. In the hospital, Alla and Ellie's days are the same: waking up in the morning, feeding the baby, drips, doing some household chores, feeding the baby again - and so on in a circle.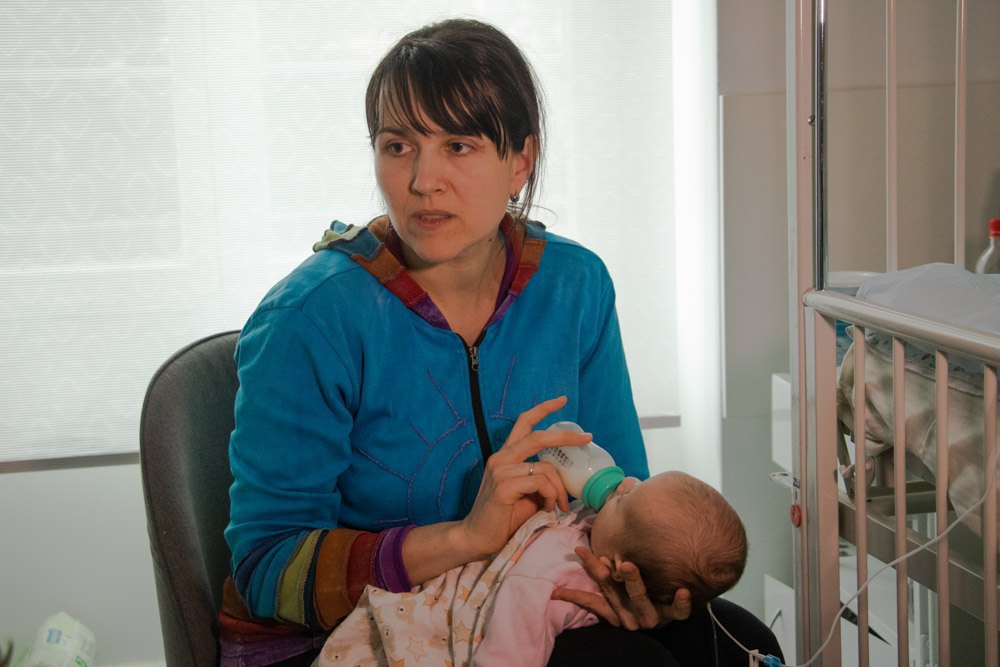 Photo: Anna Yutchenko
February 24, however, was different. 
- I woke up at six in the morning for feeding and saw the posts at five. I thought, well, God forbid, the war began. Then, while feeding the baby, I learned that it really started. I couldn't believe it - how could it be in the 21st century for children to die in bomb shelters?
To get to the shelter from the ward, Ally had to wait for the nurse first. Then, about three minutes to disconnect Ellie from the drip. Then take the stairs and go down for a long time. In some basement rooms, it was unbearably hot; in others, it was cold. In the basement, there are sockets everywhere, above the head of the pipe, with hot water. And around - mothers with children.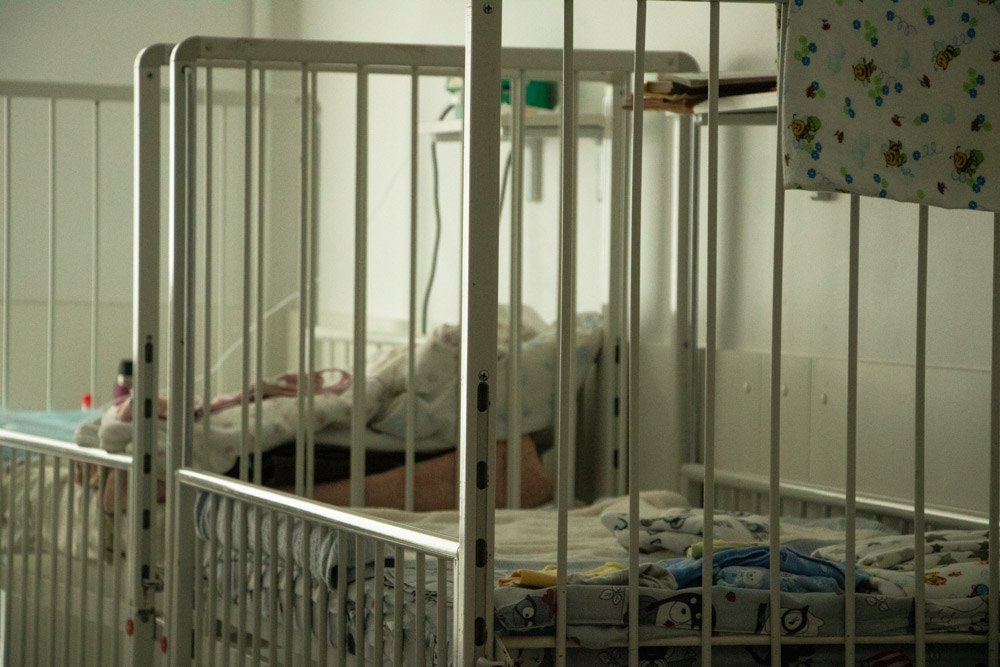 Photo: Anna Yutchenko
- At first, it was alarming - and we went down to the basement. We spent the night in the shelter. Nurses organized mattresses for mothers and beds for children. Everyone supported each other, joked constantly. Then we started to go down to the shelter, only when the explosions were close. I understood that the hospital walls were made of glass, that if there were an explosion nearby, it would be dangerous, but I could not just pick up my daughter and run because she was connected to the devices.
On March 8, Alla and Ellie were evacuated by train to Lviv. They had an hour and a half to pack their stuff. The train ran for eleven hours. Alla had only those things which she brought with her to the hospital.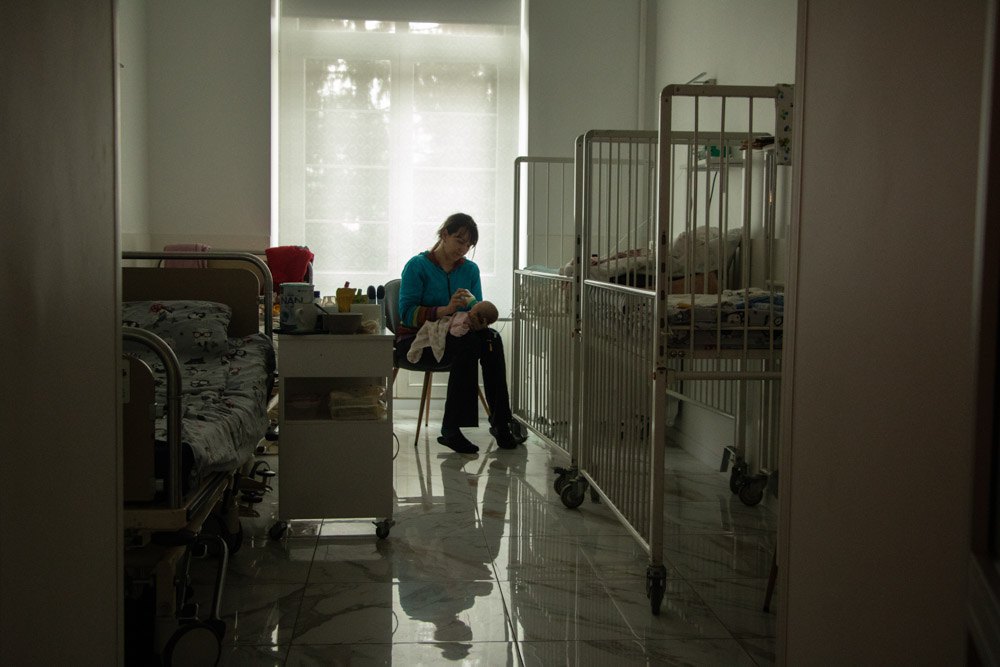 Photo: Anna Yutchenko
Now Alla is waiting for her relatives to join them in Lviv: her husband, her parents, her 12-year-old eldest daughter. They are also being evacuated; next on the plan - Ellie's operation, and then - the unknown.
- We still live one day at a time. She's fine, 'Alla nods at Ellie,' and so are we. I think we were fortunate because we were in comfortable conditions both in Kyiv's Okhmatdyt and here.
"Was something missing?" I ask.
- There is a lack of peace. This is currently a deficit.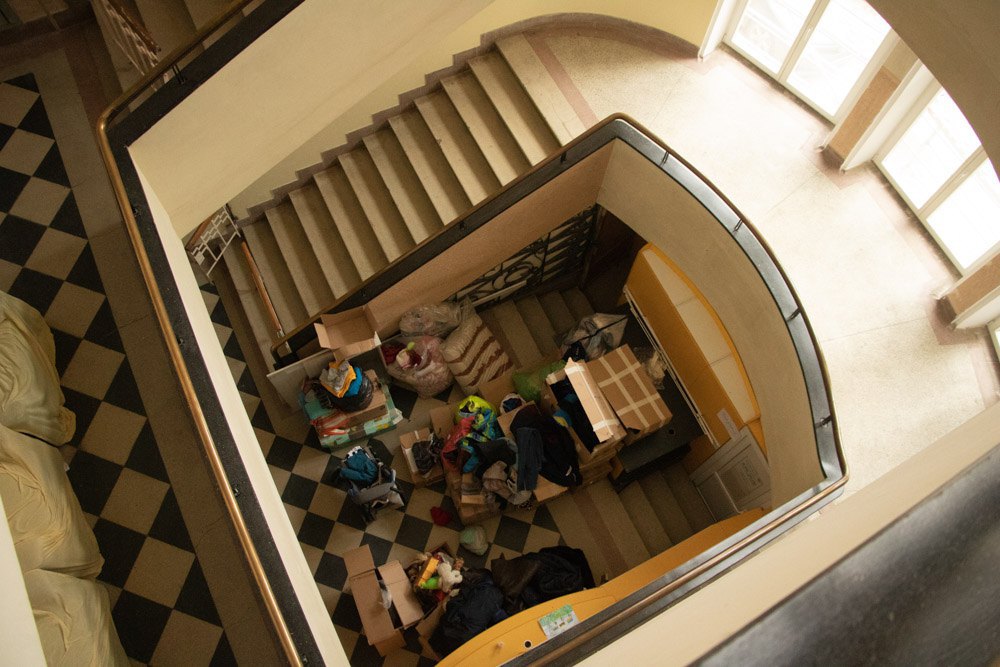 Photo: Anna Yutchenko
The adjoining room accommodates four patients with their parents. It is more spacious and a little lighter. A thin girl is half-lying on a hospital bed. Her long blonde hair is braided in tight braids. Next to the bed on the wall hangs a shelf; on the shelf - a book and a pink toy octopus. The girl's name is Vlada; she is nine years old. She is reluctantly digging around in her lunch salad.
Larisa's mother is sitting on the bed next to Vlada. She and her husband learned that the war had begun when they saw an explosion from a bedroom window in Boyarka - Russian troops were attacking the airport in Vasilkiv.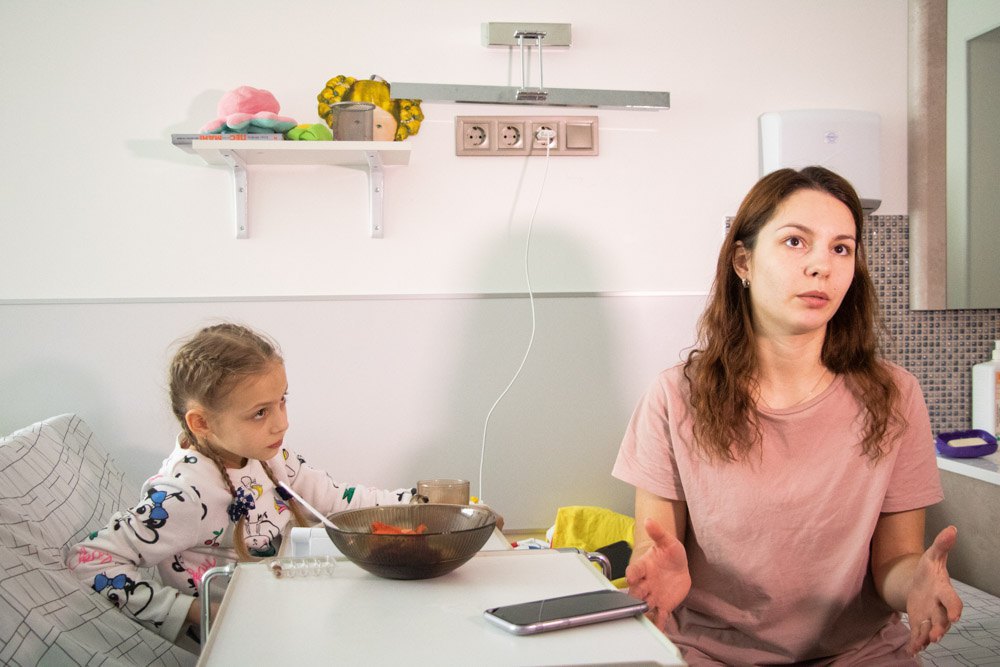 Photo: Anna Yutchenko
- Many have already said that this is possible, so on February 24, we literally woke up with the phrase "the war has begun," - recalls Larisa. "Sirens weren't set up at the time." Explosions were also heard in Irpin and Hostomel. We grabbed the child and ran to the basement. We dragged the bed to the basement, since we lived in a private house. They spent the night there constantly because Vlada was more frightened and cried in the middle of the night if we dragged her to the shelter. And in the afternoon, when the sirens began, she said: "Are we already going to the shelter? Are we leaving already? And what if we do not have time?
Authorities diagnosed him before the war, and there was to be a planned operation in Okhmatdyt in Kyiv. But they did not manage to get to the hospital. So, the family decided to wait until the situation returned to normal, and the authorities went for surgery. Meanwhile, Larysa called acquaintances of the terrorists and the military - all said they should not drive to Kyiv.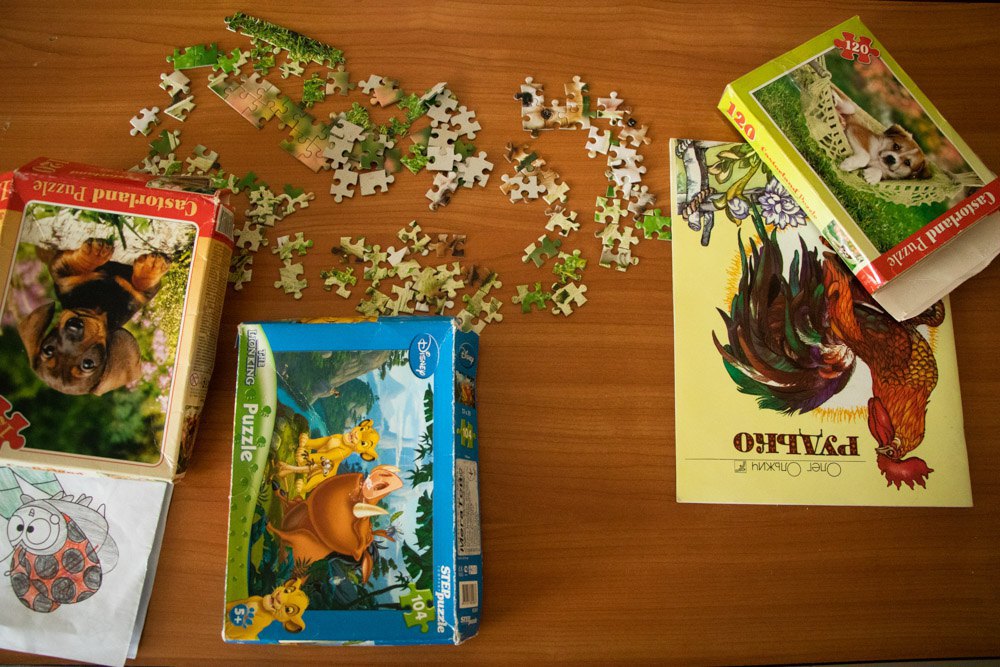 Photo: Anna Yutchenko
After a week of living in the basement, Larysa called Lviv. They were ready to accept without hesitation.
- We packed some things and went to Bila Tserkva. After eleven hours on the road, we were received in Okhmatdyt here in Lviv. As it turned out, her condition was more critical than thought. Now Vlada has been operated on, and we are waiting for her discharge, - says Larisa. - Our day here begins with getting up. Breakfast in the room. Further, bandaging. Dropper in the morning and evening. Here, of course, it is much calmer.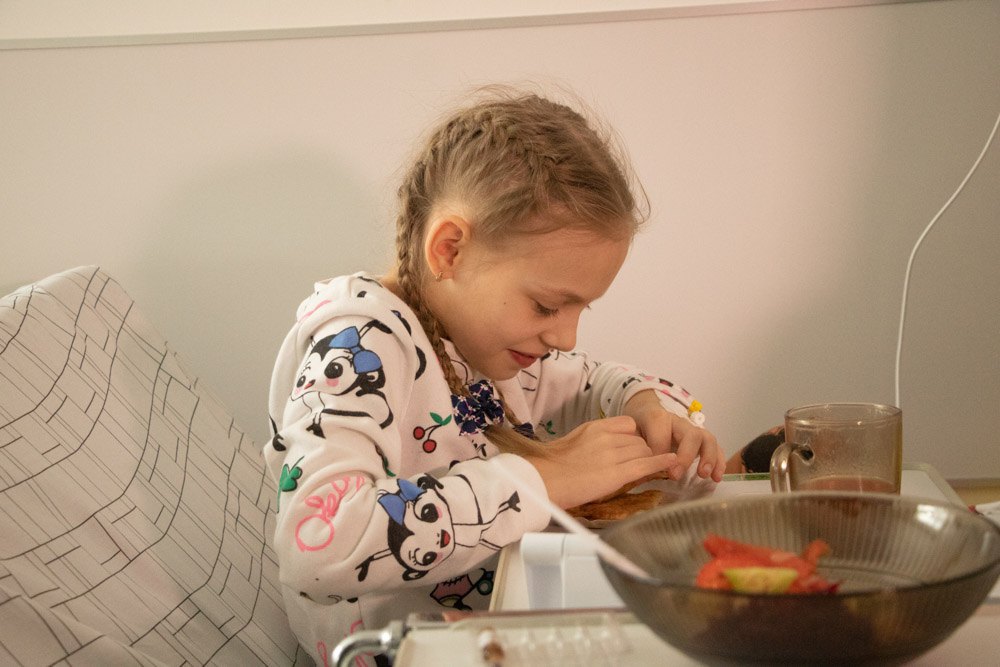 Photo: Anna Yutchenko
As of March 28, the Ukrainian Health Care Center recorded damage to 76 health care facilities; seven hospitals were completely destroyed (the Ministry of Health provides information on nine completely destroyed hospitals). In addition, doctors often cannot reach patients due to constant shelling. Thirty-one medical workers were injured in Ukraine, and the Russian military killed nine more.
More than fifty patients came to Lviv's Okhmatdyt from the temporarily occupied territories and cities where hostilities are currently taking place. Some of the children were those who received gunshot wounds; some were those who were evacuated, for example, from Kyiv for planned treatment. Most patients temporarily come to Lviv and then go for treatment in Poland or Slovakia, which have agreed to receive Ukrainians for free.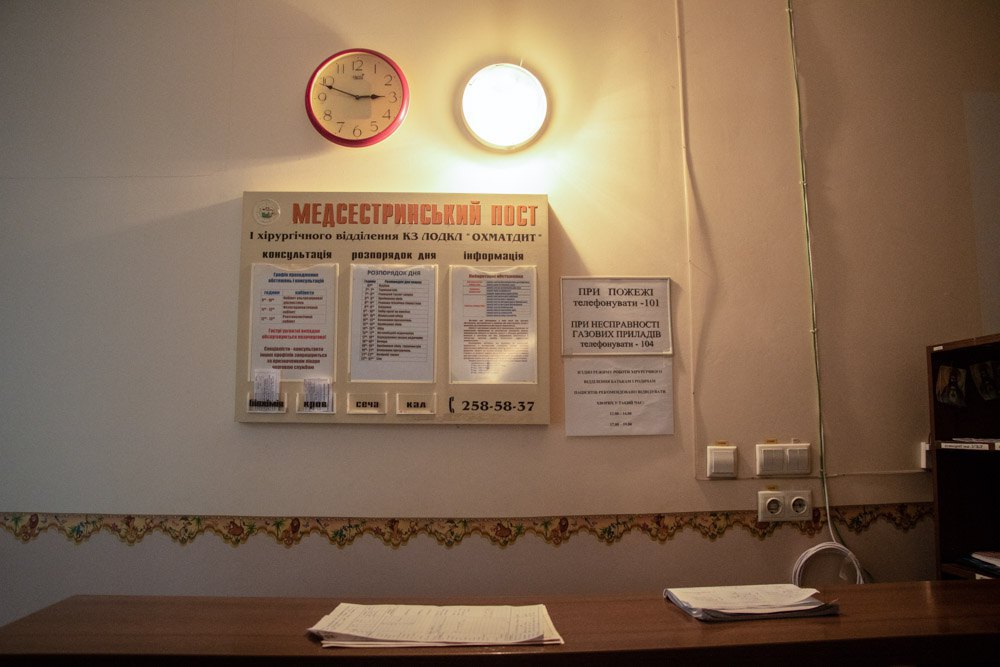 Photo: Anna Yutchenko
In addition, Lviv's Okhmatdyt now serves as a humanitarian center. Displaced patients can receive essentials, hygiene items and medicines at the hospital.
A child came to us from Kharkiv with his parents for five days, says the hospital's acting director, Dmytro Kvit. They lived in a bomb shelter and couldn't receive classical medical care. While driving, the child began to get very hot. The child was diagnosed with recurrent otitis; now, she receives care. Many children are transferred from hospitals in the central and eastern regions. Many families stay in Lviv and do not move further. For example, in early March, we received 33 children from Kyiv from their parents. Most of them left for acquaintances and relatives in the region.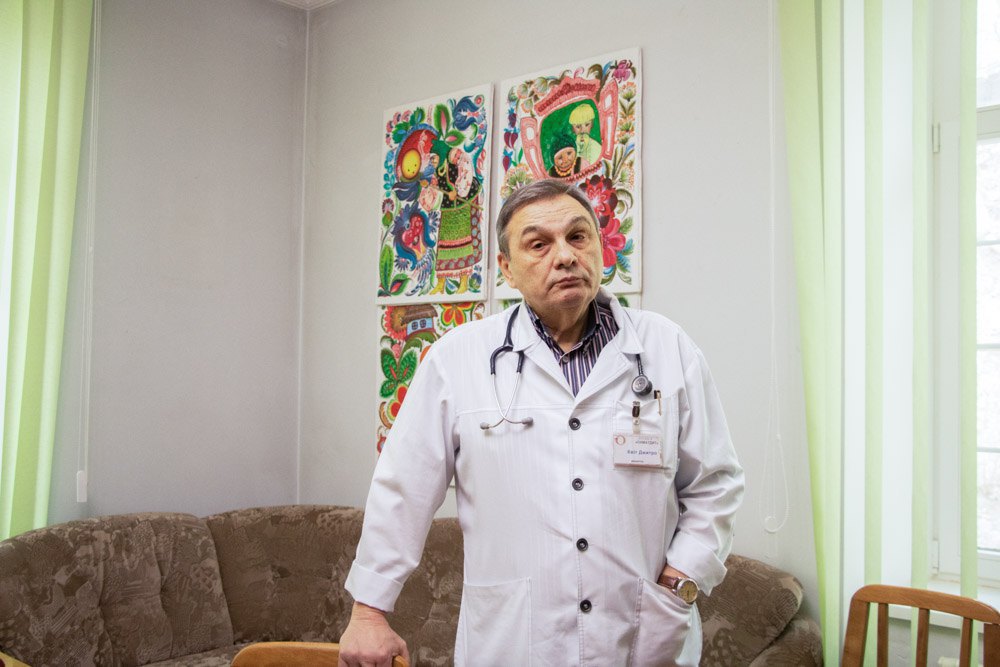 Photo: Anna Yutchenko
Dmytro Kvit says that the hospital is now ready to provide more intensive care to patients. There is a bomb shelter in the basement with water and food; we moved patients from the upper floors to the lower in case of threat from the sky.
In total, the hospital has three hundred beds. In addition, there are about 100-120 beds in the backup hospital, which is located outside the city and is temporarily closed but can resume work if necessary. There are also enough medicines - the hospital itself buys some, some come from volunteers.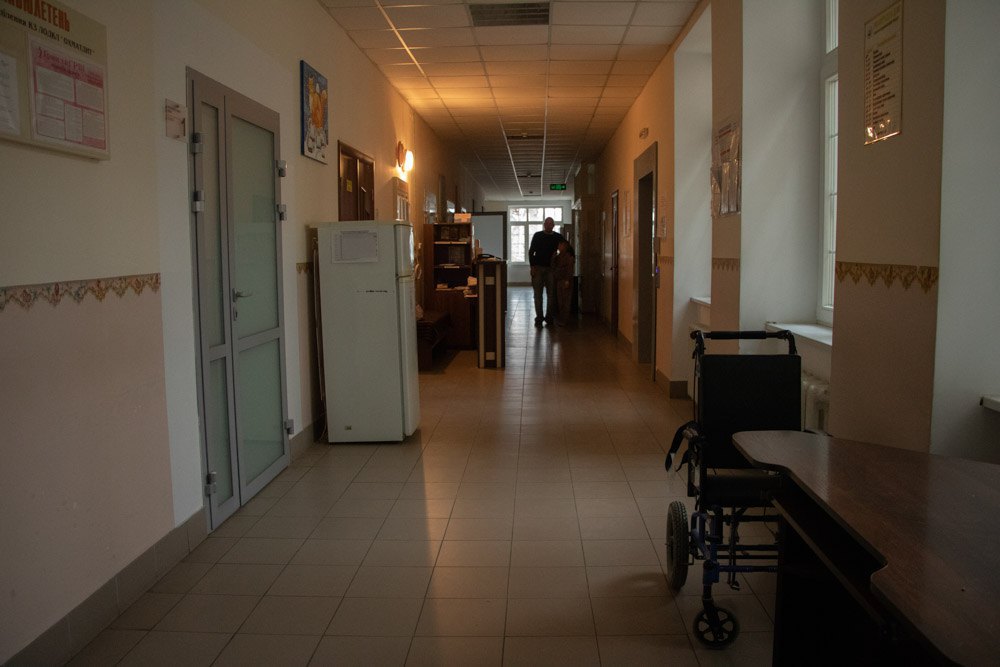 Photo: Anna Yutchenko
- As for the staff, everyone stayed to work; no one went, - says Dmitry Kvit. - There are senior staff, they took leave temporarily. But in general, everyone works. Yes, there is a psychological burden. People now have a heightened sense of responsibility.
Larisa and Vlada plan to return home as soon as possible. However, while the Vlada is undergoing rehabilitation, it cannot go far.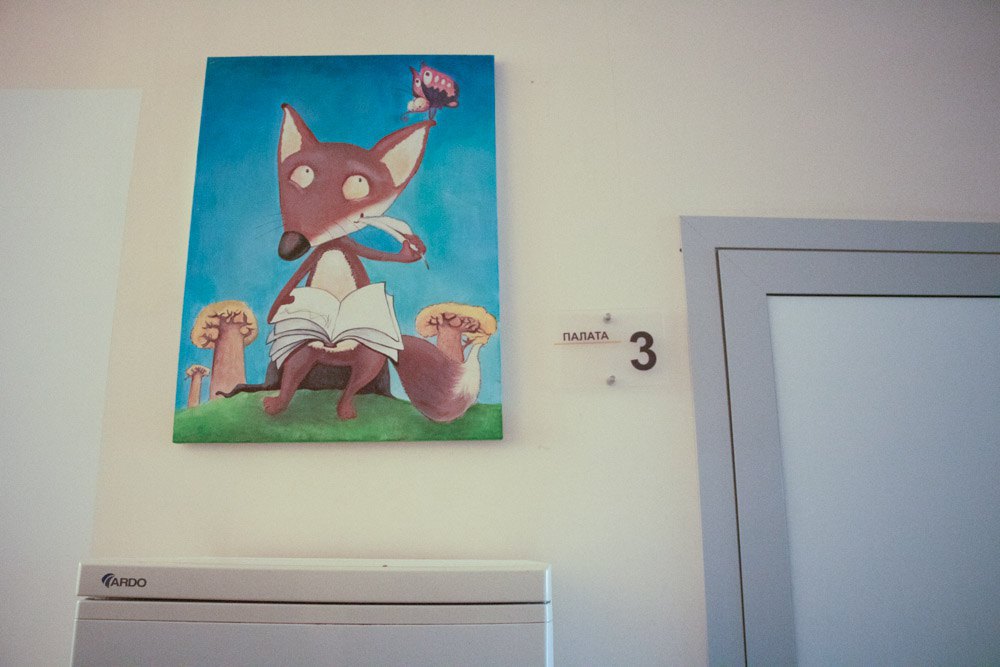 Photo: Anna Yutchenko
I realized that I was afraid not for myself but for children, relatives, even animals in the yard during the war. I constantly think, how is my mother, who lives next door? How is my mother-in-law, who also stayed in Boyarka? You worry about them more than for yourself. And most of all - for children. It's scary not to know something or know when and how the war will end. What do I want most? Now everyone wants peace, then let there be victory.