Ukrainian pilot and MP Nadiya Savchenko, who was sentenced to 22 years in a Russian prison, is set to go on a dry hunger strike as of 6 April, her lawyer Mark Feygin has tweeted.
"Unfortunately, after [lawyer Nikolay] Polozov and I, Vira [Savchenko's sister] has failed to dissuade Nadiya from going on a dry hunger strike. She is starting on 6 April!" he said.
He also posted the photo of Savchenko's statement in which she banned escorting her "anywhere except Ukraine".
"In response to the criminal actions of the Russian authorities against me and Ukraine, I announce an infinite dry hunger strike beginning with 6 April 2016. I demand that I be sent to Ukraine immediately!" she said in the statement.
She also banned Russian doctors from examining her or taking samples for tests.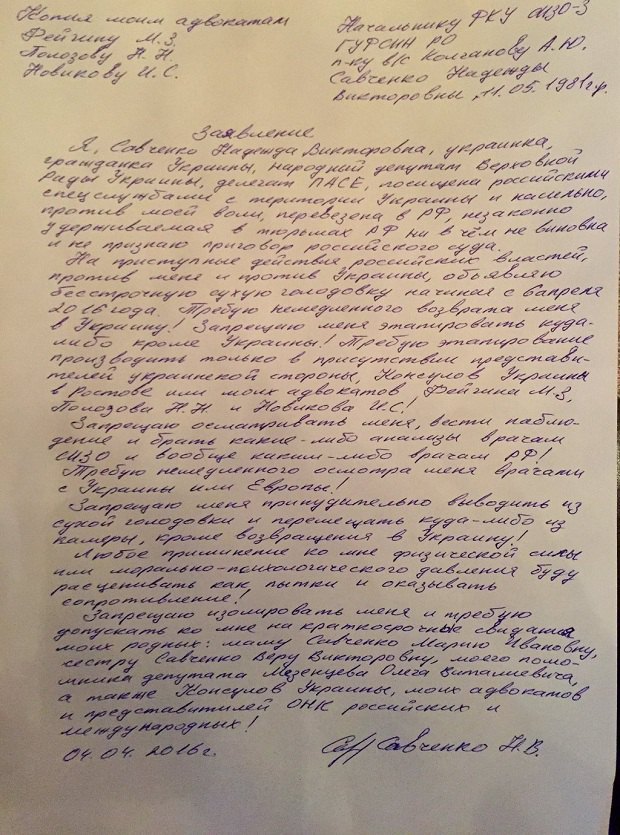 Earlier today, she took a final decision not to appeal her conviction, even though it kills an opportunity for her to later appeal to the European Court of Human Rights. She also dropped baby food and switched to water only.
Ukrainian President Petro Poroshenko said that he was ready to exchange Russian commandos Aleksandr Aleksandrov and Yevgeniy Yerofeyev for Nadiya Savchenko.