The first serious information "shot" at the EU was made by Ukrainian Deputy Foreign Minister Serhiy Kyslytsya, who said at a joint meeting of the Council of Europe that Europe has neither clear nor sufficient understanding of the scale of internal migration in Ukraine as a result of hostilities in Donbas.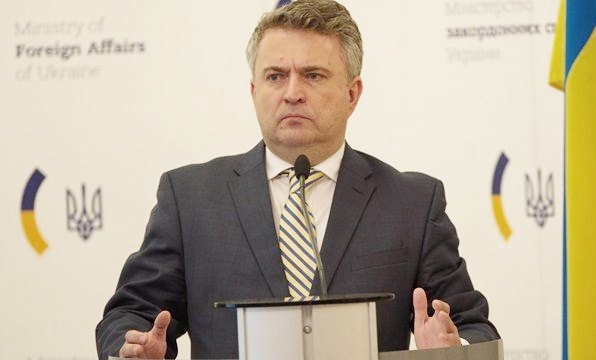 Serhiy Kyslytsya
"Unfortunately, Europe has neither clear nor sufficient understanding today, that very Europe which faced the migration crisis and which had to accept around a million refugees… And we are talking about the wealthy [Europe – ed note] which has hardly managed to deal with a million refugees while there is not so wealthy Ukraine with 1.7m internally displaced persons," Kyslytsya said.
By the way, later the same high-ranking diplomat said a few words about the UN Security Council, [criticizing it] for the lack of response to Kyiv's direct request to deploy a UN peacekeeping mission in the occupied areas of Donbas.
Explaining Kyslytsya's remarks at a meeting with the representatives of the Council of Europe, newly-appointed Ukrainian ambassador Dmytro Kuleba said that the statements were made in the context of the EU migration policy, with the key message being that Ukraine poses no migration risks to the EU.
"The evidence of this is the fact that 1.7m our internally displaced persons are not standing at the border trying to sneak into the EU at any cost," Kuleba said.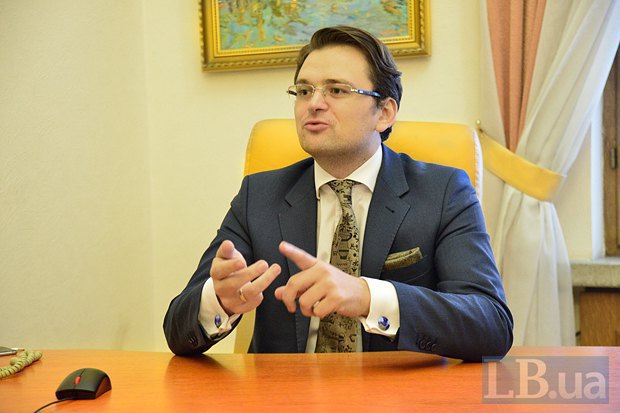 Dmytro Kuleba
Also, the ambassador directly reminded the EU about its clear and documented commitments.
"As far as visa-free travel is concerned, I see no reasons at all for any discussions or debates. There was not only a political deal but a documented agreement. They said that you, Ukrainians, should do this and we will give you the visa-free regime. That is the thing, Ukrainians have done it all. If the EU decides against granting Ukraine the visa-free regime regardless of the pretext, this will mean that the EU has not delivered on its promise which it gave not only to the Ukrainian authorities but the Ukrainian nation," Kuleba said.
In the meantime, Ukrainian Deputy Foreign Minister Olena Zerkal even put in doubt the effectiveness of European institutions, in particular their ability to promptly respond to emerging threats.
"The EU's major weakness is that it always reacts but never acts pro-actively, it is never one step ahead. It should update its strategy with regard to Russia. We see tactical steps but we do not always see a strategic vision," she said at the Ukraine-NATO interparliamentary council meeting.
We need some values which cannot be traded for economic interests.

— Olena Zerkal
Thus, Kyiv did not waste a chance to highlight its winning negotiating position, trying to admonish its Western partners on key issues. It also recalled that Ukraine is not terribly happy about the recent events in the EU. For example, the Dutch referendum on the EU association agreement, especially since similar agreements with Moldova and Georgia went off without a hitch.
It also concerns the EU Council dragging the introduction of visa-free travel for Ukraine whereas the approval of a similar agreement with Moldova went smoothly.
And the statements by German Foreign Minister Frank Walter Steinmeier who said sanctions against Russia should be gradually dropped. And a similar suggestion by the French Senate. Although all of them are tied to the implementation of the Minsk agreements, the very fact that such statments are now being made sends a positive signal to Russia and stimulates Moscow not to stop hostilities in eastern Ukraine. That is the reason for the record number of killed and wounded Ukrainians on the front-line in the past four weeks, including among civilians.
EU bites back
The EU reproaches Kyiv, brushing off its roaring grumble as "childish behaviour". On the eve of his departure, EU ambassador Jan Tombinski got less diplomatic and put it straight that Ukraine had lost time and therefore should quietly wait for the procedures to finish instead of twisting EU arms.
"Indeed we would have been much closer had Ukraine done what it had to last year and not this March. It turns out that Ukraine has finally done what it promised and now it urgently wants its partners to make a decision right the next day. But others also need time," he said.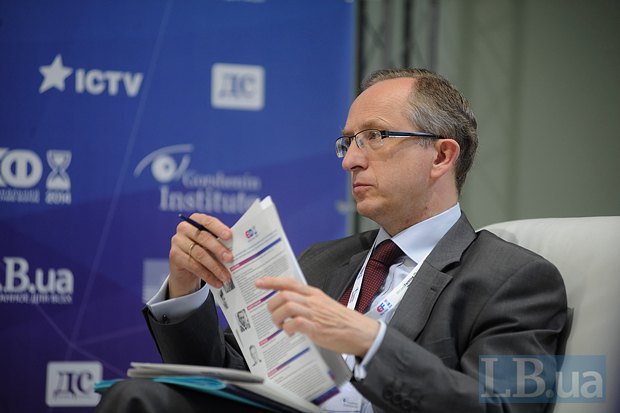 Jan Tombinski, outgoing EU ambassador to Ukraine
The EU representative admitted that European politicians who make decisions have many problems apart from Ukraine and they all need time.
One should not behave like a child who, once something is done, immediately expects a candy. A big institutional work is underway. And all government offices in 28 countries are working on this.

— Jan Tombinski
Europe's indecisiveness, cautious position and sometimes unconvincing arguments to explain the lack of progress are largely explained by purely internal reasons – ruling parties in the majority of EU member states, which are friendly to Ukraine, do not want to give additional reasons for criticism to their domestic opponents, often representing radical anti-European forces. And therefore European governments are also forced to maneuver between populism and "silence" on sensitive issues, thus leaving their radicals no chance to strengthen their stand. However, it happens at Ukraine's cost again.