Ukrainian president enacts sanctions against Iranian nationals, companies
The National Security and Defence Council (NSDC) took a decision to this effect on 20 May.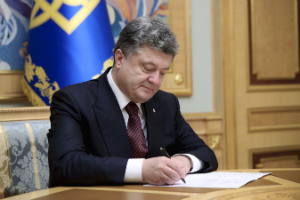 Ukrainian President Petro Poroshenko has enacted the NSDC's decision on sanctions against 23 citizens and 61 companies and establishments of Iran, according to the president's website.
The decision was taken in line with UN Security Council Resolution 2231, dated 20 July 2015 and endorsing the Joint Comprehensive Plan of Action with regard to individual sanctions.
UN Security Council Resolution 2231 was on the nuclear programme of Iran, setting out a strict watching process and schedule for performance, while paving the plan for the lifting of United Nations restrictions against Iran.