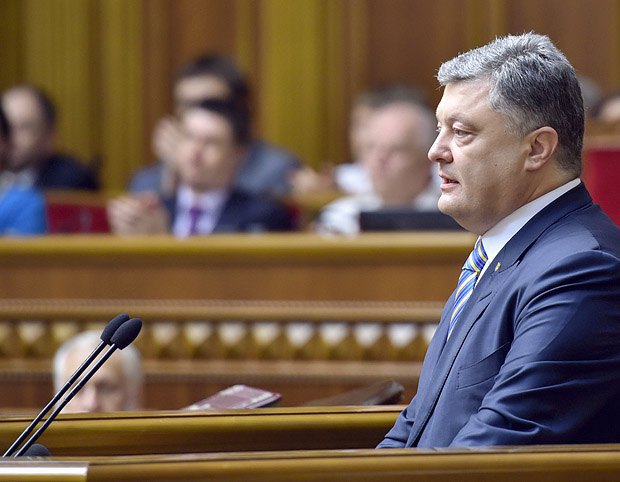 What is primary: holding elections or restoring control over the border? The Minsk agreements are written in a way which leaves quite a lot of space for interpreting this key issue. Ukraine's position is unambiguous: a cease-fire and fully restored control over the border must come first, all the rest is later. Other participants in the process think otherwise.
Nevertheless, Ukraine has already taken the path of constitutional changes aimed at ensuring that Donbas has if not a "special", then clearly different status compared with other regions. The only question is when and in what format it is going to complete them.
It would be logical to divide the answer in three parts.
The first is 300 votes [required for the adoption of constitutional changes].
It is a well-known fact that the authorities do not even have a simple majority in parliament. Not to mention a constitutional one. Any strategically important decisions get adopted only with the help of the People's Will and Revival groups. Both have been under attack lately. Oleksandr Katsuba's detention and law enforcers' claims against Oleksandr Onyshchenko sent an unpleasant "regard" to all former Party of Regions members who have "faces in the trough" (certainly, this applies to most of them). Until the situation with the disgraced colleagues is clear, the group flatly refuses to lend its shoulder to the Cabinet of Ministers and the presidential administration. Of course, it is only until someone, someone bigger is had over a barrel, but still.
Off the record, Bankova insists that it can collect enough votes if necessary. When there is a will. One should keep in mind that communications with MPs is a difficult and non-linear process.
Until recently, it had several levels.
The first one is the presidential administration. At this stage, it was Borys Lozhkin who held talks with potential allies.
The second one is parliament. Yuriy Lutsenko and Ihor Kononenko were in charge here on behalf of the Petro Poroshenko Bloc.
However, the events of the recent months caused certain reshuffles.
After Lutsenko went to work at the Prosecutor-General's Office, Ihor Hryniv took the helm of the Petro Poroshenko Bloc faction. With his solid weight, Hryniv can expertly moderate the discussion inside the political forces, reconcile warring groups and so on. But to collect votes… let us leave this respectful ellipsis here.
As for Lozhkin, he – in the words of Bankova's top confidants – is firm in his intention to leave the presidential administration and for this reason he has deliberately been staying away from overly "sensitive" and long-playing stories. This intention took shape a long time ago as rumours about Lozhkin's possible dismissal have been circulating for over six months. It is enough to flog the idea and prevent it from being taken in earnest. But now every month counts. If not this summer, then certainly in the autumn.
It is an open question who can replace Lozhkin. The two most probable candidates are the first deputy head of the presidential administration, Vitaliy Kovalchuk, and Security Service of Ukraine chief Vasyl Hrytsak. The former has spent way too much time in the deputy's seat and does not hide his ambition for promotion. The latter is not dying to take the post but if the Motherland – in the face of the president – says that it should be done, Vasyl Serhiyovych as a serviceman will most certainly say Yes. For the past two years, Lozhkin's main function was communication. He talked directly to oligarchs, friends and opponents of the president, those who needed a preliminary "interview" before they can access the top office, and also those whom they did not want to let in but could not dare to brush off straightaway. Will his replacement be able to do the same tasks? Despite his ambiguousness, Kovalchuk will. Not at once and not in full but he will. Including communication with MPs not only from the Petro Poroshenko Bloc, but Hrytsak is highly unlikely [to cope]. Not because he is bad but because for people hanging around the fourth floor of the presidential administration, he is not one of them. Incomprehensible and not one of them.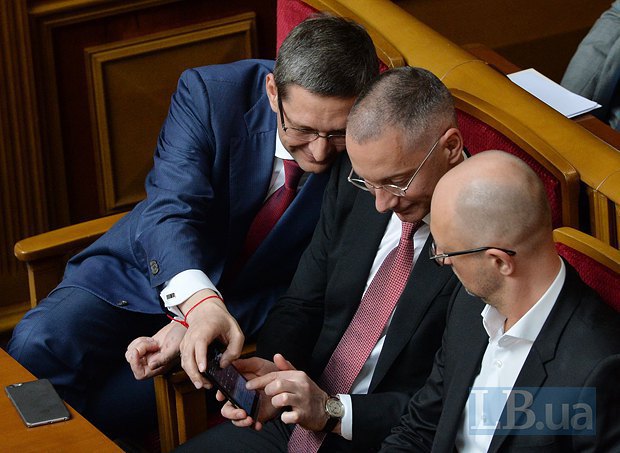 Point No 2. The position of the People's Front. Without the second biggest parliamentary faction, there can be no successful vote for constitutional reform. Under any circumstances. The People's Front has repeatedly – both publicly and during private consultations in high offices – made it clear: it is not going to support a "special status". Up to a full breach in relations with the presidential political force. Last time a dispute on the matter happened when they were discussing judicial reform, when, according to sources, the head of state was "testing" the ground for a possible simultaneous vote for courts and a special status.
Only the USA can make the People's Front change its mind on a "special status". This is where Arseniy Yatsenyuk is on a prolonged visit. Is there a chance that upon his return, he will convene a faction meeting and announce a U-turn? Theoretically, there is, whereas in practice it is unlikely. At least because the arguments for this should be more weighty.
Point No 3: Western partners' principled position regarding elections. Especially that of the Americans. As we know, the main lobbyist of the issue in public domain is Victoria Nuland. Senior interested parties are Obama and Biden. Too many efforts have been invested in Ukraine to leave without "closing the bill". And for Nuland herself this issue is personal in many ways. It is believed in the expert circles of Washington that the settlement of the "Ukrainian problem" will multiply her chances of becoming an assistant state secretary in a new administration. However, as the mandate of the incumbent US administration is expiring, she cares not only about the process but about the final result. And now let us do some math. Donbas will not be put to vote by the end of the plenary session, thus far we already know. It is not going to happen in September either, it seems. The most optimistic option is October. A number of bylaws required for the election to take place are likely to be adopted at the same time. Then the Central Electoral Commission will join the game. An election process itself takes at least 60 days. This takes us to the end of January. And this, I repeat, is the most optimistic (and least probable) scenario. There will be a different administration in late January. This means the game is not worth the candle (party affiliation in this case is not essential).
***
Voting for a "special status" of Donbas, whenever it happens, poses a serious risk to President Poroshenko's currently strong stand. It is strong because for a little over two years of his tenure, this period is the smoothest one. The war is not over but active hostilities have subsided (for now at least), Bankova is in full control of governors, the High Justice Council, the Prosecutor-General's Office, has a rather tight grip on parliament and, despite numerous conflicts with Volodymyr Groysman (they are no fewer than they were with Arseniy Yatsenyuk, but not all of them get public), the Cabinet of Ministers. There is a quite nominal opposition which is mostly active on Facebook. Early parliamentary elections are not expected for another year. In fact, Donbas is the only issue which can challenge the status quo. And Bankova certainly does not want it.