US presidential candidate Donald Trump has commented on pop celebrities like Jay and Beyonce joining his competitor Hillary Clinton's campaign, saying he does not need to bring show biz to rally for him.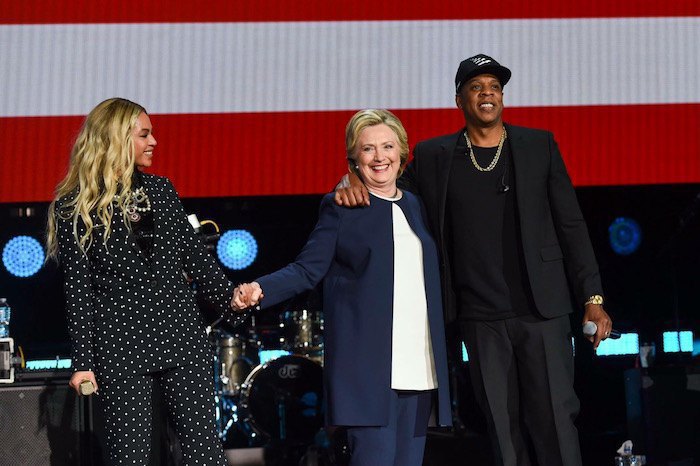 "To sum up what Trump says, his message is something like this: the Republican candidate says that he is there at his rallies talking to voters about their problems and that he does not turn his campaign events into concerts the way Hillary Clinton does, which is a distraction from real problems and unpleasant questions about her campaign. It is a successfully sent message aimed at offsetting Hillary's recent big moves involving US show biz stars speaking in her support," Yevhen Kurmashov, director of political programmes at Gorshenin Institute, said on a visit to the USA.
On the other hand, Clinton's HQ is clearly concerned about the turnout among young voters. Early voting in a number of states is showing that young people have not been particularly active while polls showed that Clinton's support by the so-called millennials is quite solid, the Gorshenin Institute expert said.
"Therefore in the recent days we have seen more and more US youth icons, such as Beyonce, Jennifer Lopez, Pharrell Williams, Katy Perry and others, join Clinton's campaign with calls to support the Democratic candidate," Kurmashov noted.
In his opinion, Trump cannot boast such support. Although the budget of his campaign and communication with celebrities is no match to Clinton's capacities, still he cannot but comment on the involvement of stars in Clinton's campaign to his utter benefit.
Today, the Gorshenin Institute delegation is going to Hillary Clinton's big event in Philadelphia where over 10,000 of her supporters are expected to show up, most of them young people. Stars are also expected to attend.
"Clinton cannot afford losing grip on Pennsylvania and her HQ expects today's event in Philadelphia to cement young people's involvement in one of the key states," Kurmashov suggested.
The Gorshenin Institute delegation is in the USA to hold a series of meetings with politicians and representatives of various institutions and groups. It will analyse the US election campaign and its potential impact on Ukraine and the world.