Ukraine has renamed 987 settlements and more than 51 thousand streets, squares and parks during the decommunisation campaign. 2389 monuments and memorials, including 1.320 established in honor of Lenin, have been dismantled, the Institute of National Remembrance said on Tuesday, 27 December.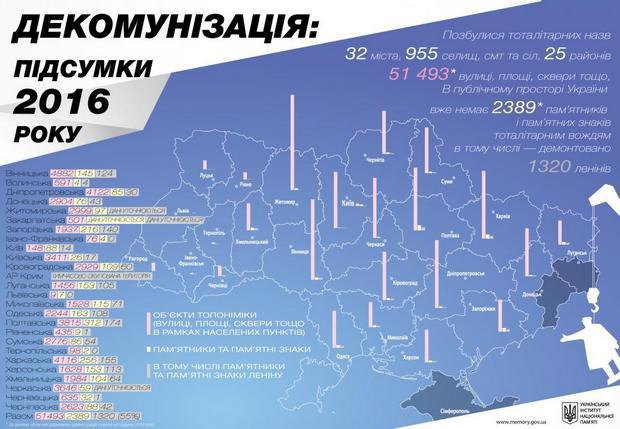 Photo: memory.gov.ua
"The 2016 was the year of decommunisation in Ukraine. Since the adoption of the relevant law we have done more to overcome the legacy of the totalitarian past than in all the years of independence," the director of the institute Volodymyr Vyatrovych comented on the results of the year.
"However, decommunization is not over - not just because some monuments to the leaders of the totalitarian regime have remained in the public space, even in the capital, and discussions with regard to new names. Most important task now is to continue spreading information about the crimes of the totalitarian communist regime and the fight of Ukrainians against it."
On 9 April, 2015 the Verkhovna Rada adopted the law on the condemnation of Communist and Nazi totalitarian regimes, banned their propaganda and symbols.
The law condemned thecommunist and National Socialist regimes and prohibited the public use of symbols of such regimes, establishes the obligation to rename the settlements and other toponymical objects, organizations and brands.