The Verkhovna Rada deputy Nadiya Savchenko has posted lists of imprisoned citizens who are being held by the militants of "DPR" and "LPR".
"It must be an exchange of "all for all" and there is no need to invent the wheel. The classic exchange method in three stages has proved its effectiveness in many countries during wars," Savchenko wrote on her Facebook page on 10 January.
She outlined her vision of a three-stage process of exchange:
"Step one: exchange by the lists [of prisoners] confirmed by both parties. Stage two: those remaining on the lists are searched in hidden prisons and basements by both sides. Step three: anyone who could not be found is recognized dead or missing, after with begins the work on tracking down burials, exhumation, identification and reburial of the dead," Savchenko wrote.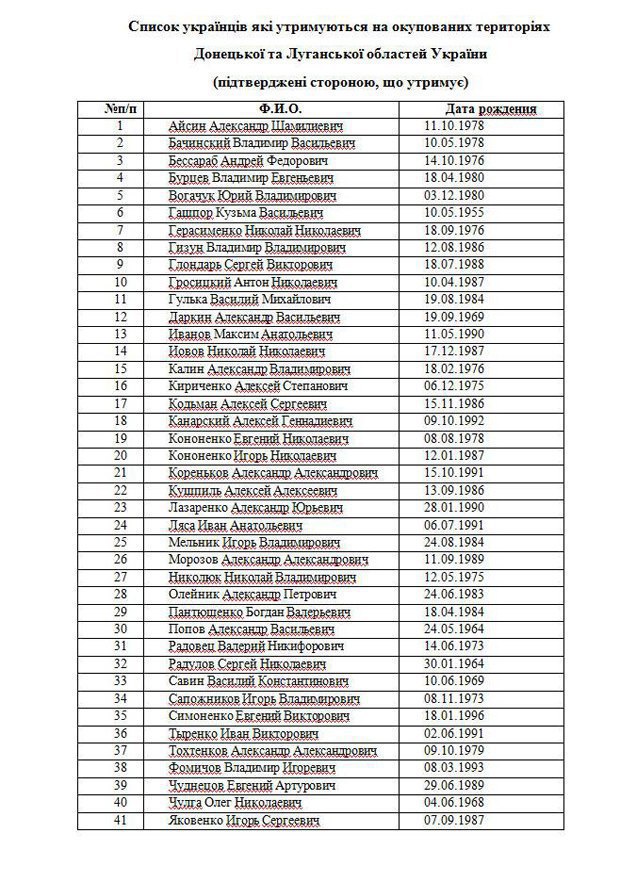 She divided the lists of prisoners in two categories.
The first category, according to Savchenko, are prisoners of war, held in the occupied territories of Donetsk and Luhansk regions. Ukrainian side has requested the release of 129 people. The opposite side confirms 42 people. There are also 494 missing persons. The likewise list submitted by the "DPR" contains names of 524 people, the "LPR" seeks the release of 377 people. Of them, according to Savchenko, Ukrainian side has confirmed detaining 256 names.
"The first phase thus envisages the exchange of 42 to 256 people," the MP wrote.
The second category of exchange are Ukrainian political prisoners held in Russian prisons and in the annexed Crimea, currently estimated at 44 people.
"On the other hand, there are 102 Russian citizens in Ukrainian prisons, who are serving sentences for crimes committed against the territorial integrity of Ukraine and against the Ukrainian people in the period from 2014 to 2016. The first stage in the second category of "all for all" envisages the exchange of 44 to 102 prisoners," Savchenko wrote.
Only after that, the MP says, will be the time for the second phase of searching for people from lists of unconfirmed prisoners.
On 7 January, Savchenko announced plans to make public the lists of prisoners of war and missing in Donbas. She claims that she has received this information during her meetings with the leaders of the militants in Minsk and her own sources.
The Security Service of Ukraine has warned Savchenko against publication of lists of prisoners.