Iranian Mohajer-6 drones, which are used by Russians in the war against Ukraine, have components from at least 15 Western manufacturers, according to the Schemes publication.
The journalists examined the downed aircraft near Ochakov - it fell into the sea and did not suffer significant damage.
According to them, the device has chips from Linear Technology Corporation (a company from the United States with an office in California). Linear Technology is now part of Analog Devices Corporation.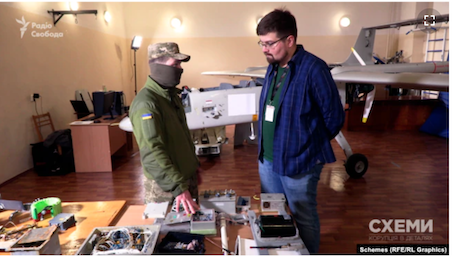 Analog Devices microchip, Xilinx chips (its parent company is a transnational semiconductor company Advanced Micro Devices (AMD) with headquarters in California), which were used in Mohajer-6 to transmit and receive information, as well as for targeting, were also found. Signal processors belong to the American Texas Instruments.
The camera was manufactured by Hong Kong-based RunCam Technology Co., Ltd. It has two official dealers in Iran.
"The thermal imaging camera resembles both the Ventus Hot model, which is produced by the US company Sierra-Olympic Technologies, and a cheaper analogue of the Chinese-made Qingdao Thundsea Marine Technology," the journalists noted.
The engine is made by the Austrian company BRP-Rotax GmbH & Co KG. This manufacturer has an official dealer in Iran - the Italian company Luciano Sorlini, whose website states that it has been supplying Rotax products to Iran at least until 2020.
"The presence of these components in Mohajer-6 does not automatically mean that their manufacturers violate US or EU sanctions - usually the import of electronics to Iran takes place through "grey" schemes," the journalists explained.
Iran is recognized as a state sponsor of terrorism, so the supply of technological components to it is limited.
Mohajer was first shot down in Ukraine on 23 September. This UAV is designed for reconnaissance, surveillance, reconnaissance and fire control. It is capable of carrying up to four high-precision munitions. Production started in 2017. Mohajer-6 has a maximum take-off weight of 600 kg, a payload of 100 kg and a range of 200 km. The maximum speed is 200 km/h, the flight duration is 12 hours, and the maximum flight altitude is 5400 m.