The Security Service of Ukraine (SBU) has exposed another rector of the Ukrainian Orthodox Church (UOC) in Kharkiv Region, who called on the local religious community to support the invaders, justified the crimes of the Russian aggressor in his "sermons" and contributed to the spread of the occupation regime in the invaded part of the region, for which he personally contacted the local gauleiter Vitaliy Hanchev, the press service of the SBU reports.
"It was with him that the representative of the UOC of the Moscow Patriarchate (Mp) coordinated his actions to use the church to attract citizens to the enemy's ranks and discredit the Defence Forces of Ukraine. To carry out subversive activities, he involved a parishioner from one of the local villages, who helped him to spread pro-Kremlin propaganda in the community," the SBU said.
During the liberation of the area, the priest and his accomplice fled to the Russian Federation, where they are currently hiding.
Both offenders were served notices of suspicion under Part 1 Art. 436-2 of the Criminal Code of Ukraine (justification, recognition as lawful, denial of the armed aggression of the Russian Federation against Ukraine) and put on the wanted list.
According to LB.ua, it is the rector of the church in Hetmanivka village, Kupyansk District, Izyum diocese of the UOC Vadym Nadutyy. Father Vadym, according to available information, participated in a meeting of the territorial community with the participation of Russian servicemen. Accompanied by them, he tried to take away the keys to the administrative building from the village head. Also, the priest was repeatedly seen entering the military unit of the Russian Federation in the village of Pervomayske and contacting the commander of the local group of the Russian Armed Forces with the call sign Virazh. And even signed a letter of gratitude to him.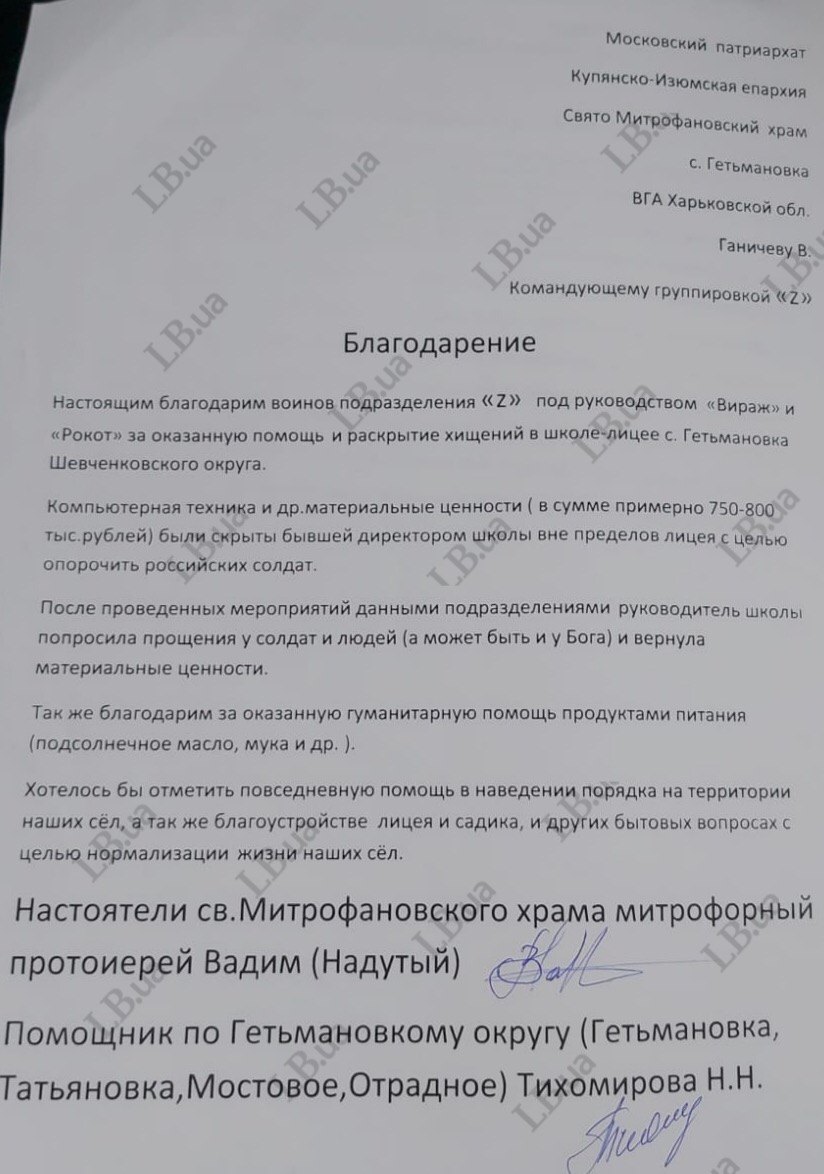 During the capture of Hetmanivka, the priest personally met the Russian military near the church of the Izyum diocese and distributed Russian humanitarian aid on the the church premises.