Although the Republican an Democratic candidates will have had another round of primaries (the Democrats in South Carolina on 27 February and the Republicans in Nevada on 23 February) by Super Tuesday on 1 March, the Saturday voting still deserves a thorough look.
Comeback Hillary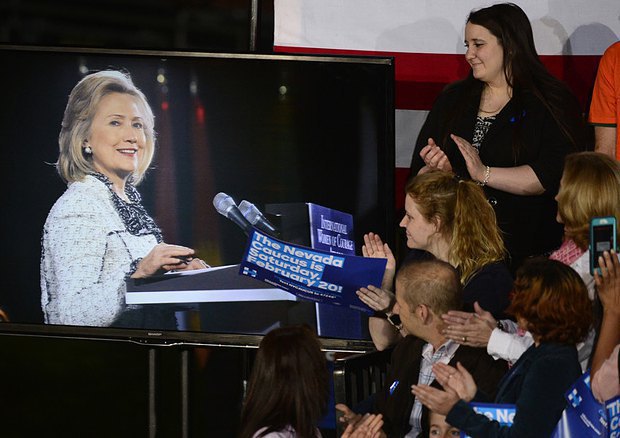 First, Hillary Clinton can once again feel the ground beneath her feet. After the unconvincing victory in Iowa and the crushing defeat to Bernie Sanders in New Hampshire, the victory in Nevada had a very important psychological aspect to it. And although Hillary's lead in Nevada was not so big, formally it is still a victory and Clinton has thus won two out of four "early states". The next is South Carolina where, according to polls, Clinton should not have any problems. What is more, possibly namely an outcome in South Carolina will allow Clinton to recoup her psychological strength over her only party opponent Sanders and balance the situation after the New Hampshire fiasco. At the moment, Hillary Clinton is ahead of Sanders by about 20-25 per cent in South Carolina and even if she shed some of this lead, this would not matter much. Before Super Tuesday it is very important for Clinton to show that she can defeat Sanders by small margin like in Nevada, or with the help of photofinish as in Iowa, but that she crush him in the primaries like a true heavyweight.
It was also very important for Clinton to make Nevada happen and claim her overall leadership because her failure in New Hampshire on 9 February caused a big discussion that she can as well lose the interparty competition. Taking into account that Clinton has more than enough ill-wishers and opponents both within her own political party and in US politics as such, after New Hampshire US media spent much time discussing the busting of the myth of invincible and irreplaceable Hillary. For example, her opponents launched expert surveys asking political experts to formulate the main reasons of her slumping rating and assess the level of threat her campaign is facing. Rumours were spread that Hillary and Bill Clinton are close to panicking and that they are about to lay off half of their staff.
Three days before the Democrats' primaries in Nevada, the pro-Republican Fox News TV made another painful attack on Hillary by publishing the findings of its nationwide sociological survey showing that Bernie Sanders has for the first time outscored Hillary Clinton in the national rating by 3 per cent.
The latest data was supported by analytical comments and infographics floutingly showing that exactly a year ago, Hillary Clinton was ahead of Sanders by 52 per cent, enjoying the support of 55 per cent of Democratic Party voters, whereas Bernie Sanders was popular with 3 per cent of the party's supporters. Interpretations of this kind in US media certainly added up to Clinton's and her staff's concerns.
Another interesting trend took shape ahead of the Democrats' caucus in Nevada. The first "early states" – Iowa and New Hampshire – showed that Sanders's final results were higher than sociological forecasts while Clinton did not improve her results compared with sociological projections. This means that Hillary Clinton can only be reserved and confident entering the primaries if she has at least a 15-per-cent rating lead in one or another state. Several days before 20 February, the most optimistic sociological forecasts put Clinton ahead of Sanders in Nevada by +6, the most negative ones expected them to be even with 45 per cent each. Therefore Hillary Clinton could be facing absolutely different scenarios after Nevada.
Bernie Sanders's flashmob
The Nevada victory was very important for Clinton from one more point of view, which is to dilute the effect of Bernie Sanders's triumph in New Hampshire on 9 February. Considering that, according to all studies, Clinton's victory in South Carolina is more than probable, she will approach Super Tuesday with three victories in four "early states". If she scores a convincing victory in South Carolina with a lead of at least 10 per cent, Hillary's staff will have a perfect chance to counterattack Sanders. Three victories out of four is not just an opportunity to give a new lease of life to the strategy of the lack of options, but, what is most important, to dispel the myth about a revolution inside the party being created by Sanders. It is very important to Hillary's staff today because Sanders, who, luckily for him, ended one on one in the intraparty confrontation with Clinton, has been motivating his supporters namely with this opportunity to become part of the intraparty revolution and part of the history in the making.
In fact, Sanders offered the Democratic Party's numerous voters opposed to Hillary a flashmob of sorts. It is about rising and protest against a predetermined and forced choice personified by no other than Hillary Clinton in this electoral cycle.
And this message reverberates well with many voters. Essentially, Sanders's campaign looks very much like a flashmob, which is also confirmed by his campaign's financial reports. Shortly before Nevada, there were open-source reports about the funds raised by Sanders for his campaign. According to his reports, Sanders fundraised 21m dollars in January this year alone. This means that over the first month of 2016 alone, Sanders has received from donors one fifth of all money accumulated by his staff since spring 2015. All in all, since the start of the campaign in late April 2015, the total amount of donations to Sanders's election coffers has reached almost 95m dollars. This is more than the sums received by Republican Jeb Bush, who back in the first half of 2015 was considered a favourite in the Republican primaries and very actively raised donor money from spring to autumn 2015.
It is also interesting to have a look at the amount of Sanders's campaign funds collected within the first 24 hours after his confident victory in New Hampshire on 9 February. In the course of the day after the results of the primaries in the Granite State were announced, Sanders's campaign raised 6m dollars from his supporters all over the country. According to a campaign manager for Bernie Sanders, Jeff Weaver, the average individual contribution did not exceed 34 dollars.
Overall, the subject of Sanders's fundraising revolution is a very important element of his tactical confrontation with Hillary. At the same time, while Clinton is accused of connections with Wall Street's financial lobby and the issue of her campaign's funding gives constant reasons for various interpretations, Sanders's staff actively publishes the amount of raised campaign funding and uses the factor of financial transparency as one of its key competitive advantages.
However Hillary Clinton seems to have defeated Bernie Sanders in one of the key battles of this campaign, which is the battle for Afro-American voters' support. Anyway, the surveys carried out in South Carolina where the majority of Democratic Party voters are Afro-Americans and where Clinton confidently outdoes Sanders, show that this strategic resource is in Clinton's hands.
First, Clinton's campaign strategists and managers started to actively use the image of Barack Obama in her campaign. Second, Hillary received a series of endorsements for her candidacy from influential Afro-American politicians and public activists, including such unconditional opinion-makers as South Carolina Congressman James Clyburn and famous civil rights activist John Lewis.
To conclude the analysis of the Democratic Party primaries, it should be noted that Hillary Clinton's campaign is gradually finding a way out of a light crisis in which she found herself after the really unconvincing victory in Iowa and defeat to Bernie Sanders in New Hampshire. Sociological studies show that out of 11 states which will vote on Super Tuesday on 1 March, Clinton has a fair chance of winning in each one of them. Or at least, in the overwhelming majority of them. Thus a convincing victory in South Carolina on 27 February and later a victory based on Super Tuesday results will quickly place everything in context in the Democratic Party primaries and, very likely, will restore Hillary Clinton's image of the party's only possible candidate in the general election. Considering how effectively Clinton collects the delegates' votes, judging by the primaries results in each state (even in unsuccessful New Hampshire Clinton had the same number of delegates as Sanders), the prospect of her victory in the Democratic Party primaries is becoming more solid.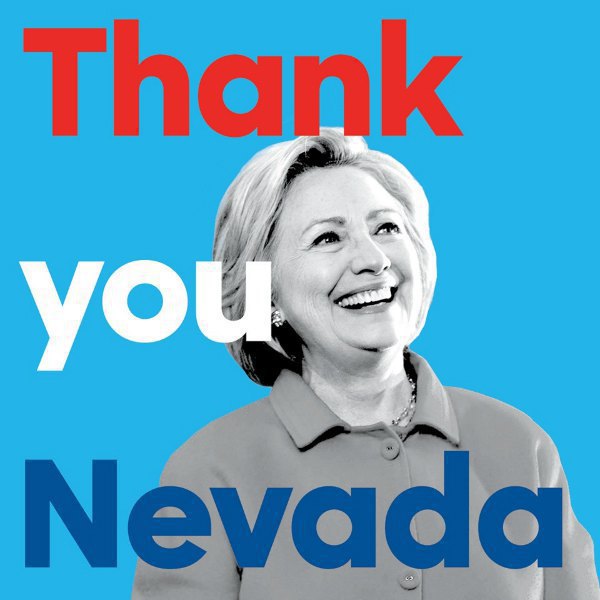 Exactly the same can be said about the Republicans' primaries in which intrigue is gradually making way for predetermination associated with Donald Trump's name.
In reality, there are three candidates still competing for the right to represent the party in the general election. These are the unconditional leader of the intraparty rating, Donald Trump, Senator Ted Cruz from Texas and Senator Marco Rubio from Florida. Neurosurgeon Ben Carson and Ohio governor John Kasich are likely to quit the competition shortly, although each one of them decided to continue running at least up until the Republicans' caucus in Nevada. Or up until the Republican debates on 25 February, the last before Super Tuesday, or possibly up until that day itself.
Jeb out of the game
Perhaps, the top story following the primaries of the Republican Party in South Carolina was not the fact of Trump's predictable and confident victory but Jeb Bush's decision to pull the plug on the campaign. Jeb's hopes for South Carolina, where he entered ex-President George Bush into the campaign as a VIP canvasser and an endorsement by South Carolina Senator Lindsey Graham, did not work out.
What is more, Trump, who the whole week before 20 February had been mocking Lindsey Graham, having called him a 'stiff', and ex-President Bush, having described him as the main cause of the 11 September tragedy, and criticized the last Republican president for his decision on the Iraqi campaign. All these sharp escapades by Trump, which are incompatible with the rules of intraparty subordination, did not prevent him from confidently winning the primaries in South Carolina with almost 32%.
The runner-up, Marco Rubio, with 18.8 per cent, followed by Ted Cruz, with 18.5 per cent, as well as Jeb's departure, leave a miserable chance for one of the senators to fight for the votes of Bush's supporters (a total of about 10 per cent) and challenge Trump. Not in public relations, the way Ted Cruz had successfully done until recently, and even won the intraparty vote in Iowa thanks to this, but by securing first some specific victory in one or better in several states at once. Sociology puts it straight that it is not going to happen in Nevada on 23 February. What is more, in the last "early state" Trump is likely to defeat his opponents even more convincingly than he did in South Carolina. However in the long run both Rubio and Cruz still have a chance.
Odd man out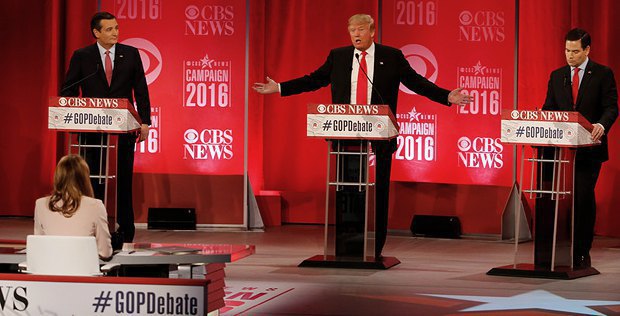 Cruz, Trump and Rubio
Rubio's small lead over Ted Cruz and the second result in South Carolina secured him a chance to continue the fight. Marco has already sent a message to Jeb Bush's voters, having praised him for his good campaign and consistent position, and announced that now the Republican primaries were a battle of three. Meaning Trump, Cruz and Rubio himself.
This was a sort of a reaction to Ted Cruz's statement: "It is becoming a two-person race between me and Donald Trump" after he came second in New Hampshire. South Carolina in some ways put Rubio back into the game. However the near future and Super Tuesday, largely decisive to the future of Rubio and Cruz and the further fate of the Republican primaries, will show whether it is a game to win. So far Marco Rubio has said that he is fully aware that there is no sense to continue if it is a fight for the second seat. However if both senators, Cruz and Rubio, continue campaigning, this will zero out their chance of offering true competition to Trump. The Republican primaries in New Hampshire and South Carolina, sociological surveys in Nevada and other states and nationwide sentiment analyses clearly show that the "configuration of the three" will benefit Trump the most because neither Rubio nor Cruz will be able to catch up with him.
Perhaps, this is by far the most important irrepressible conflict inside the Republican primaries which with each day will bring closer Hillar Clinton's face-to-face meeting with Donald Trump in the general election.