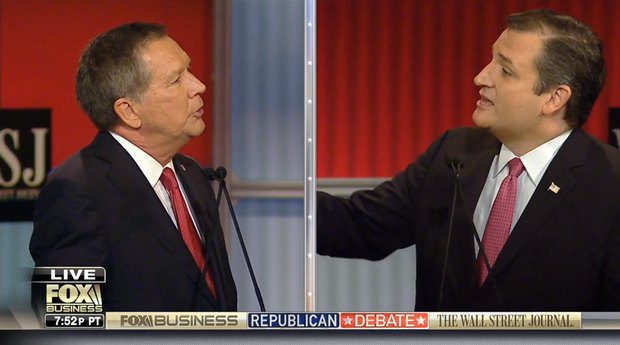 Ohio governor John Kasich is becoming an "odd man out" in infighting between the party's establishment and Ted Cruz and Donald Trump.
To top it all, by getting into a conflict with Mitt Romney, Trump has ultimately set the influential US Mormon community against him, which plays an active part in the country's political life and possessing a huge mobilization potential. Like many other representatives of the LDS elite, Romney is reproduced in politics through the Republican Party, and the feud between Romney and Trump drew another line of conflict inside the GOP. In fact, the score in Utah, where Trump's results just two months ago were promising and not bad, showed that Romney has managed to arrange for at least one serious problem for Trump when 40 delegates slipped away from him.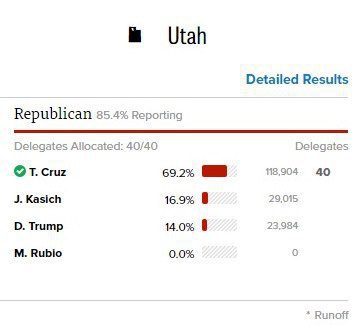 At the same time, the blocking stock Cruz-Kasich-Rubio together has a little more delegates than Trump. It is 774 to 739 delegates not in favour of Trump. However there are still 944 more delegates and Trump needs to take approximately 500 of them to ensure that he becomes a candidate for president on behalf of the GOP at the final party congress. If he has 1,237 delegates, Trump will be nearly 100 per cent sure to make it.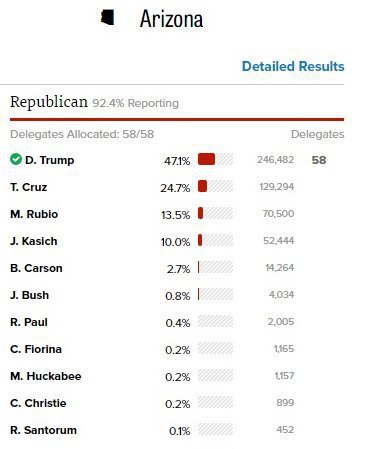 Considering what polls show (especially figures for the remaining big states and those where the winner takes it all), Trump can handle this task. However it is too early to say that Trump already has everything covered. Taking into account that Jeb Bush joined Ted Cruz today as well as other news from the Republican camp, we can assert that the anti-Trump coalition inside the GOP is not just gaining strength, it is shaping up around a specific candidate.
Taking into account that out of 17 remaining states, the winner-take-all and winner-take-most principles in the Republican primaries work for 13 states (accounting for a total of 706 delegates), the question of whether John Kasich will leave the run becomes a key one. Leaving New York aside, the majority of 95 delegates is likely to end up with Trump on 19 April, with key battles awaited in Pennsylvania (71 delegates, winner-take-all), Indiana (57 delegates, winner-take-all) and New Jersey (51 delegates, winner-take-all) where Cruz may well exploit the receding popularity of governor Chris Christie who joined Trump. This can happen only if the Republican primaries maintain at least some sort of intrigue by early June. And this, in turn, will largely depend on the main mega-state of the primaries, California, where 172 delegates will be at stake on 24 May, and where Trump tops the rating but Cruz, if they fight face to face, still has a good chance to catch up.
It is noteworthy that in California, Democrat governor Jerry Brown is engaged in an active anti-Trump campaign. By the way, he is very popular with and respected by not only local Democrats but many Republican voters too.
If in the coming weeks Cruz's strategic PR construct that the Republican Party primaries are the battle of only two people (Trump and Cruz), which he made public back in early February after winning the Iowa caucuses, materializes, the chances of the anti-Trump coalition to take Donald for a ride at the final party conference in Cleveland will be 60 per cent tp 40 per cent. Certainly, in Trump's favour.
Interestingly, even if Cruz is left alone with Trump, he is almost 100 per cent likely not to reach the final conference of the Republican Party with 1,237 delegates. And this means that by using Cruz as an anti-Trump battering ram today, the party's establishment may as well finish the congress by flushing both Trump and Cruz down. And then the famous metaphor of Jeb Bush's ally, South Carolina Senator Lindsey Graham, that choosing between Trump and Cruz is like choosing between being "shot or poisoned", will no longer be a sore issue for the party elite. Namely this option will be able to open the way for a new candidate whom the party holders will be able to delegate as a candidate for president from the GOP. Many US experts no longer consider this option a science fiction but use it to assess assess further scenarios.