Luhansk ex-governor to appear on Sonya Koshkina's TV show
Heorhiy Tuka will be interviewed live at 10 p.m. Kyiv time on Channel 24.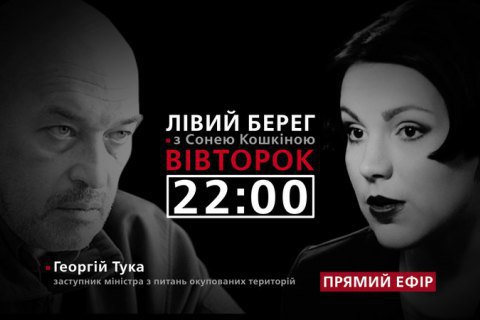 The recent dismissal of Heorhiy Tuka from the post of the head of the Luhansk military and civil administration has caused quite a sensation. Known as a no-nonsense volunteer, the head of the public organization Home Front (Narodnyy Tyl), which provides the government troops in the front line with everything they need, has done a lot to resolve the situation in Luhansk Region.
In late April, Tuka was promoted to the post of deputy minister for occupied territories and internally displaced persons. How does the new deputy minister, who has long advocated resumption of trade with the occupied territories, see his tasks on the new job? What is his vision of the situation in the country and in Donbas? Watch Sonya Koshkina's Left Bank TV show live on Channel 24 at 10 p.m. Kyiv time on Tuesday, 10 May.