Andrey Nechayev
Andrey Alekseyevich, which of the "Kremlin towers" is currently in charge in Russia? Who is the true ruler of the country?
Certainly it is uniformed agencies who play first fiddle. It is a different story that they seem to be engaged in infighting. The most recent events (the detention of customs chief Belyaninov, Investigations Committee investigators by the Federal Security Service (FSB) - LB.ua) are either outright propaganda or these are some serious conflicts between various groups of uniformed agencies.
On the other hand, Russia is in a difficult economic situation and the president is looking for some way out of it, a new strategy. The current situation is already considered more or less a hopeless case, meaning everyone understands that the incumbent government is not ready for any serious reforms. Two groups of economists have been formed: a group of former Finance Minister Aleksey Kuprin and a group headed by presidential aide Andrey Blouson, who were effectively instructed with developing a programme of strategic reforms. However it is rather for the next presidential term. At this stage, these are half-scientific debates on what a solution to the economic crisis should look like and what measures can be taken to ensure the growth of the Russian economy.
Uniformed agencies like it hard, all these arrests and searches…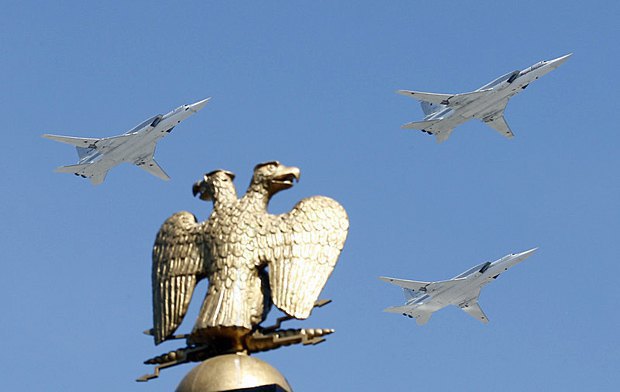 Attack aircraft flying above the Kremlin during a parade rehearsal.
You said in your blog that "things in the country seem to be really bad if the president left his own people exposed". When you say "bad", do you mean economy?
First and foremost, economy is in bad shape, with life standards visibly deteriorating. Naturally, this creates certain political tensions. Therefore Putin either has to demonstrate a serious fight against corruption to advance the administration system. Or he indeed came to understand (we would like to hope) that the model of economic growth and the model of country governance, which he built in the 2000s, faced an impasse. And it should be overhauled.
I think we will see which of these versions is more correct in several months.
What are the signs of the economic deterioration in Russia? How do they look?
First, the key macroeconomic indicators have been on decline for several quarters now. It is important to understand here that the crisis is not situational and is not connected to foreign economic factors. And it is not the crisis prompted by sanctions which indeed had an effect on the situation but not more than that. It is namely a systemic crisis, the crisis of the model of the country's development which was chosen in mid-2000s, which involved putting a focus on the nationalisation of economy and raw stock exports. And high corruption, of course.
And now this model has hit a dead end. The growth has been slowing down steadily since 2012 whereas in the past several quarters even the key macroeconomic indicators also followed suit. And inflation is high. Consecutively, from both political and social points of view, the decrease of real incomes of the population is important. Real wages fell by almost 10 per cent last year. Real incomes made a shorter fall, by mere 4 per cent. Although the fall slowed down last year, it still continues. Thus all the signs of a serious economic recession are here.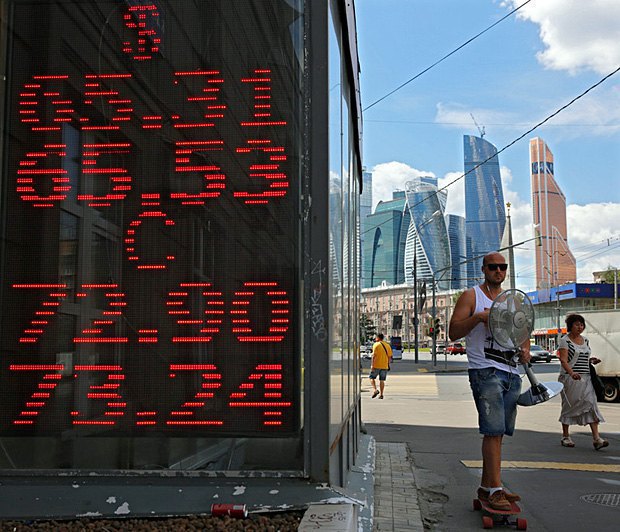 Moscow exchange point, 24 June 2016
You have mentioned the EU and US sanctions. How painful was their effect on the economy and are they effective?
There are various types of sanctions. There are individual, personified sanctions. They are unpleasant and may inflict serious damage on specific people. However they are rather neutral from the point of view of the country's economy as such.
As for, say, the consumer market and the general life standards of Russians, the Russian population seemed to be more affected by the so-called countersanctions rather than the sanctions introduced by the EU and other countries.
The sanctions were especially fast and active in the financial sector for sure. Russia's access to the Western capital market is nearly blocked. As a result, foreign debts had to be paid off using the current proceeds from exports, which shrank because of the fall in oil prices, and Central Bank reserves.
In these conditions, the Central Bank in fact had to leave the free market, gave up on targeting the course and switched to the floating rate of the rouble, which at some point of time spurred very serious devaluation of about 150 per cent. However the rouble has recovered over the recent several weeks. But still, compared with a pre-crisis level, this means a 100-per-cent devaluation with corresponding inflation consequences for the population's life standards.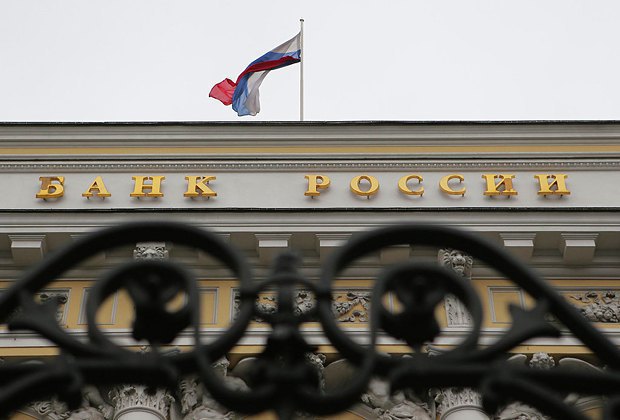 As for other sanctions, there have been no serious consequences yet. However they may transpire in a while, if sanctions are extended. I mean the sanctions concerning the ban on the export of oil exploration and production technologies to Russia. Because this sector is critical to the Russian economy. It can do without exploration or state-of-the-art technologies for a while. Therefore the sanctions have had no global effect on the sector for now but if they stay in place long enough, they may cause serious problems there as well.
How long can Russia keep up financially while the sanctions are in effect? For how long is it ready to tolerate them?
I have specifically said already that the Russian economy is going through a systemic crisis. The crisis was not caused by sanctions. Since the Russian economy is based on raw stock, an almost triple fall of oil prices is much more painful for us. I understand all the political aspects accompanying the sanctions and that some mass media would like to say that Russia was brought down to its knees by the sanctions, however it is not so. However I would say it once again, the condition is very difficult.
How long is money enough for? It depends on what you mean: if you mean gold and currency reserves, they have stabilised recently and even showed a little increase lately, which strengthens the rouble.
A far more serious problem stems from inside Russia again, it is the budget situation. If nothing changes here in a big way, the economic growth fails to revive and bring more money to the budget… And, in parallel, the political will to cut spending will still be absent, then the Russian budget is certainly up to a serious test. Because the budget deficit is already covered almost exclusively from the Reserve Fund. If things develop at the same pace, according to various estimates, the fund will be exhausted in a year. The National Welfare Fund still remains - after all, it was established to finance pensions in a difficult time. But it seems it will also be used.
By and large, there are very serious problems. But the budget problem is more acute for the regions than the federal centre. We have two dozen regions which are effectively bankrupt. Because they were handed big spending commitments without adequate incomes. Neither there are adequate transfers from the federal budget.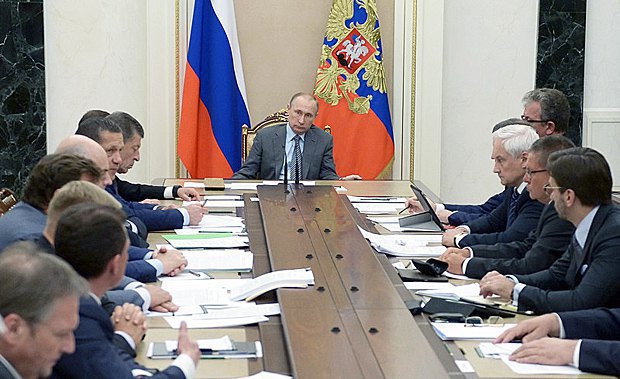 Russian President Vladimir Putin at a government meeting, 22 July 2016
How did this happen?
After 2008, when the previous crisis was beginning, the budget rule saying that income is split between the federal centre and regional and local budgets in half was temporarily cancelled (there is nothing more permanent in Russia than temporary things). It now looks as follows: 65 per cent of income goes to the federal budget, 25 per cent to a regional budget and only 10 per cent to a local self-government budget. Thus local self-government is practically dehydrated financially and, with few exceptions, is incapable.
I would also add that mayoral elections and direct elections of councillors in cities with district division were in fact cancelled within the framework of local self-government reform. Overall, this is the path towards the full annihilation of local self-government.
In the meantime, the president's so-called social May decree offloaded on regional budgets a large share of spending related to higher salaries to doctors, teachers, researchers and other costs. As a result, the regions had to cut those few innovative programmes first which they had: the programmes of housing and road construction, other investments. And in this sense the situation is far more dangerous in the prospect than it is today because it undermines the future financial foundation of the regions.
What are the sources of funding for Crimea?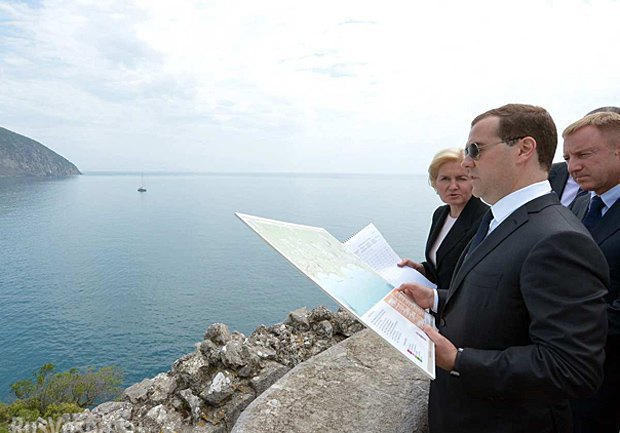 Russian Prime Minister Dmitriy Medvedev on a visit to Crimea
Crimea is funded from the federal budget. There are no special funds.
As for Donbas, there were rumours that [it was funded] from the Russian region bordering on Ukraine…
Franky speaking, I do not know how Donbas is financed. I can assume that everything gets financed from the central budget, although through different channels: some items from the Defence Ministry, others from other offices. There is also humanitarian aid, including not from the budget.
For some time, Rostov Region has carried a burden of refugees: there were quite many of them during the escalations. But it would be clearly wrong to say that the aid to Donbas is financed from the budget of Rostov Region because financing comes from Moscow.
"OPPOSITION CHANCES IN STATE DUMA ELECTION LOW"
Are you running for the State Duma. How will the future parliament look like?
Unfortunately, I do not think the State Duma will change fundamentally.
Why? Could you describe the specifics of the current election campaign?
In Russia, the ruling party has a bad habit of tweaking the election legislation on eve of every next stage of election as it pleases.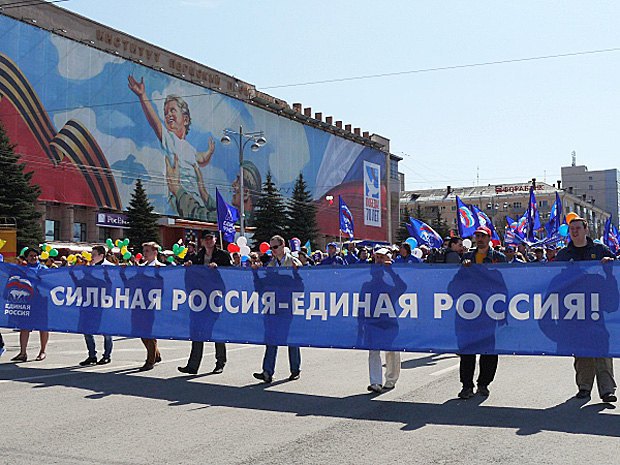 1 May rally by United Russia's supporters in Perm
The reason for this is the catastrophically declining yearly approval rating of United Russia: it went down after the previous crisis therefore the 2011 election involved massive fraud and the use of government machinery by 110 per cent. Understanding that this trend is to stay, the ruling party took to fundamentally changing the election model. They brought back single-seat constituencies: in some place United Russia is running as is, in others under a different banner; in some places, these are formally self-nominated candidates; in some places, candidates are officially nominated by United Russia but formally they are members not of this party but of the United People's Front or other organisations friendly to the ruling party.
Thus with the help of candidates from single-seat constituencies, United Russia hopes to compensate what it is going to lose in votes for its party ticket.
What are the chances of the parliamentary "opposition" parties?
They vote for all key laws together with the ruling party and therefore it is a purely pocket "opposition". There are some outright cahoots in single-seat constituencies in this election. There are 30-40 such constituencies in Russia: some were assigned to A Just Russia, some to the LDPR, some even to Communists although they are too shy to admit it.
I do not know if this time the ruling party is prepared for total fraud and dirty campaigning on the same scale as it used in 2011, which ultimately brought people to Bolotnaya Square. By the way, because of this the authorities had to liberalise the legislation on political parties, elections and so on. By now it has practically been reverted. Even now the use of government machinery, access to mass media and other methods making the elections unequal is obvious.
For example, I am not allowed to use the so-called protected information stands which can be found on every building - they are protected by the glass and lock, and neither competitors, nor janitors can remove it. It cuts the cost of campaign because you do not have to post a new leaflet every day. So some are allowed to us it while I am not. Although it is a private example, it is typical.
And what about the democratic opposition?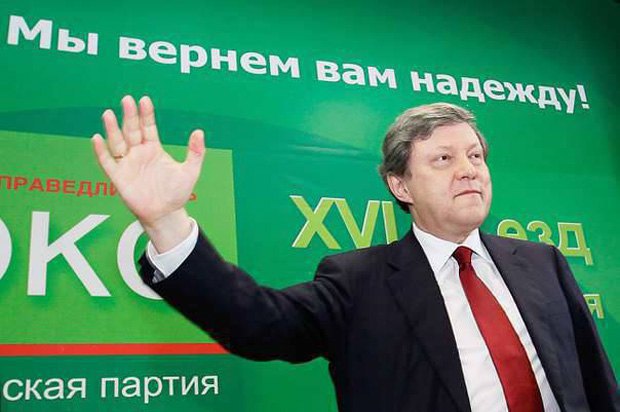 Grigoriy Yavlinskiy
The second typical feature of Russian elections is the democratic opposition's failure to come to agreement yet again. Therefore the opposition is running in several columns, as it often happened before. What is most absurd, this will happen in single-seat constituencies. In my constituency, there are PARNAS and Yabloko representatives. This is absolute nonsense. I have been negotiating with Grigoriy Yavlinskiy for three months but he did not find resolve to unite his Yabloko with my Civil Initiative party. Offence and jealousy of the 1990s took over the common sense. But let's leave it to heaven.
Yavlinskiy refused to form a truly broad democratic coalition on the basis of Yabloko and did nothing more but included several candidates in the party's federal list and in single-seat constituencies. I think that with the structure he has built, his party has little chance. Just like the opposition as such. In some constituencies, the authorities may have to let opposition candidates win if they have a solid lead. But overall I think the situation will stay the same.
The only intrigue, albeit a very formal one, is whether A Just Russia is gong to make it to parliament or not. It is now balancing at the 5-per-cent threshold. Meanwhile. United Russia will clearly get less on its ticket but will make the faction happen after all with the help of pseudo-independent candidates from single-seat constituencies.