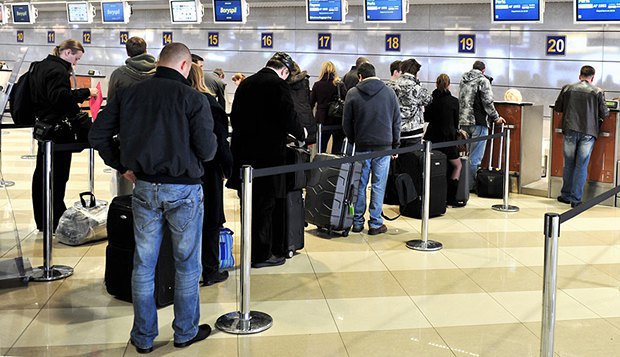 Back in his days, President Viktor Yushchenko lifted visa requirements for citizens of EU member states, Switzerland and Liechtenstein as well Canada as of 1 September 2005. They were allowed to travel visa-free (if their stay in Ukraine does not exceed 90 days). This step was explained by Ukraine's expectations for a sharp increase in the flow of tourists after the Orange Revolution, unprecedented in Europe. But above all Kyiv expected this symbolic first step on its part to prompt the European Union to respond in kind.
As we now see, it happened neither then, nor 12 years later. At the same time, Ukraine has lost the money which has not been paid to its budget as visa fees. Although back at the time it was possible, as a transitional option, to first take liberalization steps (in sync with the EU): for example, to issue visas at the border, but charge for them (for example, as Turkey used to do when it charged tourists arriving at its airports 35 dollars and immediately put visas in passports). However, Kyiv's certain emotions and illusions about European partners won over sober estimates.
Read: Pro-Russian revanche in Moldova. Ukraine and the EU should be on alert
A month ago, a storm raged in Ukraine on the introduction/non-introduction of visa regulations, this time with regard to Russian citizens. Supporters of the immediate introduction of visas insisted it was vitally important to put up an additional barrier to unwanted visitors from Russia, which is waging the war on Ukraine, even before they reach the border.
Opponents have argued Ukraine may incur economic losses because there are many Ukrainians working in the neighbour state and this can affect their status as the Russian Federation would inevitably respond in kind.
This discussion ended as quickly as it began (which is typical for the information space in Ukraine). But the problem itself has not disappeared. And order in the area of migration will need to be restored sooner or later.
The terms of migration between Ukraine and Russia have always been part of political manipulation. For example, to ensure the victory of pro-Russian candidate Viktor Yanukovych in 2004, Russia allowed Ukrainians to stay in Russia without registration for 90 days. These conditions were even better than its own citizens had - Russians from Perm and Rostov, for example, were required to register when moving to a new place within three days. Then, after the change of power in Ukraine, Moscow first cancelled this procedure and then restored it (again for political reasons). In parallel it introduced non-free patents for labour migrants.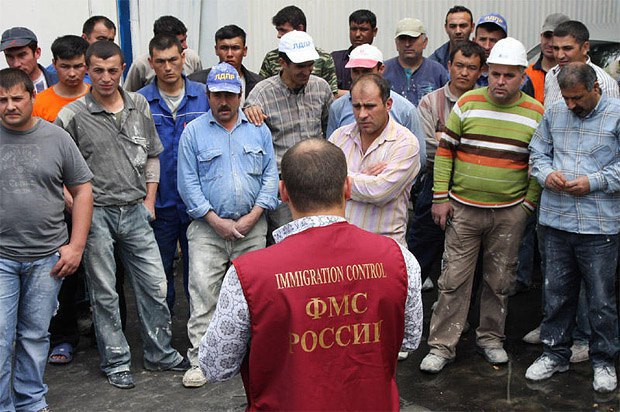 Migration officer talking to citizens of neighbouring states working in Moscow
The author of these lines witnessed a time when the Russian "simplified procedure for the brotherly Ukrainian people" actually created huge corruption risks, of which the Moscow police gladly took advantage: they detained large numbers of Ukrainians coming to Moscow over the alleged violations of migration procedures, which no-one really knew or hardly understood the rights under the new rules. They would let them go in a while for a bribe or after the interference of Ukrainian diplomats - our consul practically lived at the Kiev and Kursk railway stations, where trains from Ukraine come, to put Ukrainians out of trouble and at the same time document the police lawlessness. Therefore, even back at the time, they were all for visas – so that people would pay once, get a visa at the embassy and then come to Russia without a problem with proper documents, which would prevent any act of intimidation by the Russian "law-enforcement" system.
Therefore the migration issue between Ukraine and Russia requires new approaches which would remove political tension and at the same time restore order. Will these include visas? The recent discussion has shown that neither the Ukrainian society nor politicians are not mentally ready for this. And even if Ukraine introduces them, Russia will play "the game of contrast" by purposefully keeping the visa-free regime in place to show its "human face".
Read:
Nature of terror acts in Europe
Therefore, other mechanisms are required. And here the Western travel information and authorisation system, which the EU is going to introduce after the United States, Canada and Australia, is a perfect option. The European Travel Information and Authorisation System (ETIAS) foresees online registration of non-EU nationals entitled to visa-free entry prior to entry into the Schengen area.
The ETIAS will collect information about everyone who travels without a visa to the EU, which will prevent illegal migration and security checks. A person planning a trip to the Schengen area has to fill out an online form in advance, indicating a valid passport only. The application will be valid for five years and multiple entries. The cost is 5 euros.
"We need to know who is crossing our borders. By November, we will propose an automated system to determine who will be allowed to travel to Europe. This way we will know who is travelling to Europe before they even get here," European Commission President Jean-Claude Juncker explained.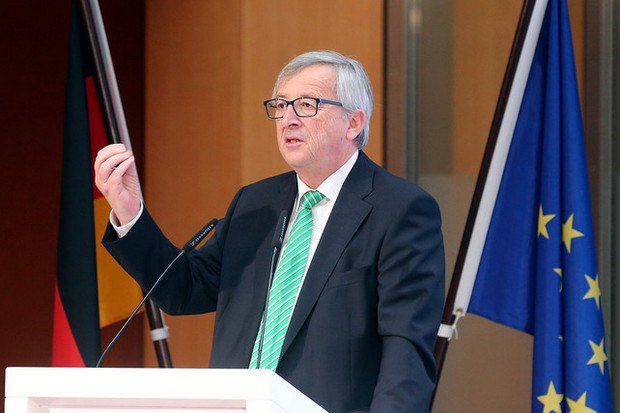 "Securing our borders and protecting our citizens is our first priority. ETIAS will close an information gap by cross-checking visa exempt applicants' information against all our other systems," European Commission First Vice-President Frans Timmermans said.
In a similar system used in the United States (ESTA) the fee is 14 dollars (12.5 euros) for two years. Similar systems also work in Canada (7 Canadian dollars for five years) and Australia.
So now the EU shows Kiev the way how to restore order with minimal political and image risks (and not only for Russian nationals but for all foreigners). What is more, the introduction of such a system in Ukraine will give it certain bonuses in the form of additional funds but most importantly it will give it arguments in the negotiations with the European Union that demands minimization of migration risks. And this argument is useful even after the EU lifts visas for Ukrainians.