The revenues of the state budget of Ukraine in January-December of 2016 amounted to 616.219bn hryvnya, which is 15.2% more than in 2015, but 1.7% shorter than planned, the State Treasury Service said in a statement on 3 January.
The general fund of the 2016 budget on revenues underfulfilled by 0.2% (with revenues at 574.659bn hryvnya, a 14.1% growth over 2015), whereas the special fund was almost 20% shorter (41.56bn hryvnia at the plan of 51.54bn, a 34.3% increase compared to 2015).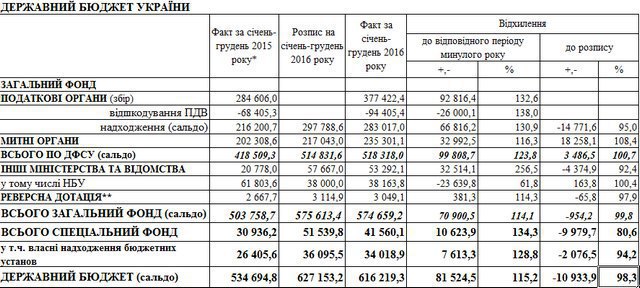 The 2016 state budget provided for 17bn hryvnia in revenues from privatization which failed after the fiasco sale of Odessa Portside Plant. Also, the budget did not receive the money from the 'special confiscation' of property of the former President Viktor Yanukovych and his associates.