The government of Japan gave the Central Clinical Hospital of the State Border Service of Ukraine state-of-the-art medical equipment worth 22.5mn hryvnya, presidential press service reported on Friday, 13 January.
The handover ceremony was attended by President Petro Poroshenko, the Ambassador of Japan in Ukraine Shigeki Sumi, Deputy Executive Director of the UN Office Project Support Organization Vitaliy Vanshelboym and Chairman of the State Border Service, Viktor Nazarenko.
"Today's transfer of medical equipment is not just another example of cooperation between Ukraine, the UN and Japan, but also the first event of the Japan Year in Ukraine. It symbolizes the close cooperation between Ukraine and Japan. It clearly reflects the priorities that today I, as the president, in command of the Border Guards, the Armed Forces of Ukraine, that you - the best Ukrainians, heroes, the elite of the country - received adequate assistance. I am sure you will get it here," Poroshenko said.
Among the donated equipment were computer tomograph Toshiba manufactured in 2016, video endoscope set Olympus and Digital X-ray system Calypso.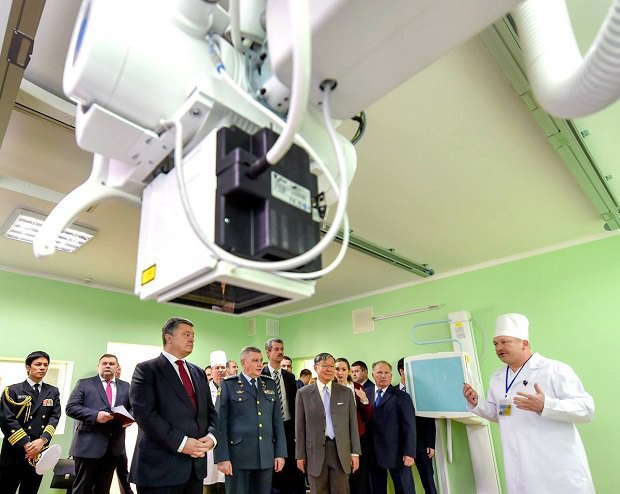 Photo: president.gov.ua
The donor of the project was the Japanese government with the assistance of the UN Office of Project Support (UNOPS). The total budget of the donation amounted to 22mn 502 thousand hryvnya, the report says.
"The new equipment will allow highly accurate diagnosis and provide quality medical care to the wounded, first of all in the zone of the antiterrorist operation troops, arriving at the clinic for treatment, ATO veterans, border guards and their families," said the head of the hospital diagnostic department Vasyl Petrenko.
He stressed that all the above categories of patients will receive the services free of charge.
Earlier, President Poroshenko has signed a decree on celebrating the Year of Japan in Ukraine.