The State Inspectorate for Nuclear Regulation of Ukraine on Monday, 16 January announced the completion of the liquidation of the burial facility of radioactive waste Vakulenchuk located at a former missile base in Zhytomyr Region.
After the breakup of the USSR, Ukraine inherited a few burials of radioactive waste that have been created in 1960-1990. Two burial grounds are located in the occupied Crimea, one - near Delyatyn in Ivano-Frankivsk Region, one - near Tsybulevo in Kirovohrad Region, another was in the area of the village Vakulenchuk in Zhytomyr Region.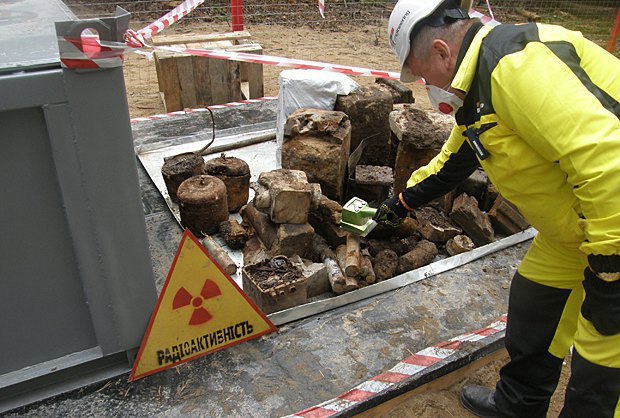 One radioactive waste repository is on the territory of Donetsk Treasury Chemical Plant, which is under the control of militants.
The waste with unknown levels of radioactivity was buried in near-surface repositories. Some items there have significant levels of radioactivity at tens, possibly hundreds Curie. The exact volumes of radioactive waste, as well as the engineering design of burial facilities are not known.
In 2013, NATO and Ukraine signed an agreement on the reburial of radioactive waste. In 2015, Ukraine ratified the treaty. In the winter of 2016, works began on Vakulenchuk burial ground.
According to the press service of the State Nuclear Regulatory Committee it was the place of storage of decommissioned sources of ionizing radiation (SIR), which were used to calibrate equipment.
As part of the liquidation of the burial, radioactive waste has been removed from both the storage building and the surrounding areas. Burial structures were dismantled, and the surrounding territory was reclaimed.
Some waste sources of ionizing radiation were taken for storage at the Kyiv Interregional Special Combine. Solid sources of ionizing radiation in the form of reinforced concrete structures and cemented liquid IRS were transferred to the Buryakivka burial facility in the Chernobyl exclusion zone.